Forbidden Planet, Forgotten History: The Story Behind a Sci-Fi Classic's Premiere in Charlotte
In 1956, the movie that redefined cinema premiered in uptown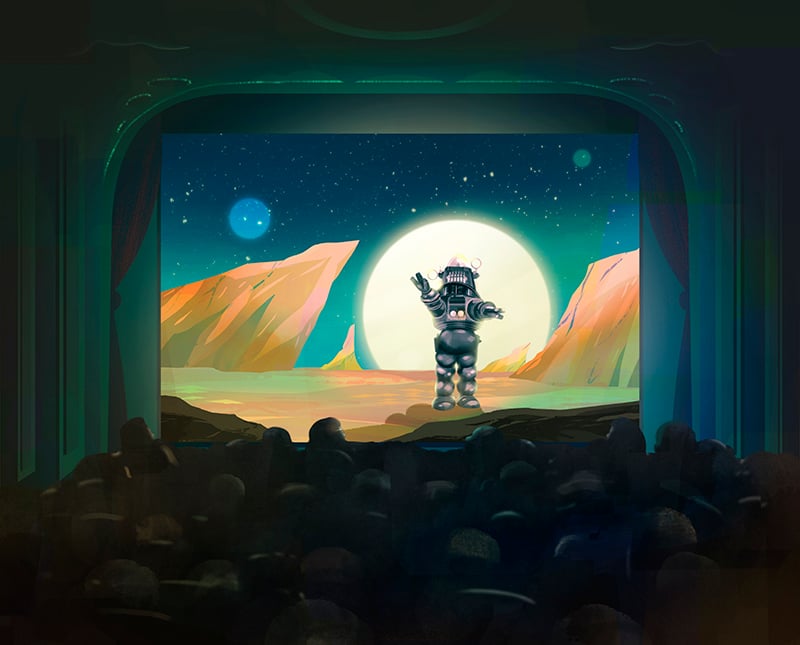 On a balmy late winter Friday in 1956, The Charlotte Observer announced that electronic "brains" would be on display at Hotel Charlotte that weekend. The exhibit was part of the second annual Southeastern Science Fiction Conference, an early ancestor of today's popular "cons." Organizer Robert Madle, who moved to Charlotte and founded the Carolina Science Fiction Society in 1953, had helped host Philadelphia's worldcon, which made that city a sci-fi mecca. Now he was determined to bring the fandom south.
The Carolina Science Fiction Society grew to about 15 members—all men except for one Jess Vines—who often met at Madle's Plaza Shamrock bungalow. Of course, the club held trivia quizzes, discussed the latest scientific discoveries, and swapped opinions on science fiction literature and cinema. But they also introduced their passion to the wider community. In 1954, for example, the society co-sponsored a showing of The Thing From Another World at the Visulite Theatre. The convention would be better still: two full days of illustrious speakers, out-of-this-world exhibits, and best of all, an exclusive world premiere of the movie Forbidden Planet.
"MGM somehow found out that we had a club here," Madle, now 100, tells me from his home in Rockville, Maryland. "And MGM had a screening room—it was a little neat little room, seated about 40 people—and it was just like Hollywood, only it was Charlotte."
But this premiere was no black-tie event. Bombshell star Anne Francis didn't spill out of a limo onto a red carpet on Tryon, and no one else from the production was there, either. It didn't matter. "Just the idea of premiering Forbidden Planet was something special," Madle wrote later, "but then so was the movie—we all thought it was fantastic, no pun intended."
Forbidden Planet follows Commander John J. Adams, played by Leslie Nielsen (!), and his crew as they travel to distant planet Altair IV. They intend to rescue scientist Dr. Morbius, who was marooned after a previous mission went awry, and his daughter, Altaira. The pair live in relative comfort, attended to by Robby the Robot, the first mechanical prop of its kind and the first movie robot with a personality. But an invisible monster stalks the planet and jeopardizes the expedition. In the end, the monster is not some extraterrestrial Other but a vicious product of Dr. Morbius' own id. The enemy is us.
Madle and his fellow club members couldn't have known it then, but they were the first public audience to watch a movie that would redefine its genre. The pantheon of sci-fi classics—from Star Trek to 2001: A Space Odyssey—can trace its lineage to this low-budget production that premiered, of all places, in uptown Charlotte.
It would never have happened if Madle hadn't moved to 1620 Anderson St. with his young family in 1953. He found himself in a city already looking ahead. Three years before he arrived, the winner of the Observer's City of the Future essay contest had written that Charlotte's "star of destiny is evidently set high in the heavens and shining brightly as a major city of the future." In Charlotte, Madle worked in public relations at Shaw Manufacturing but left a bigger mark in the science fiction community.
Bob, as friends called him, grew up on sci-fi in Philadelphia. At 14, he joined the Science Fiction League, impressed with the vision of founder Hugo Gernsback. With sci-fi fandom in its infancy, Gernsback wrote in the early '30s that the genre would change the planet. At the time, Bob thought the future "would be a wonderful world of tomorrow when science rules everything." (Bob would later help launch an award named for Gernsback; today, the Hugos are the premier awards in science fiction.) By age 19, Bob showed up in The Who's Who in Fandom, and he remains, 81 years later, a towering figure in sci-fi fandom. When I ask how his interest in science fiction began, he pauses. "Well," he says, "I guess I was born that way."
So if anyone can explain the tectonic shift unleashed by Forbidden Planet, it's Bob. "Science fiction movies were usually second or third class," he explains. "But this one was first class and played at first-class movie houses." Unlike the B-list fare of the time, this film took science fiction seriously, depicted faster-than-light travel in a manmade craft for the first time, and used a slew of otherworldly special effects. MGM still didn't expect it to be a blockbuster—the unprecedented all-electronic score was partly a cost-cutting measure—but the actors were instructed to play it straight. The genre was growing up.
Soon after the convention, Bob took a research job as a civilian employee with the Army in Washington, D.C., and the society dissolved. The Forbidden Planet premiere became a footnote in city history, not even remembered by those in Charlotte who know film best. Sam Shapiro, who teaches film history at UNC Charlotte, screened the movie twice as part of his long-running film series for the Charlotte Mecklenburg Library but never knew it had premiered just blocks from the main branch. Lawrence Toppman, the Observer's film and arts critic who retired this year after four decades with the paper, had never heard about Forbidden Planet's premiere.
Given Charlotte's scant film and sci-fi culture, that's no surprise. The Manor Theatre's demise this year left Charlotte without a single art theater. The Charlotte Film Society has announced plans to open its own independent venue in 2021, but its success will depend on a consistent audience. "We've had a very mainstream attitude toward films," Toppman says. "The independent film community, both for viewing and for making, has always struggled here."
The Charlotte of the '50s was a placid bastion of prosperity, a business-minded town reluctant to explore the dark side of the American Dream. "It was a world that saw itself as progress and hope and ambition," Toppman says. "(Forbidden Planet) is saying, 'That's lovely. You want to think about some of the stuff that's under that?' Charlotte at that time didn't particularly want to think about the stuff that was under that. It just wanted to rush into the future."
That future is now. The wonderful world Bob envisioned in the '30s still hovers beyond our grasp, and the invisible enemy lurks on our home planet. As Charlotte chases that shimmering star of destiny, Forbidden Planet asks us to pause and consider where we're headed.
ALLISON BRADEN is a contributing editor to this magazine. She would never have known about the Forbidden Planet premiere if it weren't for her dad, who watched the movie as a kid at the Emory Theater's Saturday matinee and found it full of terror and wonder.