Former Athlete Combines Food, Sports in Video Series
"Wes Got Range" host hopes to gain a following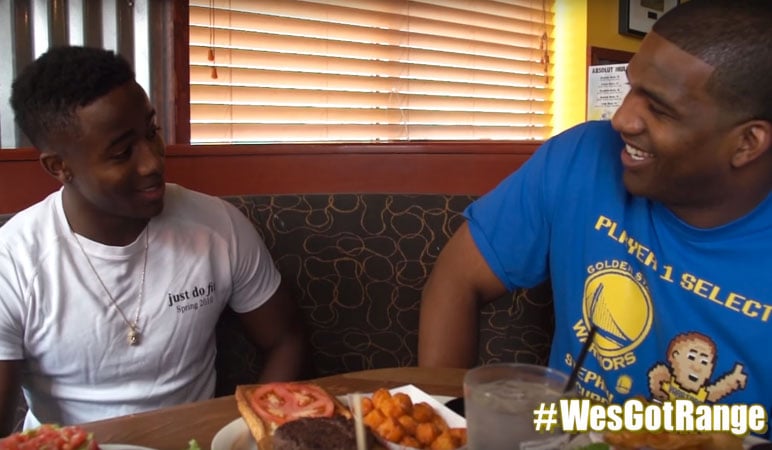 Wes Bryant, a former offensive tackle for Wake Forest, has been trying to make it in the broadcast world. He does a sports segment Monday mornings on Praise Charlotte, but has consistently heard he doesn't have enough experience yet for a broadcast role. So he decided to give himself that experience.
"If you invest in yourself, you can never go wrong with that," Bryant says. So he started coming up with concepts that combined two of his passions, sports and food, in a YouTube series called Wes Got Range.
Growing up, Bryant recalls getting kicked out of his grandmother's kitchen for constantly eating her food. Before moving back to Charlotte in the early '90s, Bryant and his family lived in Georgia. There, his grandmother had a reputation for being a great cook.
"She would take my grandfather his lunches," he says. "She was known around the town in Port Wentworth, Georgia, right outside of Savannah, so when she would bring her food in there, the guys would huddle around him and see what he had."
That upbringing gave Bryant an appreciation for good food—one that grew when he had to sustain a football player's weight. One of the best parts of playing Division I sports, he jokes, is that you eat well. A teammate at Wake Forest got him hooked on the show BBQ Pit Masters, and Man vs. Food is another one of his favorite. He first considered cooking at his home for the show, but came up with the idea of interviewing local athletes at different restaurants as a way to introduce both the person and the place to viewers.
He plans to interview athletes from across many sports, though the first two episodes have been football-related. Sports and food are two things that bring people together, and by combining them in one show, he hopes to reach a broader audience while allowing people to see a different side of the athletes.
"When I ask, 'Hey, what do you like to eat? Put together your dream meal. What type of food did you eat growing up?' That makes guys open up," Bryant says. "That's what I like about it; it breaks up the monotony of what you would call 'jock talk.' "
The show's title, Wes Got Range, is a play on a word used both in sports and cooking. In basketball, having "range" means you're a strong distance shooter; a range is also a gas oven and stovetop typical in restaurants. The response for the show so far has been "overwhelmingly positive," he says, and someday, he hopes to prove that he can make it in the TV world.
"The goal is to take the show and get it in front of some people at networks. And it might be something they like."
Check out the first episode of Wes Got Range with UNC-Charlotte wide receiver Austin Duke below.