Former Policemen Find Second Career with Belmont's Mugshots Coffee and Tea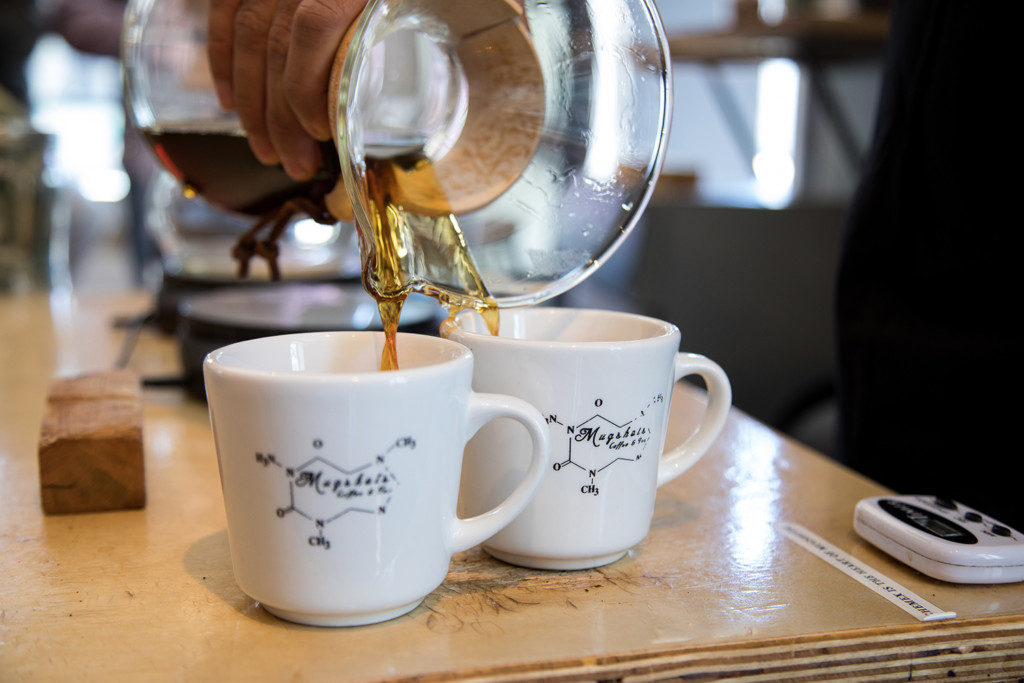 IN FEBRUARY of 2017, a small specialty coffee shop with an artsy exterior opened in the quaint downtown of Belmont. It doesn't seem like much—a tiny slice of a building perched on the corner of Main Street across from the town park. You'll be drawn into the shop, however, by a sign advertising coffee and tea on a simple, black backdrop with curvy writing touting a catchy name: Mugshots Coffee & Tea.
The shop welcomes guests with a pleasant patio framed by wooden plant boxes that hide the passing traffic from those inside. This place is sort of Brooklynish—a hole-in-the-wall bar whose exterior belies the chic interior and eclectic clientele.
Open the door to Mugshots and step into a subtle aroma that is a hybrid of cedar and fresh-roasted coffee. The walls are adorned with handsome, cut wood slabs with handwritten prices hanging above the register. It feels trendy, yet comfortable—inviting, but also tight quarters. As you wait, you can watch your coffee brew and converse with the baristas who make artwork out of your latte. If there is a line (and often there is), it's even better, because everybody talks while the coffee brews.
When the shop opened, Belmont was going through a bit of a restaurant renaissance, and Mugshots was ready to be a part of it. The coffee shop quickly established regulars, many of whom got to know the owners, Darren Ellis and Reuben Silberman, over friendly chats. It's easy to stop by Mugshots and bounce ideas about local politics off the guys or discuss pending plans for new merchandise and food. What most patrons do not know, however, is that the two charismatic owners serving them sustainably sourced coffee are ex-cops from Lancaster County, South Carolina. Their law enforcement past inspired the name of the shop, but it doesn't have much of a physical presence in the store: No cop paraphernalia adorns the walls, nothing kitschy like you might expect.
Darren is a transplant to South Carolina from California via Texas. He has a robust sense of humor, and brings the shop to life when he walks in with a friendly, "Hey, hey!" Reuben, on the other hand, is a pensive, longhaired former Marine from Long Island. He has a dry wit and understated delivery, and talks in a serious tone about coffee. Reuben feels strongly about the purity of brewing, which requires precision and patience. His greatest complaint about coffee giants such as Starbucks is that they pillage forests in order to amass coffee beans for mass consumption. "It's not right to make everything available to everybody all the time," he says.
The front counter has cookies and muffins in a small display case next to the uber-cool Square register, and the owners bottle their homemade kombucha right there. It's put in the tiny fridge on the floor underneath a rack of Mugshots sweatshirts for sale. They brew their coffee fresh for each cup in a Chemex vessel, a type of pour-over system that looks like an hourglass without the sand.
"In order to brew the perfect cup of coffee, we have to control for at least 10 different things," Reuben explains, and then names a few. "Weight of beans, weight of water, temperature of water. We have to wet the paper filter to get rid of the paper taste before pouring it into the Chemex. Not many people do pour overs, and instead they use some kind of pre-brewed system."
The rich, dark coffee they brew is distributed through San Francisco roaster John Cassidy of Mountain Grounds, who they met through an old friend of Darren's. John gets shipments of beans from farmers in countries including Ethiopia, Brazil, and Colombia, which he roasts and sends to Mugshots about five days later. He was the one who led the guys into the coffee business; John even flew to Charlotte to help them set up the shop with the same practices he uses in his own stores.
If you stick around long enough, pulling up one of the high, wood stools to a small bar table, Darren and Reuben will divulge the details of how two ex-cops opened a local coffee shop that, yes, sells doughnuts. The guys love storytelling, be it about movies or their own lives, and they have no shortage of anecdotes to share about their years working for the Lancaster Sheriff's Department.
While I'm waiting for my Brazilian-grown, California-roasted coffee one day, the guys tell me how morally frustrating and physically draining their days as cops in South Carolina were. They find that their coffee shop adventures are more enriching and satisfying than their law enforcement past.
"As cops in Lancaster County, we dealt with the same two percent of people 90 percent of the time," Darren says. "Here, we're part of the community."
Darren and Reuben became partners while working for the sheriff's office in 2015. Darren had just relocated from Texas, where he had enough success in the seizure of narcotics during big arrests that he found himself on a bounty list more than once. Reuben had been stationed for a time in North Carolina and completed two seven-month deployments to Iraq as a Marine, and he came back to settle down with his wife and pursue a career in law enforcement.
As patrol partners, they realized that being part of a local department had its challenges: too few officers, outdated equipment. They came to make an impact, but they didn't believe that they had the resources needed to do so. They left, no longer wanting to work with a department they believed to be a corrupt, broken system, and sought to improve the community and create positive change another way: through a coffee shop.
A bit of luck and a confluence of events led them to open in Belmont. A friendship with John led them to coffee, and the discovery of available space with affordable rent on Main Street led them to Belmont. With their own business, Darren and Reuben felt they could control all the details of their work, and it's the details that are so important to them. They pay more for beans that come directly from farmers, which helps the bean-growers sustain their farms. Darren feels that he has "made more of an impact in eight months by paying direct trade prices for coffee beans than all of my law enforcement days."
***
THE GUYS petitioned the city for an outside patio, transforming a few awkwardly placed parking spots into a pleasant outdoor seating area. Besides the flower boxes, attractive table sets fill the patio, encouraging patrons to sit and not rush through their cups of meaningfully brewed coffee. On one mild day last summer, this inviting patio was nearly empty, however. I was surprised until I opened the door and saw the line. The shop regulars have learned that inside is where they want to be. That's where the stories are told, where they can buy freshly baked treats and eavesdrop on the characters of the neighborhood. So I got in line, too.
I don't mind waiting for my coffee and watching Reuben brew. He leaned over to study his work, right up close to see how the coffee dripped into the mug, accounting for those 10 or so brewing requirements. Then Darren burst in, full of energy. As the line grew behind me, I stepped aside to listen to Darren's theory on the third dimension as a potential explanation for alternate realities as proven by a scientific study that had recently come "out of Norway—or somewhere over there." Other customers chimed in, while some just listened to the banter, as the two partners refuted and acknowledged each other's ideas and interests.
This well-humored back-and-forth is what you hope to find in a local coffee shop. It builds the sense of community Darren and Reuben had in mind when they created Mugshots. These two guys—one gregarious and happy to share whatever happens to be going through his mind, and the other quietly keeping track of facts—became friends and partners in a police cruiser. And now their friendship and partnership focuses on something simple, something pure, something which, to many, is an integral part of their day—coffee and community—the way pubs in Ireland or the U.K. offer a place for the daily ritual of sharing a pint with a neighbor.