Fort Mill Restaurant Tapas 51 Is Closing
Chef and owner Aaron Rivera sits down for an Exit Interview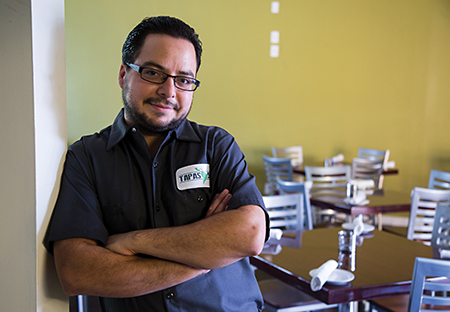 Tapas 51, chef Aaron Rivera's pan-Latin restaurant in Fort Mill, is closing this month, Charlotte magazine has learned. Rivera is selling the restaurant and moving to Colorado, where he will launch a restaurant group with a friend. The last day of service is February 11.
Tapas 51 restaurant opened in 2015 in Passion8's former bistro space, serving tacos, ceviches, tamales, and more using local ingredients. Rivera first gained popularity with his Chrome Toaster food truck. We wrote about Rivera's childhood in Arizona and how he used to hang around the kitchen of the hotel his mom worked at back when the restaurant opened; read that story here.
As a contestant on the Food Network's Beat Bobby Flay, Rivera out-cooked the celebrity chef with his empanadas.
Tapas 51 was one of our Best Restaurants in 2014. We're sad to see the restaurant close.
"Charlotte is such a wonderful city," Rivera says. "I thought I was going to finish off my days here. And then whoop, nope, not anymore."
Here's what Rivera has to say about his time in Charlotte, his first restaurant, and his decision to sell it.
When did you start thinking about the possibility of closing?
We're not closing, we're selling. When people think of closing, they think of restaurants not doing well. And right now, we're doing the best numbers we've ever done. So it's kind of sad that I'm actually selling it now. The idea came when I went on a trip to Tennessee with a good friend of mine named Brother Luck, that I've known since high school.
Brother Luck?
Brother Luck. That's his real name. We were in Tennessee and he's always, 'Come out to Colorado. Come out to Colorado.' 'Nah, nah, I like it out here, I'm good.' But it really hit me when I went home (to Phoenix) for Christmas, and seeing the family. My mom's getting old, my grandmother's getting older, grandfather's getting older. My nephews and nieces, though, is what really hit me. They're in the ages of five and 10 or 11. They're growing up fast. And a couple of them didn't know who I was.
If you didn't have this opportunity in Colorado, do you think this restaurant was sustainable here?
Oh yeah. Not necessarily if I didn't have the opportunity in Colorado… after that trip to Arizona, I was like, 'I have to get out.' Not necessarily Charlotte but maybe the industry a little if I didn't have anything else, just sell it, figure out what to do afterwards. Now that I can stay in the industry is one thing. If I didn't go, yeah, I would probably still be here, still trying to elevate as much as we can little by little by little. But it's somewhat taken a toll on me, having my own by myself. I kind of got a little burnt out, so I'm glad that this happened.
What will your role be in your venture with Brother Luck?
Brother and I are going to open up several restaurants. IV by Brother Luck is going to be the first one we open up. I'll take more of a front-of-the-house role, where he'll do the back of the house. He's very creative. Very innovative chef and we play a really good yin and yang off of eachother. As in, he'll come up with a creative, I'm like, alright, what are we making on it? How are you able to execute it and will the guests understand it? Sometimes those questions are like, 'no, the guests won't understand it. But I still want to do it. Ok, fine. Now it falls on me to how to make the guest understand it or how to get our staff behind it or how can we keep pushing. One thing I loved about not only having the chrome toaster but Tapas 51; I'm more into the business aspect instead of the creative art. I care more on the growth of a company rather than being a famous chef. I don't care for awards. I don't want to be on TV ever again.
Was the Chrome Toaster the first time you got into the business side of things, like business plans?
Yeah, but I didn't have a business plan for the Chrome Toaster and I didn't have one for Tapas 51. I just did it on a whim and said I'll figure it out. I did a lot more of the figuring out the finances with the Chrome Toaster and rolled it in to Tapas 51, but when the space came available here I was like. Alright, well. Financially it made sense, from what we were renting commissary wise, to the rent here. It makes complete sense to do it. We were just going to open up the kitchen so I could use it as a commissary not even do a restaurant, and then I was like well if I just put this in…
I opened up Tapas 51 with $86 in my bank account all the way around. My home went into foreclosure, I was robbing Peter to pay Paul, because I knew I was going to make it. There's no failing on it. And now its, you probably should make a reservation on Thursday, Fridays, and Saturdays, because you might not get a table. In the span of a year and a half, making the money back, I made back my initial investment, I'm going to make money on the sale. Not many restaurants do that, not in a year and a half.
Do you regret any of it?
I don't regret any of it at all.
Do you think you've had an impact on the Charlotte palate?
That's a tough question, because I had a conversation with another chef about that. I don't think so yet. I guess that's one of the reasons why I have been burnt out, because Charlotte doesn't really support it as much as they say they do. Charlotte does not support the local sourcing, Charlotte does not support the creative chefs as much as they like to think they do. What I mean by that is we constantly, and the other chefs I've talked to, people complain about the price. Yes, my tacos are $3-$4. They are small. We source sustainable, local as much as possible, and this is chef-driven. There's nothing frozen in here. But yet, it's 'These prices shouldn't be here in Fort Mill.' Why not?
Are you planning to get back in the kitchen?
Yes. So, restaurant one is basically Brother's idea. That's his money—we're partnering up together, but that's his baby. That's his idea. So whatever we do with the sale of this, that's either going to be my idea, or our idea depending on how we want to do it. But I do want to open up another Hispanic restaurant out there, or my own concept of a couple of ideas that I have, and I will take forefront in the kitchen and still keep my sanity as a chef, as someone who loves to cook, and go that way.
Would you open a Tapas 51 out there?
No. I would do something similar, but I opened this up on a hunch, and it took me a good six months to find our identity. Now that I got it, I want to take another six months to hone it down a little bit more and really conceptualize the dishes, the flow. I would do it a little more higher end as well, and go for the gusto. One thing I've loved about this, I always said I don't care if we close down and not make any money. I want to do the food we want to do. There's been days where we didn't make any money and people didn't understand it, we said, well, thank you very much, it's on us, have a great day, and that's it. I'm not going to change who I am on it.
What are the things you're doing to miss about Charlotte?
Honestly, I don't think I'll miss anything about Charlotte. Maybe a couple things. It's the who that I'm going to miss. It's the going out to the farmer's markets on Saturday and seeing Luca, seeing Jim from RockSalt, seeing Clark, seeing Paul, all of us shooting the shit for that brief five-minute interaction that we cross each other's paths. I'm going to miss that. Obviously, my staff here. I have staff members that were here from the very beginning. From day 1 we opened up the doors and they were working other jobs and I said hey, George, I need you, I'm opening up a restaurant. Through thick, thin, through days where we had no customers come in, he stayed.
Are you selling the restaurant as-is?
Selling the restaurant and food truck as-is, all in one combined package. That will go down on the 13th, keys turn over, I'll stay in town a day or two maybe and then I'll hit the road.
That's fast.
IV by Brother Luck is looking to open up the second week of April. We're working with someone out there and doing taco concepts as well. We'll have a partnership in it, but more consulting on the food and that aspect. That's looking to open up in March. So in between now and closing I'll be making trips to Colorado, but we're looking at opening up four by the end of the year – four of those.
How long did you live here?
I've been in Charlotte now seven-and-a-half years.
What are your parting wishes for Charlotte?
I would love to see the food scene continue to grow. When I came out here seven years ago, it was horrible. I wanted to leave immediately. Three or four years ago I still wanted to leave, because to me it wasn't getting better. It was the same upscale Southern food, the same menus over and over and I've never been a fan of it. I've never been a fan of barbecue… I think I posted that up the other day and got a whole lot of flack for it. But I didn't grow up around it, I didn't understand it, and I still don't understand it. But I'd like to see Charlotte embrace change.
I love how the farmers and chefs are all working together and now I wish they'd get more and more recognition, and I wish that the actual community would support them a little bit more. Go out and try the food and just give it a chance. Become diners, and not critics. Don't criticize on the music or that atmosphere or the color scheme. Just go out and enjoy. We have some really, really incredible chefs that are putting their hearts and souls on plates. Just embrace it.