Fresh and Bright: New England in Lake Norman
Boston transplants hand over their house to designer Beth Keim, asking for a modern spin on traditional favorites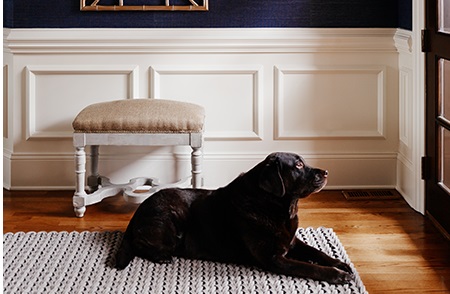 PHOTOGRAPHY BY CHRIS EDWARDS
In the foyer, the family Lab keeps watch on a braided felt rug by Surya. Bold textures and colors, like the navy grasscloth by Phillip Jeffries, energize traditional architecture.
When Beth Keim's then-New England-based clients flew down to find a new home on Lake Norman, they had in mind what they wanted. Though the couple's previous home had been formal and traditional, they wanted something with more modern finishes and accessories that retained the traditional aesthetics found in historic homes of the Northeast.
It took one look at the charming, lakefront New England-style house located in the Peninsula and the couple was smitten. "We flew down to house-hunt for the weekend, and this house was the second one we saw," says the wife. "Honestly, it spoiled me for the rest of the trip. As much as my husband was reluctant to admit it, we both knew it was the one, even then."
Not long after, she began researching local designers to help overhaul the formal interiors of the home. "I have a fascination and appreciation for design, fueled in part by design blogs and websites," she says. "When I realized that Lucy and Company photos dominated my online idea book, I knew it was time to connect."
Keim, whose Dilworth-based studio, Lucy and Company, has been a mainstay in the Charlotte interior design scene for years, reworked the home's living areas completely. To achieve a more modern feel, the walls, which were once a buttery yellow, were painted a neutral gray throughout. A palette of blues, grays, and whites—a nod to a more coastal aesthetic—was chosen to complement the home's beachy vibe. In addition to incorporating a traditional-meets-formal look with the decor, artwork, and accessories—all of which were purchased new for the home—the house needed to be family-friendly. "They have two young kids and a dog," says Keim. "They just wanted a whole new look; they wanted to completely change up what they'd always had with what they always wanted: a more modern space with traditional elements."
To bridge the line between traditional and modern, Keim kept much of the furniture's lines conventional while the fabrics, finishes, and artwork leaned modern. The jumping-off point for the home's design was the Phillip Jeffries grasscloth wallpaper in the foyer; from there Keim seamlessly combined normally formal Chippendale chairs in the dining room with an abstract ikat-painted grasscloth also by Phillip Jeffries. In the den, she took a Chesterfield sofa—known for its classic deep-buttoned back—and upholstered it in modern navy leather. In the great room, she paired two wingback chairs, decidedly formal on their own, with a cozy sofa, then upholstered them in neutral fabrics with classic nail-head trim.
Artwork by Keim's husband, Keith, and artist Edward Walsh bring playful, modern additions to many of the living spaces, while accessories from Slate Interiors and Cotswold Marketplace help create a cohesive traditional-meets-modern look throughout. With lots of windows overlooking the water and marina, the rooms feel fresh and bright. "The space is so light and airy and a good mix of traditional and modern clean lines," says Keim.
And kid-friendly. Durable seagrass rugs are layered with smaller area rugs. Rustic elements, such as the reclaimed barn-wood coffee table in the den, are not only stylish but indestructible to the couple's two young children and family dog. "It's so livable," explains Keim.
Though the living spaces are complete, the homeowners are looking forward to working with Keim on phase two of the home, which includes revamping the master bedroom and the children's bedrooms. Taking chances with new colors, fabrics, and art has opened the door to a clear sense of personal style. The wife says, "You know, I walk through the dining room and the artwork makes me smile. Even though it's a new house to us, it already feels like home."