Fresh Recipes For Strawberry Season
Add Strawberry Chicken Salad and Strawberry and Black Bean Salsa to your repertoire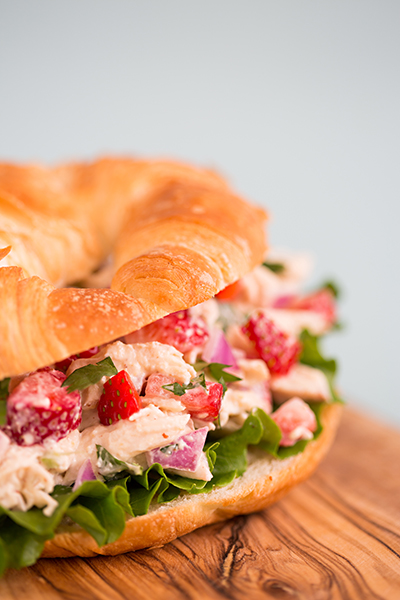 North Carolina is one of the country's top strawberry-producing states, and berries make their debut at farmers' markets by mid-April. When they are ripe, it's almost impossible to resist buying these sweet treats by the basketful, but that doesn't mean you'll be eating shortcake for months. When paired with salty and spicy flavors, strawberries add a refreshing, unexpected fruity touch to savory dishes and cocktails.
***
Strawberry Chicken Salad
PETER TAYLOR, STYLED BY LORI RAY
Strawberry Chicken Salad
Serves 4
Serving Suggestion: Try serving this chicken salad as a brunch sandwich with arugula, Dijon mustard, and Brie on a croissant.
1 rotisserie chicken, shredded
1/4 cup diced celery
1/2 cup diced red onion
1 tablespoon chopped fresh herbs
like cilantro, basil, or parsley
1 tablespoon plain yogurt
3 tablespoons mayonnaise
1 teaspoon mustard
Juice from one lemon
1/3 cup diced strawberries
Kosher salt and black pepper to taste
Combine all ingredients except for strawberries. Once mixed well, fold in strawberries and adjust seasoning. Serve immediately or store in the refrigerator up to three days.
***
Strawberry and Black Bean Salsa
PETER TAYLOR, STYLED BY LORI RAY
Strawberry and Black Bean Salsa
Makes 2 1⁄2 cups
Serving Suggestion: This works well as a sauce for fish or chicken, with tortilla chips as a snack, or even as a side salad to a Mexican entrée.
1 1/2 cup diced strawberries
1 cup canned black beans, rinsed
1/2 jalapeño, seeded and minced
1 tablespoon chopped cilantro
1/2 tablespoon chopped mint
1 lime
Kosher salt to taste
Gently toss strawberries, black beans, jalapeño, and herbs together. Add juice from half a lime, and salt to taste. Toss, adding more lime juice if necessary. Let sit at room temperature for 30 minutes before serving.
***
Strawberry Honey Lemon Smash
Makes 2 drinks
Serving Suggestion: For a make-ahead party version, make the strawberry lemonade in a large batch, chill, and add bourbon when ready to serve.
1/2 cup fresh lemon juice
12 strawberries, hulled
1/4 cup honey
1 cup warm water
3 ounces bourbon
Mint leaves for garnish
Pour lemon juice into container. Muddle strawberries in same container. Strain mixture. Add honey and water. Mix well. Pour into cocktail shaker; add bourbon and ice. Shake and pour into rocks glasses with ice. Garnish with mint.