Fresh Take: MOA Korean BBQ in Uptown
It serves an upscale grill-at-your-table experience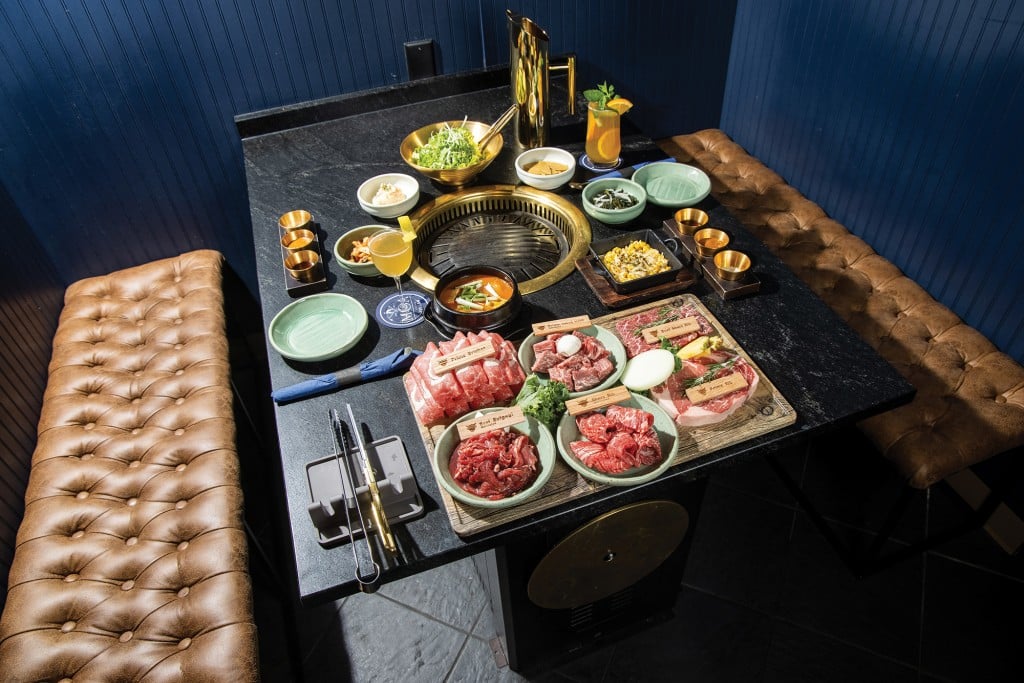 The first thing you'll notice when you walk into MOA Korean Barbecue & Bar is the high-definition TV on your way to the hostess stand. Its heat sensor clocks the temperature of everyone who enters. Owner Sean Kim modeled it after the technology many businesses and restaurants in South Korea have employed to slow the spread of coronavirus.
If your temperature is below 100.4 degrees, the hostess will seat you. You'll pass a sleek bar with blue velvet-covered bar stools in front and a display of more than 600 wine bottles in back. Above the bar, a second-floor mezzanine with an additional wine display overlooks the dining room. There's a mix of leather booths, four-top tables, and longer tables with grills in the center—plus two private dining rooms and four additional tables on the patio. The interior is dark brown with pops of royal blue, and brass light fixtures hang from the lofty ceiling. This isn't a trip to Benihana; think sleek uptown steakhouse-meets-authentic Korean cuisine.
Stop in for lunch and order off an abbreviated menu that includes bibimbab (a Korean rice dish), katsu (Japanese-style fried pork or chicken), or a lunch box with your choice of meat or veggie stir-fry, white rice, tofu, mandoo (Korean dumplings), and soup or salad. À la carte options include the Korean seafood pancake ($11), made from savory potato with shrimp, squid, and vegetables. The Kimchi bulgogi nachos ($10), a pile of tortilla chips topped with Korean-marinated beef, pan-fried kimchi (a traditional Korean dish of salted and fermented vegetables like cabbage and radish), pico de gallo, and cheese, are also great to share.
If you're new to Korean food, the Japchae ($13-$18) is your safest bet. The clear potato starch noodles are dressed up with snow peas, cabbage, red bell peppers, onions, and your choice of meat, seafood, or veggies. The Korean tacos ($11-$13) are another conservative choice; they come with your choice of tofu, chicken, spicy pork, or beef, and a side of parmesan truffle fries.
For the most authentic experience, come for dinner and bring a few carnivorous friends to try the tabletop barbecue. Start with some sake, a specialty cocktail, or a glass of wine, then listen to your server, because it's about to get overwhelming. You can order your meats à la carte ($20-$50) or in combos ($80-$200), and choices include pork belly, ribeye, brisket, chicken bulgogi, marinated shrimp, and a bunch more. When you opt for a combo, the chef selects your sides, which might include seaweed salad, corn cheese, or kimchi. Then sit back, have another sip of sake, and watch your server cook everything in front of you.
You'll smell your Korean feast as soon as the meat hits the grill, but there's plenty of ventilation, so don't worry about smoke or noise interrupting your conversation. Tell your server if you want anything spicy or mild, then fill up your plate as many times as you like. Just be sure to try everything because each meat is a different carousel of flavors.
If you saved room for dessert—and you probably didn't, but don't let that stop you—there's green tea soufflé cheesecake ($8) and Hotteok with ice cream ($8), a chewy, deep-fried Korean pancake with a cinnamon, brown sugar, and peanut filling, topped with vanilla ice cream. Keep in mind this isn't a place you come if you're into portion control. If you're still hungry when you leave, you're not doing it right.
---
Don't leave without trying: The seafood Korean pancake ($11) will be your new favorite comfort food.