Fresh Take: Inside Leah & Louise at Camp North End
Concept celebrates Delta culture and cuisine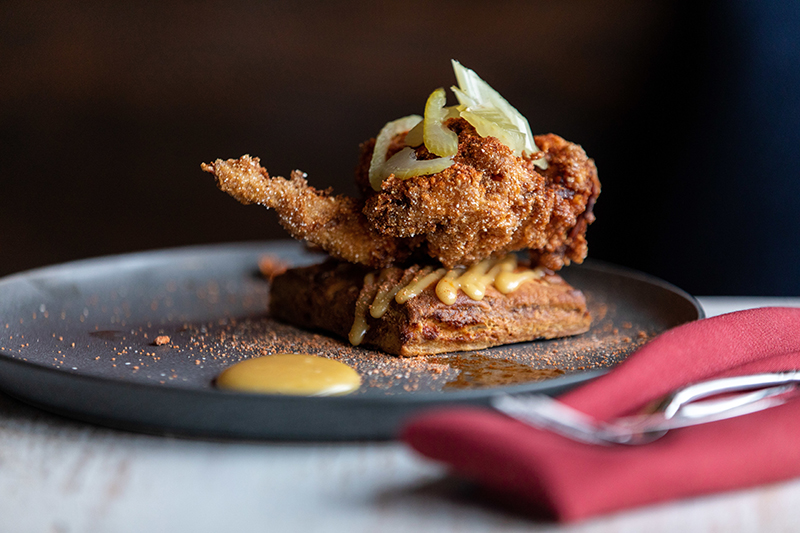 New restaurants often promise a concept unlike anything we've seen in Charlotte—and sometimes pull it off. Conveyor belt sushi was unexpected. Barbecue and Asian cuisine was a surprisingly good mash-up. Gaming venues are having a moment. But a Memphis-style juke joint that serves river chips and hot fried quail? This one lives up to its promise.
Leah & Louise is the third concept from husband-and-wife team Greg and Subrina Collier and the first restaurant to open in Camp North End. They were on track for a grand opening in late March until COVID-19 hit, forcing them to halt dine-in service before they opened their doors to the public. Prior to the bar and restaurant closures, the Colliers hosted a few private events in their new space. At press time, they were limited to takeout and delivery orders.
The Memphis natives—who had to temporarily close their other venture, Uptown Yolk, as well—spent close to a year renovating the 1,800-square-foot space. They named it after Greg's late sister and grandmother and modeled it after a "juke joint," a place African-Americans would go for "booze and blues" in the Deep South beginning in the Jim Crow era. The décor takes a use-what-you've-got approach, with mismatched dishes, whitewashed oak tabletops, and reupholstered church pews that function as booths along the back wall. A long communal table in the center seats 14, and the booths and patio seating accommodate an additional 44. (That's it, 58 seats total, so make a reservation.)
Greg, the James Beard-nominated chef and Soul Food Sessions co-founder, serves dishes inspired by the Lower Mississippi River Valley soul food he grew up with. (Think Memphis, mainly.) The one-page menu starts with a "Bar None" section of small-ish shareable plates like River Chips ($6), the fried chicken skins he perfected at Loft & Cellar, his previous uptown restaurant. The Roll Up ($5) is a thick slice of cornmeal brioche with black garlic butter, a decadent but not-too-filling starter for a party of two.
For a true taste of the Delta, order the Quail of 2 Chiles ($16), hot fried quail with pickled celery on top of a warm blue cheese biscuit you won't want to share. The Black Sheep ($16) is a sweet-and-savory mash-up of smoked lamb rib topped with boiled peanuts and sweet potato "pickliz." If you still have room, try the Dirty Grits ($7) with smoked mushrooms—and get them with fried livers for an additional $5. The "Shugahs" section has treats like the Arthur Lou ($8), a Tang tart with ginger meringue and oatmeal crust, and the Crepe Cake ($8), a pear fritter with cardamom whipped cream.
Look for a rotating PWYC ("pay what you can") dish, which the Colliers include so every patron can enjoy a great meal regardless of their social or financial status. At the bar, mixologist Justin Hazelton serves seasonal cocktails and low-to-no-ABV drinks. Guests can also head next door to Free Range Brewing for a beer and order food from Leah & Louise's bar menu.
The Colliers hired sous chef Tchnavia "Tché" Carter and pastry sous chef Jasmine Macon in their ongoing effort to give a platform to more black women in the hospitality industry. Everything about this restaurant feels like an extension of this couple, and in a time when we could all use an escape—mental or culinary—this restaurant transports you to a different place and time.
TAYLOR BOWLER is lifestyle editor of this magazine.