Friday's Find: Chocolate Butterbean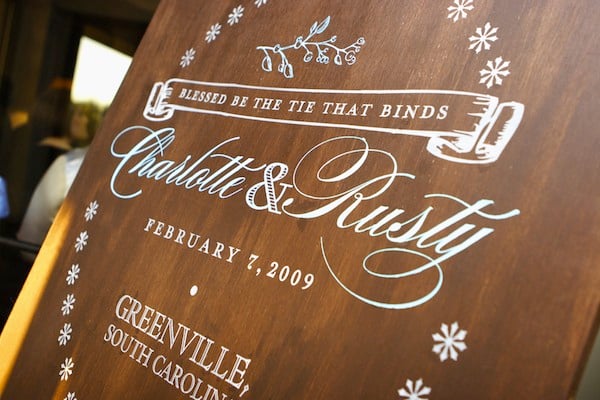 I think it's the whimsy, fun, and glamour of the typefaces that are used coupled with the unique and special perfection of the designs by Joni Lay of Chocolate Butterbean that makes us stare and talk endlessly about her work. (I'm certain the melding of the word chocolate with a vegetable that is indigenous to the South definitely helps!)
By working personally with each bride, and specializing in using flat printing, thermography or letter press, Joni creates a look that is custom tailored to the style, theme, and events surrounding your wedding day. If you're hunting for a save the date, shower, engagement and bachelorette party invites, or full wedding invitation suites with accompanying wedding programs, you'll be surprised—and delighted—with the ideas and designs that Joni offers.
The signs designed by Chocolate Butterbean can serve as directions for guests to ceremony and reception locations, parking instructions, as well as an oversize (they can't miss it!) thank you for attending, which will be another wonderful keepsake and memory of the day you married.
See the rest of Chocolate Butterbean's wedding portfolio by visiting its Web site, chocolatebutterbean.com.