Friday's Find: Southern Proper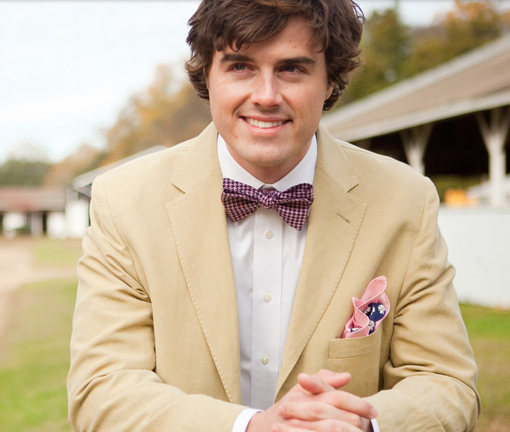 If your groom (and/or his groomsmen) is typically seen wearing a Polo shirt, khakis, and Sperry top-sider shoes, it's time he checks out Southern Proper. Bow ties (appropriately called the Beaus collection) and neckties (the Gents collection) and pocket squares in coordinating prints (Proper Pockets, natch) are designed around Southern staples like college mascots, cotton, peaches, magnolias, alligators, Labrador retrievers, and mallard ducks. The Beau collection ties are $55, the Gents styles are $68, and Proper Pockets are $35.
Add to the haberdashery mix, Southern Proper's Cotton Collection, Proper Polos, and Prep Belts are all great for wedding and engagement festivities, groomsman gifts, and honeymoon wear. Cotton collection woven shirts, $75, are available in four colors: whistle white, button up blue, proper plum, and cuff link pink, and a good look for a more casual wedding. Forgo the monogrammed flask and pair a proper polo, $59.50, with a prep belt, $45, for groomsmen gifts.
The line, just as proper, preppy, and classy as the company's founders—University of North Carolina grad, Reagan Hardy Howell and Brenau University alum, Emmie Henderson—is based in Atlanta, Georgia but available throughout the U.S.
Southern Proper is available in Charlotte at Fairclough & Co. and 3 French Hens.