From Farm to Knife & Fork
How a chef, his wife, and their restaurant are making a whole new Spruce Pine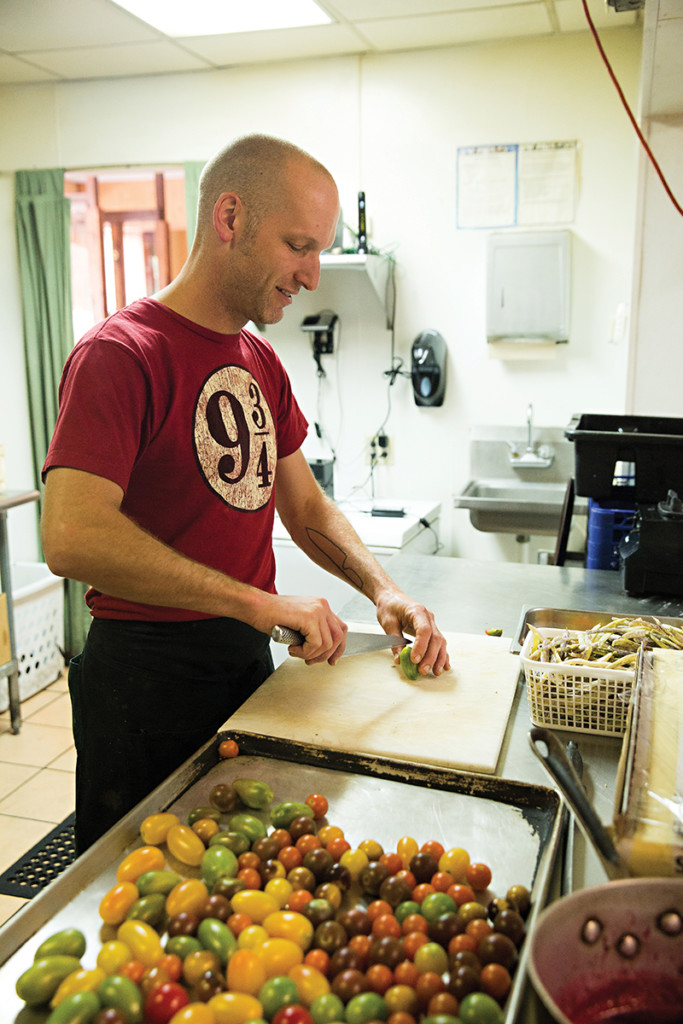 THE CHEF tap dances on the hardwood floor of his restaurant in new cowboy boots. They're a gift from a table of regular customers, people who are grateful for what Nate Allen and his restaurant, Knife & Fork, have done to transform this once-empty mountain town.
"I hope they don't hurt your feet," a man at the table says.
"Man, I'm on my feet 27 hours a day. Who cares?" Allen responds.
Another potential customer walks in, and Allen clicks across the floor to greet her. "I just want to see a menu," she says. "Aw, you don't need to look," Allen says. "You can just sit down. We'll make you something good."
It's been six years since Allen and his wife, Wendy, drove across the country from California, towing their Volkswagen bus, and started making guarantees to the people of Spruce Pine. He'd been the personal chef for two Hollywood celebrities and traveled all over the world. But he and Wendy both grew up in the North Carolina mountains and wanted to come back, find a town, and rebuild a community around food. They knew the region was full of farms, and they immediately visited as many as they could. With Nate's energy leading the way, they told the farmers that their restaurant would use so much food that was born and raised here, the farmers would actually need to increase production.
The locals, of course, doubted him, as people who've seen their livelihoods vanish would doubt a new person making promises. But Nate and Wendy proved themselves from the start. They renovated the bottom floor of an old building on the main strip in Spruce Pine in just one month. They used wood from a mill in Saluda to make the tables—wood so old that the table in the corner of the restaurant still has a Civil War-era bullet buried in it.
The food is fresh, local, and remarkable. On a recent visit, a five-course tasting menu ranged from trout that'd been cured for four weeks, to okra and chopped tomatoes, to a pork chop twice the size of any grocery store pork chop you've ever seen. This was all topped with a dessert filled with wild berries from the region. "Everything on your plate, I know how it was raised," Allen says. "I can vouch responsibility for it, from seed to plate."
Spruce Pine, a town of about 2,000 people, was built when the railroad came through in the early 1900s. It later became a mining town, and is now a destination for people driving along the Blue Ridge Parkway. Locals smile more. Farmers have more business. And Allen, the man tap dancing in new cowboy boots with a knife tattooed on his left arm and a fork tattooed on his right, keeps people coming here.
He's added a bar, too, just up the stairs from Knife & Fork. It's called Spoon. He works as the bartender on Wednesdays and Saturdays. On this Wednesday, a group of women sits at the bar, and one of them is skeptical about having a drink. "Bartenders always tell me I'll like what they make, but I never do," she tells Allen. Then he whips up something and on first sip, she loses her breath. "Oh, my God," she says. "That's good."
"Told you," Allen says.
61 Locust St., Spruce Pine, 828-765-1511
---
IF YOU GO: Visit Nearby Little Switzerland
Books and Beans
A century ago, Charlotte lawyer Heriot Clarkson wanted a mountain paradise to escape the summer heat. He and a few partners took a train to Spruce Pine, then mules up the mountain. He saw a spot, loved the spot, then went back to Charlotte and described it to a friend. She thought it sounded like Switzerland. So Clarkson named it Little Switzerland.
There's still not much in this town off Exit 334 of the Blue Ridge Parkway, but what is here is charming and quaint. No place is more of both than the bookstore. It's three stories and filled with books old and new from authors near and far. And it, too, is owned by a man from Charlotte. Rick Gougeon moved here in 1999 after spending 15 years in Charlotte, working for Allen Tate and the Charlotte Business Journal, among other places. He has his own development company now, and he bought the store a few years ago. Gougeon hosts community gatherings on Fridays, bringing in speakers and musicians each week.
"My theory is, if you don't have a place where people can gather and be a community, then you're just neighbors," he says. 9426 Hwy. 226-A, Little Switzerland, 828-766-2601
---
This article appears in the October 2015 issue of Charlotte Magazine
Did you like what you read here? Subscribe to Charlotte Magazine »
---