Futo Buta Opening This Weekend
South End ramen house will start serving full menu by next week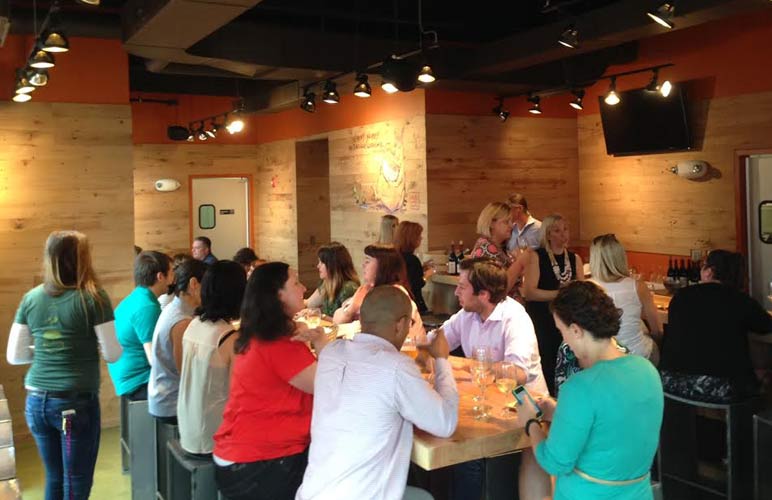 Futo Buta, a ramen house by Chef Michael Shortino, formerly of Baku, will open on Saturday. They'll start with a limited menu, working toward full menu service next Thursday. Shortino initially hoped to open on May 1.
The restaurant overlooks the light rail tracks on Bland Street, across the tracks from All-American Pub and Greek Isles. The space is small but airy, with floor to ceiling windows, oak-covered walls, and a friendly atmosphere. There's also a patio space along the sidewalk. In the dining room, you're joined by a painting of a fat pig slurping a bowl of ramen—and at this place, slurping is welcome. That's the sign of a good ramen.
The ramen ranges from traditional shoyu, a chicken-broth base, to a cheese ramen, with Pecorino cheese, scallion, cilantro and lemon. Prices range from $10 to $12, with the exception of one special ramen that only 10 guests a day will receive. It's the Tsukemen, a double chicken broth with poached chicken breast and scallions. That one is $15.
Also on the menu is a steamed bun selection, including the Lowcountry Pork Belly (pictured at left) with sesame slaw and pickled mustard seed, which will probably be my first order when Futo Buta opens. The bun is moist, and the pork belly ranges from melt-in-your-mouth to tender. Other options include the duck confit and roasted eggplant and zucchini.
The buns and noodles are made in-house, and a sushi menu will change daily. Shortino has a smoker in the kitchen, allowing items like smoked salmon belly nigiri on the menu. As for beverages, expect sakes, local and Japanese beers, and wine.
Futo Buta will open its doors Saturday at 11 a.m. and begin its regular serving hours: Sunday through Thursday from 11 a.m. to 10 p.m., and Friday and Saturday 11 a.m. til late.