Garden Cocktail Recipes from Bob Peters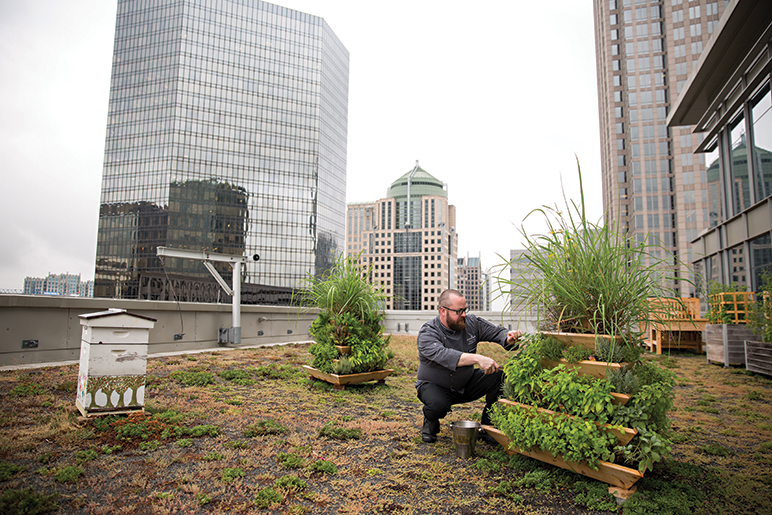 HIGH ABOVE the city streets on the roof of the Ritz-Carlton in uptown, you'll find a row of planters, filled with streaks of green climbing up trellises in the heat of the sun. Peppers, basil, mint, squash, cucumbers, and more find their places here, each marked with little wooden signs. The planters are kept green with an adjustable watering mechanism, allowing the hotel staff to maintain each one individually. Two beehives buzz nearby, cared for by Cloister Honey. Some of the garden's bounty goes to Matt Carnivale, chef of The Punch Room, where it will be served as part of a small plate. But it's the cocktail bar's head mixologist, Bob Peters, who asked for the rooftop harvest. He carefully selected vegetables and herbs that work well in cocktails for the first season of the Ritz's rooftop garden.
"I love using Thai basil and sweet basil and sage and thyme and lavender—all that stuff I knew I was going to use," Peters says.
There have also been a few surprises in the garden. Peters did research on how to make the bees happier, and asked for bee balm to be planted, as well. But the bee balm has made him happy, too—he's found the flower petals from the plant make a beautiful garnish. The flowers on the Thai basil plants have also become a favorite garnish of his, and Peters says he wants to plant more edible flowers next year, as well as explore winter options this year.
The mixologist plucks items from the garden just before the bar opens (5 p.m. on Wednesday and Thursday; 6 p.m. on Friday and Saturday), and brings them back behind the bar, where the herbs make their way to cocktail glasses on the hotel's 15th floor, home to The Punch Room.
"A lot of times, I'll come down with my little bucket full of goodies, and people will be at the bar and be like, 'Whatta ya got?'" he says. "So I get to show them what I just clipped, and it's kind of a neat experience to share with customers, especially if they're a new guest for the first time."
To help at-home gardeners make use of their own herbs, Peters shares three fall recipes that make tasteful use of honey, rosemary, and sage.
---
Fo' S.H.O. (Salted Honey Oatmeal)
2 oz. Milagro tequila
½ oz. salted honey oatmeal syrup (recipe follows)
¼ oz. Drambuie
¼ oz. Jägermeister Spice
Pour ingredients into shaker with ice. Double-strain into a cognac glass. Pictured with a lemonmezcal foam, but can be served without foam.
Salted honey oatmeal syrup
2 cups oats
8 cups water
2 cups sugar
¼ cup honey
1 tsp. sea salt
Bring water and oats to a rolling boil and let reduce by onethird. Remove from heat; let steep 15 to 20 minutes. Strain using a fine mesh strainer; discard oats. Add sugar, honey, and salt to liquid, and stir until dissolved. Refrigerate.
---
Rosemary Hot Chocolate
2 oz. Old Scout bourbon
2 oz. rich hot chocolate, homemade or store-bought
1 oz. rosemary simple syrup (recipe follows)
Rosemary simple syrup
6 cups water
1 bunch rosemary
3 cups sugar
Combine water and rosemary in saucepan. Bring to a boil; remove from heat. Mix in sugar. Let sit one hour, then strain and refrigerate.
---
A Wise Old Bird
2 oz. Cardinal barrel-aged gin
1 oz. apple sage syrup (recipe follows)
Pour ingredients into mixing glass or shaker; stir. Serve in a Nick and Nora glass.
Apple Sage Syrup
6 cups water
4 apples, sliced
1 bunch sage
3 cups sugar