Get Away From Beer and Into Corkbuzz
South Park wine bar is a welcome respite from the beer scene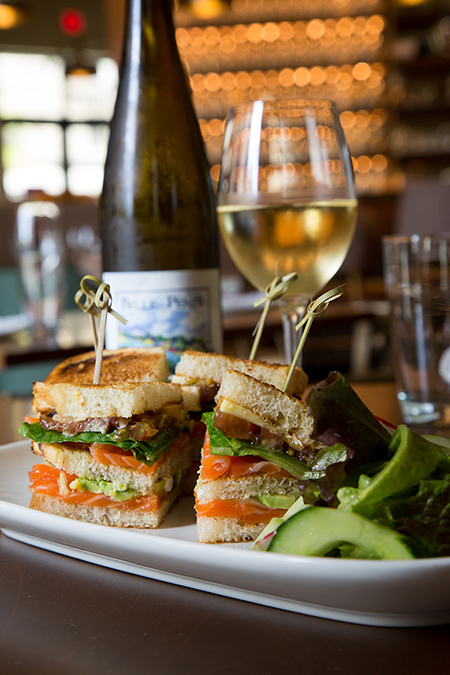 A 2012 Casarena Reserva Malbec from Argentina and a burger. Palmina Sangiovese Blend Rosé Botasea to pair with a cheese and charcuterie plate. Black pepper pappardelle alongside a 2013 Domaine les Aphillantes Rouge Carmin Grenache. Master sommelier and Corkbuzz CEO Laura Maniec recommends these specific pairings of wine and food, because at Corkbuzz Wine Studio, what you eat decides how you should drink. It's a refreshing change from beer-and-whatever
Corkbuzz opened in June in SouthPark's Sharon Square. It's part wine bar, part restaurant, with a lounge feel that's just formal enough to fit in with the SouthPark scene. Floor-to-ceiling windows along the front of the space bring in lots of natural light, while up-lighting from the booth seating adds warmth as sunlight becomes scarce. A bar with 15 seats and plenty of standing room between them fills up as the dinner rush slows down, adding to the energy (and noise levels) of the restaurant.
Maniec, one of only 23 female master sommeliers in North America and one of 32 in the world, splits her time between three Corkbuzz locations. The first two are both in Maniec's hometown of New York City, one in Union Square and the other in Chelsea Market. Her uncle and business partner, Frank Vafier, has a home near Lake Wylie, and when Maniec is here, it becomes her home, too. Sometimes, Maniec says, the flight to Charlotte is an easier commute than traveling from her home in Brooklyn to her New York restaurants a few miles away.
To make the New York concept fit in Charlotte, Maniec had to make a few small changes. The main goal of Corkbuzz, to be the "go-to place for all things wine," remains the same. Classes, tastings, and wine dinners are a resource for those seeking an education in the beverage. In New York, you'll find more communal seating, while the Charlotte Corkbuzz has more private tables and one communal table in a private space. The wine lists are somewhat different as well, based both on varying tastes and availability.
"You find more international wines sold in New York, more pride of domestic wines in Charlotte," Maniec says. "The wine list should be weighted in terms of what people want to buy, not what we want to sell or our idea of what people should drink."
The menu is built around food that pairs well with wines, all 200-plus by the bottle and nearly 40 by the glass. Corkbuzz has a wide selection of cheeses and charcuteries ($29 for a chef 's selection of three meats and three cheeses). There are also more surprising options, including the chicken-fried rabbit, tender pieces of meat with the satisfactory crunch of a golden-brown chicken finger ($15). The bourguignon burger, a hefty patty of ground beef topped with a red wine fondue and bacon-mushroom relish ($14), has just enough flourish to fit in with the upscale menu. Dishes classically paired with wines, such as scallops and duck, also have a large presence.
If your preference is liquor or beer, the staff is happy to recommend those, too— and bartender David Mudd's cocktail creations are enough to draw you in. But at Corkbuzz, the staff's focus is on wine education and enjoyment. Here, yours should be, too.
---
Corkbuzz Wine Studio
4905 Ashley Park Ln.
704-625-1328
Entrées $13-$31
L, D, BR, FSB, P, R
---
This article appears in the October 2015 issue of Charlotte Magazine
Did you like what you read here? Subscribe to Charlotte Magazine »
---