Get Ready for 5Church
Grand opening event May 18 and 19 for new restaurant in uptown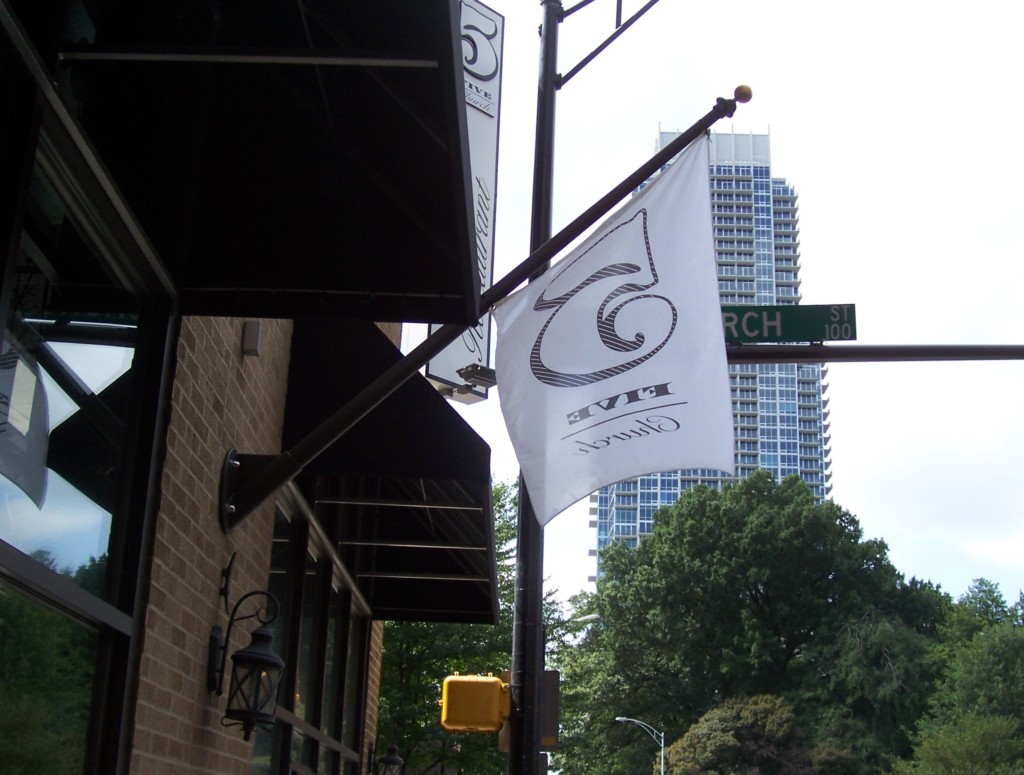 5Church is easy to find. The name of this new restaurant signifies its location, on the corner of West Fifth and North Church streets in uptown. Recently, a tall sign was added to the exterior, and so were two white flags with the 5Church logo, one protruding over each street. While there may be white flags waving as you pass this soon-to-open restaurant, its owners have no intentions of surrendering.
5Church is being opened and ran by partners Patrick Whalen, Mills Howell, and Alejandro Torio, and Executive Chef Jamie Lynch. They each bring a different set of skills and experience to the business. Your first impression will be thanks largely to the design work of Howell, who's also a partner at Reaching Quiet, an interior design firm that did the design work inside the multi-level space. I got to see it firsthand during a tour on Tuesday and it has been completely transformed from the space that last housed Molly Macpherson's Scottish Pub and Grill.
5Church has a refined atmosphere, led by black, white, and gray décor and great attention to detail. First off, the main entrance has been redesigned, featuring two tall glass doors facing Church Street. Once inside, your eyes are likely to be drawn upward, where you'll see black ceiling panels filled with white lettering—they're handwritten chapters from The Art of War. Black leather couches greet you, and those same touches can be found on banquettes that line the walls throughout.
The bar is a magnificent piece as well, akin to a long, horizontal ivory tower. The flatscreen TVs were already in position behind the bar when I visited Tuesday, but what will easily become the main attraction was still in the works. The owners of 5Church plan to have one of the largest bottle displays in Charlotte, featuring hundreds of bottles of liquor and wine on multiple glass shelves. Lights will adorn the shelves, creating an illumination that will be visual appealing to both the restaurant patrons and viewers looking on through the windows from the street. Expect a drink menu with handcrafted cocktails, a list of about 60 wines, and several craft beers from local breweries.
There will be table seating for about 100 people, each of the tabletops custom and handmade from either concrete or oak. Large pieces of artwork by local artists adorn the walls.
Upstairs is a dining area that will be available to be reserved for private functions. It features its own bar and a large, semicircle booth, similar to what you would find at a top nightclub. But Torio, who's formerly a manager at Butter NC, is quick to point out that their focus at 5Church is on dining. "We want eating here to be an event in itself," he says. You will, however, be able to enjoy a social atmosphere during happy hour at the bar, and about a month after opening, they plan to feature a festive, weekly Sunday brunch party.
As for the food, the menu can be described as refined American comfort. Executive Chef Lynch, who brings several years of restaurant experience from San Francisco, New York, and Charlotte, including his most recent stint as sous chef at Barrington's, is leading a newly formed cooking staff and they have a large kitchen to work out of. Lynch says the menu will feature "a spin on dishes we grew up with, like burgers and ramen noodles, except we're doing them really well. The mac 'n' cheese will be lobster mac 'n' cheese." He describes the noodles as being hand-strung, and a burger made from half lamb and half chuck, served on housemade buns. He says he expects one of their signature dishes to be the 60-second steak, which will be cut to order, and cooked on only one side, which he says creates crunchiness on one side and great flavor on the other.
5Church will hold its public grand opening event Friday, May 18 and Saturday, May 19. It's located at the corner of West Fifth and North Church streets, and there will be complimentary valet parking daily. Reservations can be made at reservations@5church.com or 704-919-1322, 5church.com.