Get Your Shoe Shine On
Every man should have well-polished dress shoes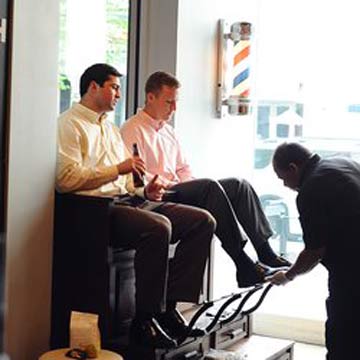 I had a big meeting this week, and the night before, I pulled out my shoe shine kit to polish my favorite wingtips. All of my supplies—the brushes, rags and polish—are stored in a wooden box that belonged to my grandfather. He and my other grandfather were both salesmen and they both believed well-polished shoes are a sign of a man who has his stuff together. They taught me the proper way to shine shoes.
I mentioned all this to a buddy, who offered a puzzled gaze in return. He had never polished a pair of dress shoes, doesn't own the equipment and has no intention of doing so. But, after a minute, he admitted that he notices scuffed up dress shoes.
If you're like my friend, never fear. There are plenty of great options. Shoe shine guys are like great cabbies. They can carry on a lively conversation with anyone. Here are some of the best:
Latta Arcade
This two-seat wooden booth, inside Uptown's Latta Arcade, is a Charlotte institution. Don't believe me? When Grady Parker, who had been shining shoes there for nearly 30 years, retired back in 2013, Gov. Pat McCrory came to town and presented Parker with the Order of the Long Leaf Pine, the highest award our state can give.
320 S. Tryon St.
Emerson Joseph Salon
This upscale men's barbershop offers a shoe shine service as part of haircut packages and as a standalone service. Don't be surprised when the bootblack offers to untie and remove your shoes while you're getting a trim.
Uptown: 221 S. Tryon St.; Ballantyne: 14835 Ballantyne Village Way
Nordstrom at SouthPark Mall
The men's department's shoe shine booth offers Nordstrom's outstanding customer service. If you don't want to sit in the chair, or if you have several pairs of shoes in need of a shine, drop them off in the morning and swing back by the mall later in the day to pick them up.
4400 Sharon Rd.
If you're ready to shine your own shoes, you can pick up the right supplies for about $20. A wide range of retailers—from Walmart to J.Crew—sell kits with everything you need to get started.