Getting Personal
Local cancer treatment is increasingly driven by an individualized approach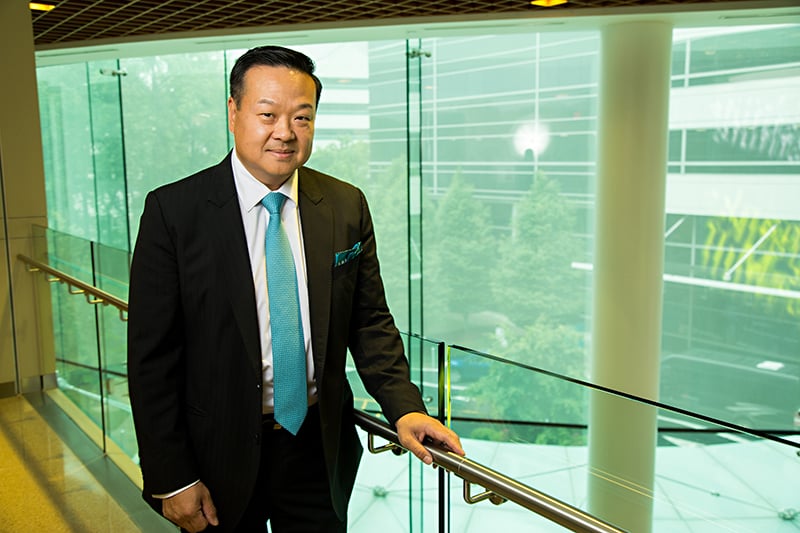 WHEN DR. EDWARD KIM entered the field of lung cancer in the early 2000s, friends and colleagues wondered at his choice. "Lung cancer is so depressing," they told him. But Kim continued. And now he's in a position to see the field's latest innovations in personalized cancer treatments.
"Lung cancer has really undergone a generational shift in the approach that we take," Kim says. "It's fundamentally a different cancer."
Lung cancer isn't alone in these advancements. Innovations in cancer research are changing the way researchers see cancer and increasing patients' treatment options.
"Patients will start living longer with cancer because treatments have gotten better," says Beth Thompson of Carolinas HealthCare System. "We've figured out more unique ways to treat patients, moving away from chemotherapy and radiation and moving on to studying the individual tumors."
Here are three indicators of a larger shift in cancer care, happening right here in Charlotte.
---
Gene Therapy
Kim, the Levine Cancer Institute's chair of solid tumor oncology and investigational therapeutics, is at the forefront of gene therapy. In this form of personalized medicine, doctors identify genetic markers within a tumor, then seek to develop drugs that work with those genetic markers to shrink the tumor. Kim says nearly a quarter of lung cancer patients have a target marker that makes them eligible for a gene therapy drug. These patients are able to shrink their tumor with pills instead of chemotherapy, creating fewer side effects.
"That's why we see these miraculous shrinkages right now in lung cancer," Kim says. "You can have a patient on pills for years—that's what molecularly targeted therapy has transformed in several tumor types."
In addition to advancing lung cancer treatment, gene therapy has shown promise for breast cancer and melanoma patients.
---
Immunotherapy
Immunotherapy is another form of personalized medicine in which drugs enlist the body's immune system to fight cancerous cells. In contrast to chemotherapy—which targets all rapidly dividing cells—immunotherapy targets only the tumor cells while sparing the healthy ones. Like gene therapy, the result is a treatment with fewer side effects.
While trials continue for new immunotherapy drugs, a few are already FDA approved. One such drug has a Charlotte tie: Dr. Asim Amin, the Levine Cancer Institute's director of immunotherapy, was a principal investigator of early immunotherapy trials and played a key role in the development of an immunotherapy drug for melanoma.
His colleague at Levine also made a national mark in personalized care. Dr. Daniel Haggstrom co-authored a study, published in the New England Journal of Medicine in the spring of 2015, on research into a gene therapy drug tested in Charlotte against advanced-stage lung cancer.
---
St. Jude's Research
In April 2015, Novant aligned with St. Jude's Children's Research Hospital to create the St. Jude Affiliate Clinic at Novant Health Hemby Children's Hospital. Previously, Charlotte pediatric patients who sought treatment at St. Jude had to travel to Memphis; now, pediatric patients can get that treatment in their hometown, close to the support of families and friends.
St. Jude has seen significant advances in the treatment of childhood cancers due to its use of targeted therapies. For example, survival rates for Acute Lymphoblastic Leukemia (ALL) have seen dramatic increases: In the 1960s, all survival rates were under 20 percent; now, St. Jude sees survival rates of 94 percent for these patients. Cure rates have gotten so high with targeted therapies that St. Jude is addressing how to limit long-term health impacts related to these treatments.
The affiliation also brings to Charlotte the St. Jude's Pediatric Cancer Genome Project, which studies both the normal cells and cancer cells of each patient. By analyzing both kinds, they can investigate the difference between healthy cell divisions and others that result in genetic mistakes, creating the potential for cancer. As more patients participate in this project, researchers will have more opportunities to research molecularly targeted treatments, according to Dr. Christine Bolen, pediatric hematologist/oncologist at the clinic. These treatments, offered instead of chemotherapy, could result in improved cure rates with reduced side effects. Local patients will contribute to—and benefit from—this project.
Because of names such as Levine Cancer Institute and St. Jude, Charlotte is becoming a center for innovative cancer research and treatments. The progress allows patients to join clinical trials, participate in the study of emerging drugs, contribute to tumor research, and have access to physicians on the cusp of new treatment options.
"Charlotte's a place that's on par with the big centers in terms of availability of novel gene therapies and clinical trials," Kim says. "It's changed the landscape in this region. … [Patients] don't have to travel out of state anymore to find options."
Jen Tota McGivney is a freelance writer in Charlotte. Read her portfolio at jenmcgivney.com, or reach her at jennifer.mcgivney@gmail.com.
---
HOW TO HELP
Even those of us without medical degrees can further local cancer research. Here are a few ways you can help:
Donate to Local Charities
These charities support local cancer research:
• PStrong aids the research and treatment of uncommon and unusual cancers.
• Charlotteans 4 Cancer Cure supports the Cancer Research and Innovations Fund at Levine Cancer
Institute.
• Paula Takacs Foundation for Sarcoma Research raises awareness and funds to research sarcoma, cancer of the bone or connective tissue.
Get Swabbed
Project Life, a group that began at Davidson College, encourages college students to join the registry of bone-marrow and tissue donors with a simple cheek swab. These potential donors could save the lives of those with leukemia, lymphoma, or other blood disorders.
Dedicate Your Birthday
Think beyond the cake—dedicate your birthday or wedding to St. Jude, allowing friends and family to support the organization's work in honor of your celebration.
---
This article appears in the July 2016 issue of Charlotte Magazine
Did you like what you read here? Subscribe to Charlotte Magazine »
---