Getting Smart About Smart Home Devices
Techie tools work only if you change your behavior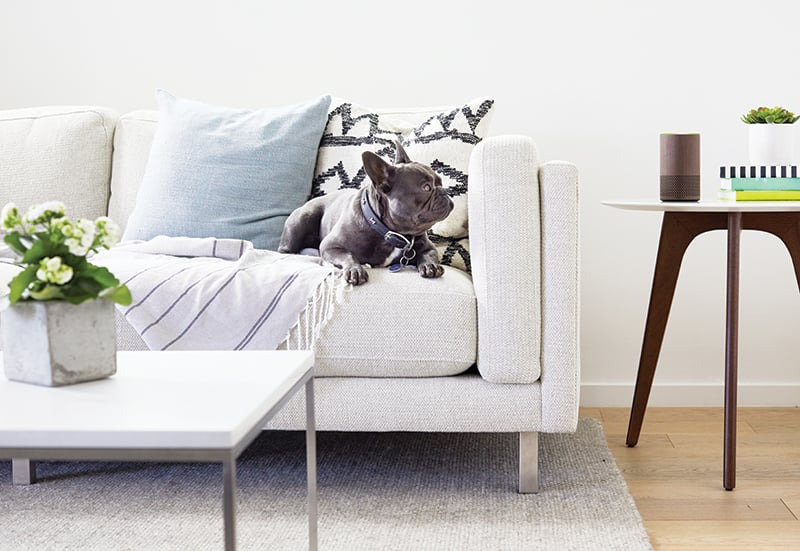 "Alexa, lower my energy bills."
If only it were that simple to use smart devices to line your pockets. Or is it? Although you can't ask your Amazon Echo or Google Home to directly halve your gas and electricity payments, you can leverage these gadgets to work toward that goal.
The Amazon Echo ranges from $49.99-$229.99, depending on your preferred speaker size, aesthetic, and if you want a video screen. But the Echo Dot, the cheapest, works fine for voice commands; all the models control compatible smart devices.
Rob Phocas, the City of Charlotte's sustainability director, says smart home gadgets have the potential to bring energy efficiency, but with one caveat. "Technology is only half the battle. If people aren't changing their behavior, it defeats the purpose," he explains. "They need to have an energy efficiency state of mind."
Local nonprofit Renewable Energy Transition Initiative (RETI) focuses on exactly that: educating people about energy efficiency. The organization's broader goal is to eliminate what it refers to as energy poverty in lower-income neighborhoods. RETI's founder and executive director, DeAndrea Salvador, says low- to moderate-income families in North Carolina pay an average of 20 percent of their income solely on energy bills, and many lack internet access. RETI helps those with these "high energy burdens" adopt renewable energy technology, which can alleviate unfair energy costs due to the age of the housing stock and appliances in these historical areas.
But all Charlotteans—regardless of their family's income—could use a lesson in energy efficiency, especially if smart devices are becoming mainstays in their homes. Salvador outlines a few ways to get the most out of your smart home gadgets.
Partner: Think of the Echo and Google Home as control centers for other energy sources. Salvador recommends investing in additional devices that partner with these for a better long-term return in energy costs. Wi-Fi-enabled devices such as an automated thermostat, LED lightbulbs, sprinkler systems, and even power strips can be paired with your home automation system for more control, and more efficient energy use.
Program: "It's easy to forget to turn the thermostat down," Salvador says, "as opposed to having a device that can better-predict your arrival," outlining just one smart-device fix. Setting time frames, energy-use percentages, and even kid-friendly parameters are all options with various smart gadgets to better handle your energy output. An example, Salvador suggests, is to connect multiple everyday-use plugs to a partnered power strip for simple voice-controlled management: "Say, 'Alexa, turn off power strip X' to turn off all the devices that would typically be running and be an energy vampire."
Learn: Many people might be hesitant, thinking that they're sacrificing privacy by letting this type of technology into their homes, and understandably so. Salvador recognizes these concerns and says one of the best things any resident can do is research. Get comfortable with these smart devices, learn which ones make sense for you, and introduce them to your home and family accordingly. There are even safety-enhancing smart devices, such as security cameras and video-enabled doorbells, that can increase peace of mind.