Girl Tribe Co. Opens First Storefront in South End
It will remain open until the end of the year.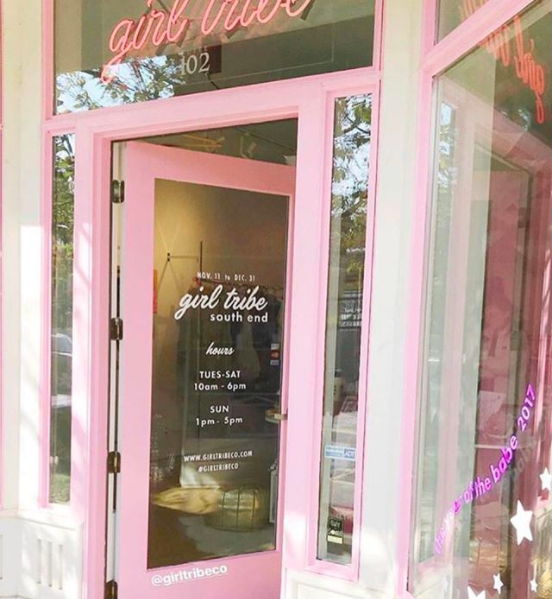 Girl Tribe Co. is no stranger to Charlotte's female entrepreneurs. Creating a "tribe" of empowered local women online by way of a Facebook group (there are 10,178 members and counting), Girl Tribe has been infusing girl power into the Queen City since the fall of 2015. Formerly known as Pink Social, the company was started by local best-gal-pals Sarah Baucom and Carrie Barker as a graphic t-shirt company. But just as the company has grown its tribe over the years, its offerings have also evolved.
Girl Tribe has hosted 10 large-scale pop-up shops over the past couple years—most have been in Charlotte, but others took place in Greenville, S.C., and Raleigh, the two additional locations Girl Tribe has expanded to so far. Their next pop-up is listed on our holiday market round-up.
But just popping up wasn't enough for Baucom and Barker. They wanted more.
The two founders got a taste of what it'd be like for a brick-and-mortar Girl Tribe when customers would sometimes come upstairs to their small working studio above Sunflour Baking Company. That, paired with the way their platform has been personified through occasional pop-ups, was an indicator it was time to start scoping out storefronts.
Girl Tribe opened its first-ever storefront in South End (1800 Camden Road, Suite 102) this weekend, and the turn out was a testament to how much Girl Tribe's mission of supporting women-owned businesses has empowered our community. The store saw what it was like to interact with its long-time followers and online friends.
And the store itself is a pink wonderland. Though "Pink Social" has been dropped from the business's name, the sentiment remains. With pink, upside-down umbrellas hanging from the ceiling and neon signage marking the doorframe in the same color, this store is a pink lover's paradise. But don't worry—not everything they sell is the pretty hue. Girl Tribe's offerings include a curated selection of funky accessories, holiday rompers, dresses, some of their most popular graphic tees, and gifts galore. All the items are under $75, with the exception of women-empowerment-themed paintings by local artist Jen Hill. New inventory will be added every day.
Although this sounds like a dream come true to many Girl Tribers, it's also a reminder that all good things must come to an end.
The South End storefront is only temporary. It will remain open until December 31—the last day of 2017—to serve as a holiday shopping destination. After that, it's back to pop-ups and online shopping until Baucom and Barker can find their next space.
The two hope to secure either another temporary storefront or a permanent one in the future, but for now, we'll take what we can get.
Girl Tribe South End is located at 1800 Camden Road, Suite 102, and is open from 10 a.m. to 6 p.m. Mondays through Saturdays and 1 to 5 p.m. on Sundays. The physical store will only be open until December 31, 2017.