Giving a Sequel a Shot: A Visit to the New AMC Park Terrace on Park Road
The indie theater went mainstream, adding a new scene to a familiar plot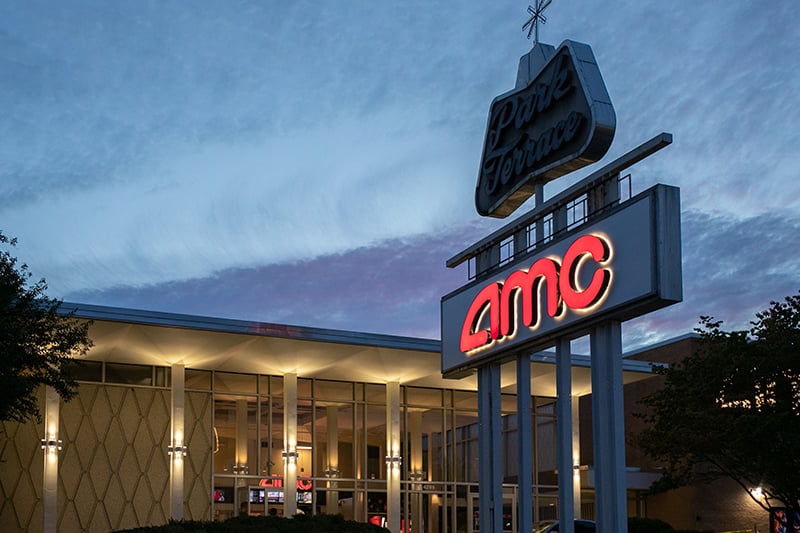 BETRAYAL. Loyalty. Forgiveness.
Weighty topics to ponder during a Seth Rogen movie, perhaps, but they felt oddly relevant. My friend Scott and I were watching Long Shot, our first movie in the new AMC Park Terrace in Park Road Shopping Center. We'd been in that building dozens of times—we're film nerds, and the old Regal Park Terrace was our favorite spot—but this was our introduction to the new theater. Should we feel guilty? When a new place takes the spot of a beloved place, is it cheating to support the new one?
The old theater's December 2017 closing meant the end of another decades-old Charlotte gem. News of the closing came just days in advance, with no hint of the building's fate. Scott and I went to the last show, and we were the last customers to leave. I wrote an essay about it for this magazine; it brought me more reader emails and comments than any other story. One man wrote that he'd ushered there in the 1960s for 85 cents an hour. Another thanked me for the memories. This theater held a lot of them.
In a city that considers authenticity to be a brand strategy, the old Park Terrace called attention to itself by not calling attention to itself. It did its own thing, quietly. After five decades, its décor had survived through dated to retro, with laminate countertops and wall-to-wall, patterned carpeting. The theater screened mainly independent films that sparked conversations, even if the movies risked being weird. I have a soft spot for anything or anyone brave enough to prefer to be interesting rather than adored, and these movies—and this theater—were interesting. I adored them.
In early May, AMC Park Terrace opened in its spot after a multimillion-dollar renovation, and it promised to show the most popular, mainstream films. During the previous months, I glared as I walked by the construction. It felt like being introduced to a father's new, young girlfriend and being asked to call her "Mom." But was I being unfair? At one time, wasn't the old Park Terrace new, too?
As more Charlotte mainstays close, we face new decisions about how to handle their replacements. Do we protest out of loyalty? Do we embrace change? One night over dinner, friends and I discussed why some closings-and-openings trigger the vow of, "I'll never step foot in that place again." We created a formula to calculate when loyalty demands protest and when change calls for support. Is it a locally owned business leaving while a national brand takes its place? Protest. (Va da Vie, I'll follow your gelato anywhere.) Is it a space opening because one local business moved into a bigger location, while a new one took its original spot? Support. (Cheers, Sugar Creek Brewing.) Was the location vacated by a small local business, but now run by a big-name local owner with multiple locations? Support, with caveat. (NC Red looks delicious, but I can't help but call it the Old Penguin.)
I entered AMC Park Terrace with a good deal of snark—of course a machine replaced the friendly faces at the ticket counter; of course they got rid of that wonderfully tacky carpet—but then I opened to the experience. The renovated theater, I admitted, is pretty. The reclining leather (and heated!) seats are uber-comfy. Long Shot may not be an indie darling, but it's a delight of a movie. The plot, fittingly, explores when to compromise and when to maintain principle. The protagonist's name, I kid you not, is Charlotte. As I laughed for two hours while fully reclined and warmed from beneath, I weighed my own principle-versus-compromise conundrum: Could I love this place? I was digging it more than I expected. And I could live in that chair. I ran it through the loyalty formula: One national chain replaced another, but mainstream replaced independent. Verdict: Support, with caveat.
As the credits rolled, Scott and I said what we always say after a Park Terrace movie: "Sir Ed's?" We wandered across the parking lot, past Shake Shack, Burtons, Urban Cookhouse, and CO—those new chains dotting the old plaza—to two spots on the best patio in town, at Sir Edmond Halley's. We ordered pints and sat on a bench under the stringed lights; we listened to Steely Dan, The Beatles, and Tom Petty. The night resembled about a hundred I've had there: drinks with an old friend in a favorite pub.
It may not have been a reclining leather (and heated!) chair, but that wooden bench was my comfiest seat of the night.
---
Read McGivney's essay about the last showing at the previous, indie-focused incarnation of Park Terrace here.