Glenn Lyman: The Athletes' Chef
Chef pushes stars from Kelvin Benjamin to LeBron James to eat better at home, and perform better on the field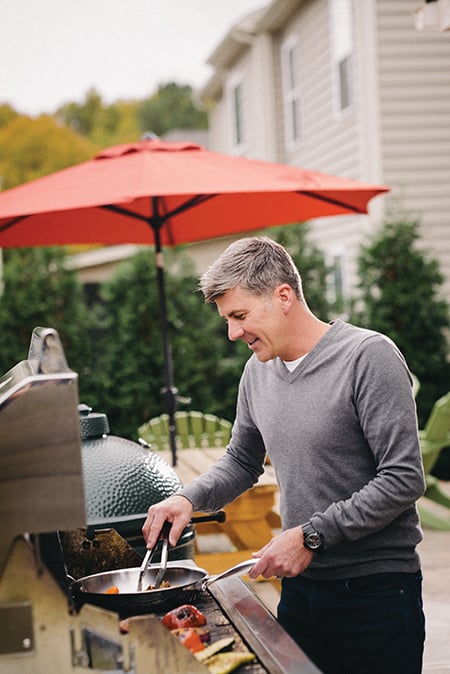 IN JUNE 2015, Panthers wide receiver Kelvin Benjamin showed up to mini-camp nine pounds overweight. Glenn Lyman, owner of GCooks, a personal chef service for athletes, was listening as a radio sportscaster lamented about the record-setting rookie returning for his sophomore season out of shape.
"I wish this guy would call me," Lyman thought to himself. "Nine pounds? That's easy."
Lyman had worked with Panthers players in the past, from Josh Norman to Steve Smith Sr., and he'd gotten to know team nutritionist Jennifer Brunelli. He sends many of his corporate clients to her to help diagnose low energy, stomach issues, and food sensitivities. And she, in turn, recommends players such as Benjamin to him. The two work together to determine what the players need to eat.
"Not only can he turn around and make it happen, but he gets creative with it," Brunelli says of Lyman. "It tastes good, too."
A month after Lyman started working with Benjamin, coming to his home on Mondays and cooking him healthy meals and snacks for the rest of the week, a headline on Black and Blue Review, a Panthers news site, read, "Healthier, Leaner Benjamin Ready to 'Go Full.'"
Lyman began cooking for athletes nearly 14 years ago. Before that, he was a salesman with his brother's industrial supplies company in Cleveland, Ohio. He'd come home each night, pour a glass of wine, and start dinner. Cooking was his stress relief after a long day at a job that didn't inspire him.
Around 2000 or so, he saw an advertisement for personal chefs in a cooking magazine, and ordered training videos. He wound up throwing them away, thinking he'd never leave that stable job.
One day about a year later, while Lyman was in the kitchen, his wife, Linda, turned to him and said, "You need to do this for a living."
"I walked away, took the tie off, and just started my own business," Lyman says.
He ordered the videos again. Lyman originally called his company Home Plate Personal Chef Service, and later rebranded to GCooks. Soon, he would land his first clients, among them a young NBA basketball player with a lot of promise.
***
WHEN LYMAN was starting his business, his wife was working in the sales department of an apartment complex in Cleveland. Living in the building was a Cleveland Cavaliers rookie named LeBron James. Linda mentioned to James's manager that her husband was a private chef, and if the budding superstar needed someone, he should try Lyman.
At James's manager's request, Lyman walked down the hall to James's apartment to cook, and left a healthy meal for the athlete to enjoy later with friends and family. That evening, he got a knock on the door. It was James's manager.
"King James would like to see you," he said. Lyman walked back down the hall to James's apartment and looked around, glancing at all the faces in the room.
"Are you LeBron?" he said, looking at the teenager. The room erupted in laughter. James thought the food was great, and Lyman began a five-season run as James's personal chef. When the NBA star decided to take his talents to Miami, Lyman and his wife decided to take their family, including twins Olivia and Lucas, now 15, to Charlotte, where Linda had been offered a sales job at the new Ritz-Carlton in uptown.
It wasn't long before Lyman's services were in demand for other elite athletes. He met former Panthers linebacker Dan Morgan, who introduced him to Smith, the Panthers' star receiver. Smith hired Lyman. After Smith was sent to the Baltimore Ravens in 2015, NASCAR legend Jeff Gordon hired Lyman to cook for his family. So did swimmer Ryan Lochte, who needed 8,000 calories a day while training for the Olympics. Then came Norman and Benjamin. Lyman's celebrity clients helped him win a job as an ambassador for BJ's Wholesale Club, and he flies around the east coast for cooking demos and photo shoots.
He's gotten here not only because he understands what the athletes need to eat, but also because his food tastes as good as it is healthy.
"He's all about flavor, so nothing is dull or bland or doesn't stand out," Brunelli says.
***
BENJAMIN IS Lyman's focus this year. He's at home in the wide receiver's kitchen. On Mondays, Lyman packs up pots, pans, and tools that he stores in his garage, and heads to the grocery store to buy food. He sets up the food and supplies in Benjamin's kitchen. Spices go on the left of the stovetop, oils to the right. Another counter has all the dry goods, and cold items go in the fridge. Within a few hours, the fridge is transformed, uncooked ingredients replaced with ready-to-eat meals, labeled and portioned out. Dishes with chicken, shrimp, turkey, or fish, as well as leafy greens, fill the containers. For lunch portions, Lyman adds more complex carbohydrates, such as quinoa, sweet potato, or black beans, to help with Benjamin's recovery from tough practices. He leaves a menu, too, and marks the containers to indicate whether they're for lunch or dinner.
He leaves Benjamin's kitchen just as he found it—if it was a mess, it stays a mess—and returns to his own home in time to cook dinner.
His passion for cooking hasn't wavered since he turned it into a career. You see that in his Ballantyne backyard, where the nine grills form a perimeter around the concrete patio. Though several are sentimental, others show his success. He has two Lynx grills, one that was sent to him by the brand to try out and send his feedback. A Weber smoker, the one he uses for barbecue competitions, he bought with store credit won in a recipe contest.
Lyman's eyes widen with nostalgia as he tells their stories. There's one tailgate grill Lyman bought when James was filming a Sprite commercial. The shoot lasted three days, and Lyman cooked for the whole set. There's even a grate over the fire pit—that's technically a grill, too. When he's home with the family—he still cooks dinner most nights—he's often out here preparing the proteins. He walks over to a small, charcoal Weber grill that's no longer sturdy. It was the grill he cooked on before he cooked for a living, one that moved here with him all the way from Ohio. He winces when he thinks of having to get rid of it. He found it on the side of the road 20 years ago—when he was a young, home cook with a lot of promise.
Kristen Wile is the senior editor of this magazine. Reach her at kristen.wile@charlottemagazine.com or on Twitter: @kristenwile.