Go-Go Fresco Gets Fresh
Two local guys roll out a new spin on the farmers market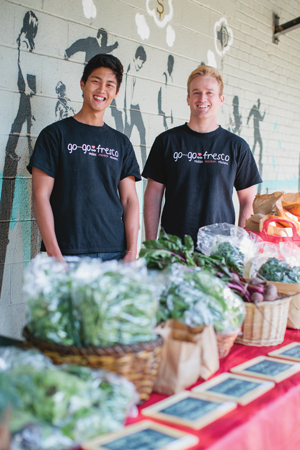 If the locally grown produce from the farmers market doesn't make you feel quite virtuous enough, good news: two Charlotteans are on a mission to make locally grown meaningful in more ways than one.
The founders of Go-Go Fresco, Nick Knock and Leconte Lee, describe their new full-time endeavor as a "mobile, sustainable, missions-focused farmers market." Escaping the constraints of the conventional farmers market—early mornings, obscure locations, that moment you realize you have no cash to pay for the dirty potatoes in your hand—Knock and Lee buy fresh produce from farmers within 40 miles of Charlotte and set up shop (with a credit card reader) once or twice weekly outside partnering preschools, coffee shops, and churches.
The pair dream of using their passion for local produce to have an impact on Charlotte, not just by bringing seasonal food to the masses and supporting local farmers, but also by serving the city's disadvantaged. While they're working to gain official nonprofit status for Go-Go Fresco, they're already donating their profits (minus operating expenses) to local organizations including Charlotte Rescue Mission and Charlotte Family Housing. And the plans don't stop there: Knock and Lee hope to team up with the organizations they support to help stock the kitchens of the more than 70,000 Charlotteans who, according to Mecklenburg County's 2010 Community Food Assessment, live in parts of the city that lack nutritious food stores.
Never before have your collard greens done so much good. Find out where Go-Go Fresco will pop up next at gogofresco.org, or on Twitter, @gogofresco.