Going Green: Tips for incorporating March's favorite hue
Love the color green but can't decide how to work it into your big day? We're here to help.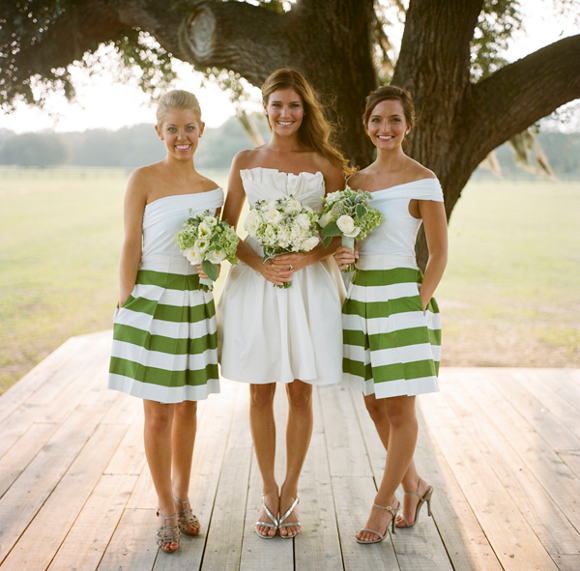 Green is one of those wedding colors if done right, can produce elegant and timeless results. Done wrong and you'll have a day looking like leprechauns went crazy in a craft store.
In honor of March, we're helping brides incorporate shades of green into their wedding day in all the right ways.
For bridesmaids dresses:
Avoid bright kelly green and lime green
Consider having bridesmaids wear different colors to avoid a monotonous look. Provide them each with a paint swatch and let them choose dresses from that color scheme. (Check out Sherwin-Williams' Waterscape, Relish and Lacewig)
The brighter the dresses, the more simple the flowers. The simpler the dresses, the louder the flowers.
For cake:
Bring the outside indoors with floral arrangements on your cake. Keep fondant and icing white and layer with green roses or hydrangeas.
Get more bang for your buck by adding a sage green ribbon to your simple buttercream cake.
For flowers:
For a monochromatic look with texture, pair pale hydrangeas with orchids.
Bring out your southern style and have your bridesmaids carry bouquets of baby's breath for an understated, elegant look.
Opt for something a little different for your bridal bouquet and incorporate herbs (such as sage and rosemary) with classic ivory roses. Tie with an ivory ribbon.
Tip of the trade: When using green in your wedding color scheme. Less is more. We recommend either using a soft green with ivorys and whites or using the shade as a secondary color with navy or coral.