Going Native
Five native plants that add drama to your landscape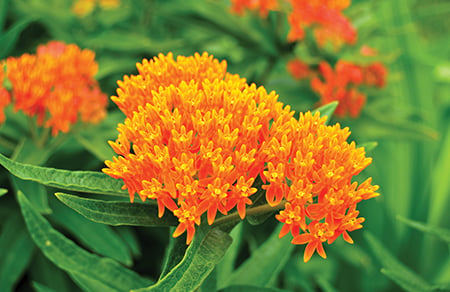 Native plants are more than just beautiful—they also attract and support native insects and birds like butterflies and hummingbirds. They give a garden or landscape a true sense of place. And since they're not imports, these plants are well-suited to our area's specific climate, so they make a garden more sustainable. Dr. Larry Mellichamp, professor of botany at University of North Carolina Charlotte, director of the UNCC Botanical Gardens, and author of the new book Native Plants of the Southeast: A Comprehensive Guide to the Best 460 Species for the Garden, selected his top five eye-catching (and easy-to-care-for) native perennials that thrive in the Charlotte area.
---

ORANGE BUTTERFLY WEED
Light: Full or half sun
This tall plant—it can grow up to eight feet tall—has bright-orange flowers and will continue to bloom all summer with deadheading. In late summer, monarchs lay their eggs on the plants—in the summer they are covered with butterflies.
---

STOKES ASTER
Light: Needs at least a half day of sun
Mellichamp calls this plant "foolproof." It features dark, evergreen leaves and large, two-inch blue flowers in early June. The amount of blooms increases as the plant matures.
---

CARDINAL FLOWER
Light: Best when slightly shaded from hot afternoon sun
Growing in clumps up to two feet tall, this plant has brilliant scarlet flowers and attracts all kinds of birds, especially hummingbirds. Plant these instead of hanging hummingbird feeders.
---

SUMMER FLOX
Light: Full sun
Flox typically grows two to four feet tall, with midsummer blooms in shades of pink, white, and lavender.
---

JOE-PYE WEED
Light: Full sun preferred, but will be fine in half sun
A magnet for butterflies, this showstopper grows four to six feet tall, with large blooms of small pink flowers in late summer.
---
Where to buy native plants
It's not as easy as you might think, according to Mellichamp. "In order to seek out natives, a person has to do a little bit of studying," he says. "Traditional landscape plants are ingrained in the landscape industry." If you search carefully, Mellichamp says, you may be able to find some of the more common plants at local nurseries, like black-eyed Susan or butterfly weed. Otherwise, you'll most likely need to have them shipped to your door. (Oh, the irony.) Here are a few sources Mellichamp recommends.
UNC Charlotte Botanical Gardens Plant Sale
(April and October),
gardens.uncc.edu
Pike Nurseries
704-341-7453,
pikenursery.com
Rountree Plantation
704-523-6362,
rountreeplantation.com