Grab a Seat: The Local on 5th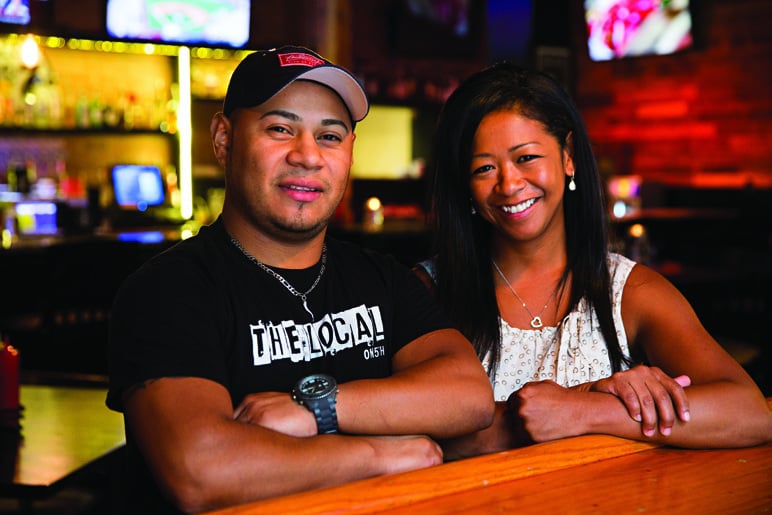 OWNER JENNIFER LLOYD hustles from table to table, greeting customers as they leave uptown offices and fill her restaurant. The doors stand wide open and the midday light pours in, giving off the vibe Lloyd wants The Local on 5th to emanate: Come on in, grab a seat, and more important, come back.
"The whole idea and concept is to continue to get the locals in here," she says. "I want them to think they can come in here six times a day and be comfortable."
After a lifetime of moving around the country and the world, Lloyd understands the importance of finding comfort in returning to the same place again and again. The ease with which people find seats, banter with the staff, and talk among themselves suggests that her strategy is working. These are power lunch people unplugging, however briefly, to grab a bite. There's nobody in shorts (well, nobody except a sportswriter who is with me and probably doesn't own long pants), nobody in a suit, and only one guy in a sport coat. He peels it off before he gets to the hostess. He says something about being hot, but the truth is probably closer to this: Here, he would look out of place if he was wearing a sport coat.
The Local on 5th is not a dive bar, exactly; it's more like a dive bar that got dressed up to impress a date. The walls are made of reclaimed wood palettes and the ceiling is black. There's a Led Zeppelin poster on one wall, Kramer from Seinfeld on another, and dart boards on a third. "I want every bit of the senses of being here to be good," Lloyd says. "The music, the lighting, everything has to be inviting."
And, of course, the food, which Lloyd describes as "indoor truck food with a gourmet twist." There is traditional bar food (pretzel bites for $7.50 and Carolina dogs for $7), plus more elaborate offerings, such as the $12 Hot Mess burger, which uses grilled cheese sandwiches for buns.
The Ultimate Hangover Burger ($12) combines three of my favorite things— beef, guacamole, and eggs—into one amorphous mound of deliciousness big enough that I can eat it with a knife and fork. The sriracha sprinkled on it is just enough that I notice it, not so much that I empty my Olde Meck beer to combat it. (I empty the Olde Meck anyway, just because.)
At night, the clientele skews younger, probably because higher-level bankers live out in the 'burbs and lower-level bankers live within walking distance— which explains why Lloyd decided to create a bar for locals: Charlotte in general, and uptown in particular, has a number of new residents looking for a bar they can call their own. And there's a more personal reason: She has found a home here, too.
Lloyd was born in the Philippines, and when she was two, her mom, Filomena Barron, moved to Saginaw, Michigan, as a nurse. Barron worked for five years to save enough money for her husband, Lloyd, and Lloyd's two sisters to join her in Saginaw.
When Lloyd arrived, she was seven years old and didn't speak English. She learned by watching Sesame Street. Her native language—Tagalog—borrows many words from Spanish. When Sesame Street characters spoke Spanish and translated it into English, she followed along. "They're always putting words together: tay … bull … table. I got it. That's a table," she says.
Still, when Lloyd started first grade, her mom went to class with her every day for eight months so she could sit next to her and translate what the teacher said.
After college, Lloyd worked in Michigan in marketing and sales for ACDelco. She moved south to Myrtle Beach, South Carolina, and opened a travel agency, sold that, then helped start a rent-to-own furniture company before getting into the restaurant business. Now she's a partner in three restaurants: The Local on 5th, Enso Asian Bistro and Sushi Bar in the EpiCentre, and a Good Time Charley's in Myrtle Beach.
Lloyd expects the menu at The Local on 5th will be a living document. That's a departure from its predecessor at this location, Phil's New York Deli and Tavern. With a silent partner, Lloyd bought Phil's about a year and a half ago. It was known as a dive bar with an attractive staff, and Lloyd tried to maintain that. But after a year, it became clear that Phil's had run its course.
Chef Osbaldo Gonzales stayed on when Phil's became The Local, and the transition was fast—Lloyd hired local crews, who in just three and a half days replaced the white tile floor with hardwood, put a marble top on the bar, and turned the old bar into a long community table. With the new look, she hopes to bring in younger, more affluent customers.
Some regulars did a double take when they walked in after renovations were complete in mid-April. They still do. "I had somebody say yesterday, 'Is it OK if I still call it Phil's?' " says Amanda Cline, the greeter. "I said, 'You can call it whatever you want as long as you come back.' "
Matt Crossman is a writer in Charlotte. He can be reached at mattcrossman.com or on Twitter: @MattCrossman_.
The Local on 5th
105 E. Fifth St.
704-347-0035
L, D, BR, FSB
Entrees: $7 to $12