Groom cake 101
Celebrate your hubby-to-be with a special cake made just for him.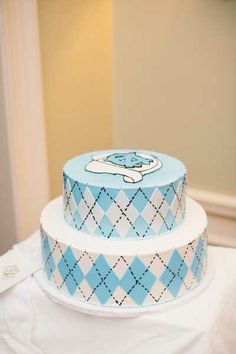 The tradition of a cake just for the groom dates back to the mid-1800s, but it wasn't until Steel Magnolias that it became a wildly popular wedding favorite. (Remember the opening scene with the red velvet armadillo cake?)
Up until a few decades ago, the groom's cake was served alongside the traditional wedding cake during the reception. As wedding budgets have increased, though, it's now more common to feature a groom's cake at the rehearsal dinner. It makes sense, too, since this event is hosted by the groom's parents. (And your five-tier, all-white marble cake with buttercream frosting and fresh flowers won't be overshadowed).
If you decide on a groom's cake, just make sure it's something fun, creative and, most importantly, something that showcases your man's personality and interests.
Stumped for ideas? We've got you covered.
Sports teams
This one's easy. Jerseys of sports players, stadiums, footballs, or even a simple cake in his favorite team's color is an instant hit.
Hobbies
Does he love fishing? Create a tackle box with a rod and reel. Can't get him out of the gym? Have your baker create a dunbell cake.
Superheroes
Batman. Superman. Iron Man. Heck, now there's even Ant Man. If your guy loves Marvel and DC, a superhero cake is the way to go.
Food
You know the way to a man's heart. Some of the funniest groom's cakes look like hamburgers, beer cans, or pizza.