Growing Up at Tucker's Grove
Minuette Floyd has witnessed the tradition of African-American camp meetings since she was a child in the 1960s. Now she's returned to document the religious community through her camera's lens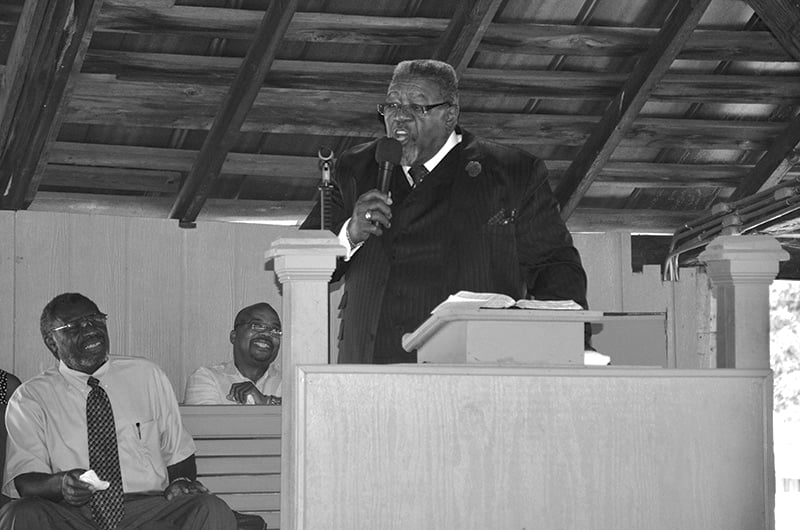 MINUETTE FLOYD THINKS SHE WAS FOUR or five, maybe younger, when she first attended a camp meeting at Tucker's Grove in the mid-1960s. Floyd climbed into the back of her dad's Buick, squeezed in with her older sister, younger brother, and her dad's cousin Gert. From Charlotte, it took 30 minutes of driving the back roads of Lincoln County to reach the campground, where they'd park in a large dirt field and walk toward the crowds stomping and singing and praying under the arbor.
"The arbor is the heart of the campground," Floyd says. "We knew that we were going under the arbor first."
Today, as in the '60s, interlocking wooden pillars hold up the arbor's metal roof, under which hundreds gather. The camp meeting, organized by nearby churches that include Tuckers Grove United Methodist Church, is a week-long spiritual celebration and reunion among generations of African-American families that's happened every August for the past 145 years. Floyd returned to Tucker's Grove as an adult, learning the route through the back roads from her dad before his death 11 years ago. She has documented camp meetings across the South since 2001, traveling to seven campgrounds, including Tucker's Grove, for 18 consecutive summers.
The tradition of camp meetings, Floyd writes in her book, A Place to Worship, began in the mid-1800s, when white slave owners would bring enslaved African-Americans along to revivals. After the Civil War, African-American congregations consecrated their own permanent meeting places like Tucker's Grove.
Little has been recorded on these camp meetings. "The arbors where African-American services were held were called 'brush arbors' to indicate their rustic location, or 'hush arbors' to indicate that they were secret and especially sacred," Floyd writes in her book. "This tradition lingers to the present day, with African-American camp meetings still difficult to trace because they are usually not advertised outside their own community."
Much of camp life—lyrics to worship songs, family recipes—spreads by word-of-mouth and isn't written down. Even today, with smartphones and Facebook and the rise of the internet, the gathering isn't advertised. It's a sacred place for generations of African-American families to meet and worship, a designated reunion to see friends and relatives they haven't seen in a year.
Under the arbor, men wear shiny dress shoes and suits, and women wear brightly colored, wide-brim hats. Generations of families sit under ceiling fans as they listen to Bible studies on Sunday morning before the sermon and call-and-response worship songs. Surrounding the arbor are about 100 homes, one- or two-story wooden cabins with porch benches and, usually, painted-on numbers. These structures are called "tents," a remnant of camp meetings' early years, when those were what families pitched and slept in. The tents are equipped with the essentials—running water, electricity, fans or an air conditioner, beds, and, most important, space for cooking feasts.
Congregants cook in their tents, bring meals from home, and visit concession stands that sell hotdogs, country ham, chili cheese fries, fried croaker, and more. Out of a half-dozen booths, Mrs. Emma Sloan's snowballs are what come to Floyd's mind first (her favorite flavor was grape). "When I returned to camp as an adult," Floyd recalls, "she was still out there." The price of snowballs had increased from a quarter to a dollar, and Mrs. Sloan's hair had grown grayer, but she was still serving at Tucker's Grove until she retired a few years ago.
On one visit to Tucker's Grove, Floyd saw a white man with a long beard and glasses taking photographs. She remembers thinking, "I have got to capture this tradition."
Floyd later learned that man was Raymond Grubb, who has photographed church meetings at Tucker's Grove on and off since 1994.
Photographers like Floyd and Grubb document the tradition through different lenses: Floyd, an African-American woman and a professor of art education at the University of South Carolina, has attended church meetings since childhood. She knows the names of the individuals she photographs; she's watched them age. Grubb is a native of North Carolina and a working fine artist and commercial photographer. While he's spent years building relationships at Tucker's Grove, his role is that of observer, not participant.
Floyd began taking photographs with a Canon AE-1 and black-and-white film; she used a Nikon D7000 for her recent work, which includes videos. In her photos, she concentrates on the arbor and moments of light in camp meetings—a bare lightbulb that hangs from the arbor's roof or a table lamp in the corner of a tent.
Many of Grubb's photos have a grainy quality because of the Tri-X film he used to shoot in black and white in lower light. His photographs capture fleeting moments and illustrate the movement and excitement around camp meetings—a child skipping down an alleyway, a women clapping with her eyes closed in mid-song.
A few years ago, Floyd brought a handful of disposable cameras to a camp meeting. She handed them to children around the campground, teaching them how to wind the camera's gear and take photos. "I talked to them about the importance of documenting and recording their family histories," she says. "They went out and took photos through their own lens."