Growing with the Times
A SouthPark couple updates its empty nest for entertaining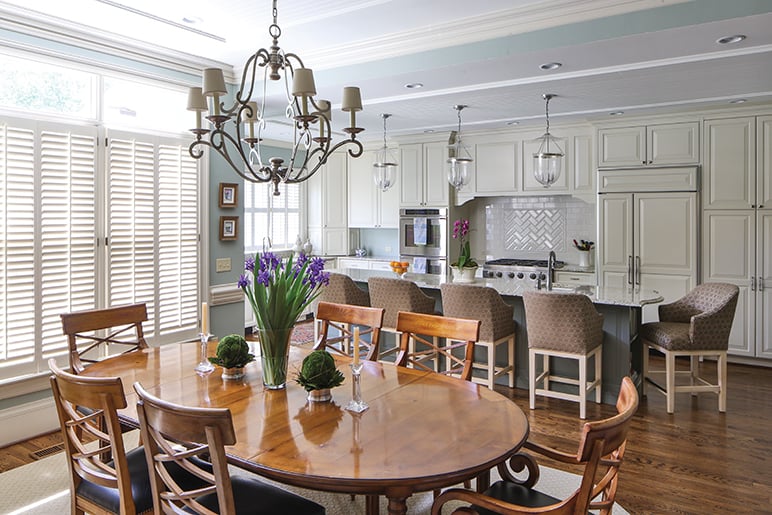 Gary and Cindy LaBrosse are lucky, and they know it. All three of their grown children live within three miles of their SouthPark home. So even though they have an empty nest, family members flutter in and out constantly.
Sunday evenings are especially busy, as the whole clan (10 people minimum; Easter brought in 21) gathers for dinner. "We either cook for everyone or we get take-out," says Cindy, adding that her rigatoni alla vodka is a family favorite. Everyone has a great time catching up and preparing for the week ahead. These days, Sunday nights are even more eventful because the LaBrosses now have two grandchildren less than 18 months old.
The growth of their family, their love of entertaining, plus the fact that Cindy wanted two dishwashers prompted an extensive kitchen and breakfast-room expansion to the home they've lived in for 21 years. The result is a fresh and welcoming space that can handle everything from highchairs to elaborate dinner parties.
Gary and Cindy gained the confidence for this project by completing a porch renovation three years prior. The couple contracted Andrew Roby to renovate a slate porch off of their master bedroom into a cozy, screened-in porch overlooking the pool.
But sending three children to college and then having them get married in three years took up a lot of Cindy's time. For a project as extensive as the kitchen, she wanted to wait until she could completely focus on her home.
"I wanted to be totally committed to the project," Cindy says. "If anyone had a question, I wanted to be available."
When the LaBrosses were ready to tackle their kitchen, they again called Andrew Roby to help. David McGuire, vice president and Charlotte division manager at Andrew Roby, and architect Alina Bartlett of House of Bartlett worked together to bring Cindy's vision to life.
"Cindy knew the elements she wanted but not exactly where the elements were supposed to go," explains Bartlett, who presented three design schemes. "Her kitchen does not open up to the family room like most kitchens do today because of the layout of the house, but now she has one large space with modern multiple functions that accommodate her needs."
To create openness, the wall and a set of French doors separating the kitchen and breakfast room were torn out. The back wall was pushed out over an existing porch to add space. Now on the back wall, Cindy's two paneled KitchenAid dishwashers flank the kitchen sink. Custom cabinets by Mint Hill Cabinet Shop fill out the area, including two corner hutch cabinets designed to hold tabletop appliances. By stowing her coffeemaker and mixer, Cindy has room to display family pictures on the granite countertops.
The island in the center of the kitchen measures just over 12 feet, affording room for a single tub sink as well as a hidden desk. To create a workspace, Bartlett designed a long desk drawer with organized sections for one end of the island, as well as a cutout that allows for a chair.
"With the advent of laptops and tablets, people don't need that much desk space anymore," explains Bartlett. "[Cindy] wanted to be able to see outside to the pool from her workspace."
Cindy and Gary dine at the island when it's just the two of them or when they're babysitting their grandchildren. Jan Conrad, a friend of Cindy's who is an interior designer in Myrtle Beach, helped her find custom barstools by Lee Industries upholstered in Sunbrella fabric to prevent spill damage. The fabric accents the kitchen's gray walls (Oyster Bay by Sherwin Williams, with a washable finish).
The island also works well as a buffet when the stools are removed. "I do most of the dinners buffet anyway," explains Cindy. "Entertaining is so much easier. Before, you just felt like you were on top of each other. Now it's just so spacious."
Above the island is one of Cindy's favorite things about the space. Bartlett designed beadboard detailing above the island and above the breakfast table. Painted in a flat white called Greek Villas by Sherwin Williams, this subtle element adds texture to the space, as it also helps define it.
The beadboard works well as a canvas for three large bell-jar lanterns Cindy found online from a store in Greenwich, Connecticut. Featuring etched glass and polished nickel hardware, the pendants contribute to the clean look of the space.
"I just didn't want brass. It looks dated. I didn't like the antique bronze. It was too dark for me," explains Cindy, who selected the kitchen's polished nickel hardware from Blackhawk Hardware. "I wanted something very simple and yet practical for our hardware."
Aside from being made open to the kitchen and a new polished nickel chandelier, not much has changed in the breakfast area. The LaBrosses have a formal dining room, so the breakfast area is where the family spends most of its time. Cindy used her same large breakfast table and area rug. The same artwork featuring colorful fruit and flowers hangs behind the table. She was even able to use the same windows and plantation shutters because the measurements remained unchanged.
No detail was left out. On the wall of the breakfast area that leads to the dining room is a butler's pantry, complete with wine storage and bulk refrigerator drawers by SubZero and a Scotsman Ice Machine that serves pellet ice.
"Everyone that comes in here wants to take some of that ice home," says Cindy with a laugh. "I hosted a bridal shower a while back, and people asked to take cups of my ice home, they liked it so much."
Cindy wanted a fireplace in the breakfast area, but the space would not allow for one. Based on what Bartlett describes as a "five-minute sketch," a fireplace of Carrera marble was built in the master bedroom. Now after those Sunday family dinners,
Gary and Cindy can wind down the evening peacefully by the fire as they prepare for the next day's visitors.