H&S Antiques: An Old Lumber Store Becomes a Pickin' Paradise
Spot opened on Monroe Road last year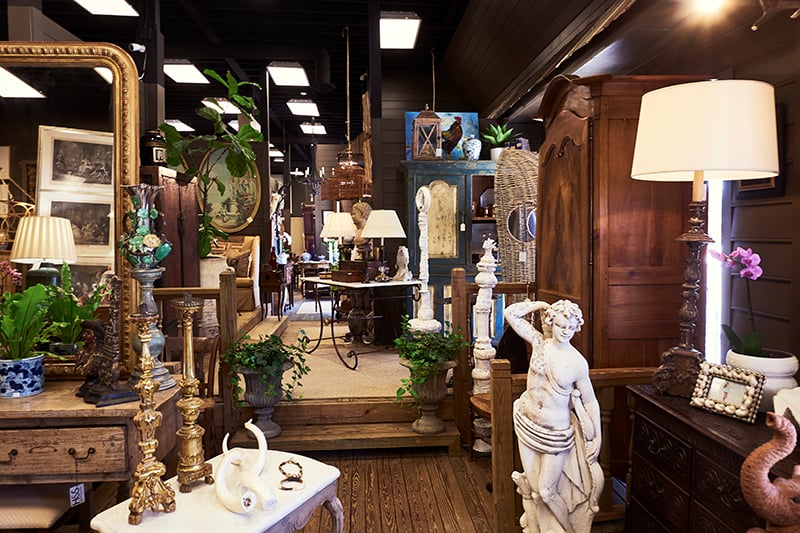 As a freshman at Ole Miss 35 years ago, John Grafe emptied his bank account bidding on antiques at his first auction in Grenada, a town about an hour away. "I hustled back to Oxford and rented a U-Haul," he recalls. "I got a couple of fraternity brothers, and we went back to Grenada on the weekend and picked it all up."
Friends bought everything off the truck, and he cleared a $200 profit. It was an unusual way for a pre-med student to earn money. After graduation, he went on to the university's School of Medicine in Jackson and continued to sell antiques on the side. In his fourth year, he left school to pursue his avocation. With a good-natured chuckle, he says, "I decided antiques were for me, and that's what I've done full-time since."
Grafe brought his talents to Charlotte last year with the opening of H&S Antiques on Monroe Road. Glittering with mirrors and chandeliers, the store is staged in vignettes: Tables are set, paintings are hung over cozy dining sets, and desks are decorated with vases and clocks. He presents a sophisticated lifestyle layered with candlesticks, silver, majolica, porcelains, and antique religious statues. Prices start around $50, and he selects everything on buying trips to Europe and around the United States.
Grafe bears the charm of someone raised in a small town in the Deep South—he's from Moss Point, Mississippi—and his candor and humor dismantle the intimidation associated with shopping for antiques. Rolling off his tongue, the list of his merchandise sounds like family members, not inventory.
The store occupies the old H & S Lumber building, a Charlotte landmark since the 1930s. Grafe was running his antiques business, Appartique, in New Orleans when old friend David Boland, whose family owns H & S Lumber, approached him about coming to Charlotte to open another store. Grafe flew up and saw the space. Then he made a list of what he needed, from new flooring and walls to lighting, and worked out the details with the Boland family. On the sign outside, "Lumber" came down and "Antiques" went up. The barn red building gained black awnings, crisp white trim, and planters of magnolia trees and boxwoods. For those accustomed to dusty trucks in the parking lot, the transformation was striking.
In an age when many high-end furniture and antiques stores have closed, Grafe's presence in Charlotte is significant. Large venues like Colony Furniture and Mecklenburg Furniture, and smaller shops like Queen Charlotte Antiques, Windsor Hall Antiques, and Windwood Antiques, have all closed. Acquisitions on 4th Street, Antique Interiors on Camden Road, and Interiors Marketplace and Englishman's on South Boulevard are gone, too. Metrolina Tradeshow Expo, a large indoor/outdoor antiques market that ran on the weekends, has also disappeared. With the closings of these venues, the market has lost knowledgeable dealers who took time to educate customers on provenance, materials, craftsmanship, and style.
Grafe is unfazed by this decline in interest, which has happened nationwide. Business has been good for him, and his appreciation for beautiful things is infectious. But his success may hinge on winning over a generation raised on Pottery Barn. He offers this advice: "If you're twenty-something, do yourself a favor. At least once a year, for the next 10 years, buy yourself something amazing that you love, whether that's a chest of drawers, or a beautiful painting, or a great box, or a pair of antique lamps. Once a year, bite the bullet and do something special for yourself. In 10 years, you'll have 10 amazing things you won't ever be able to buy again. And go from there."