Haberdish Serves Charlotte's Turn-of-the-Century Eats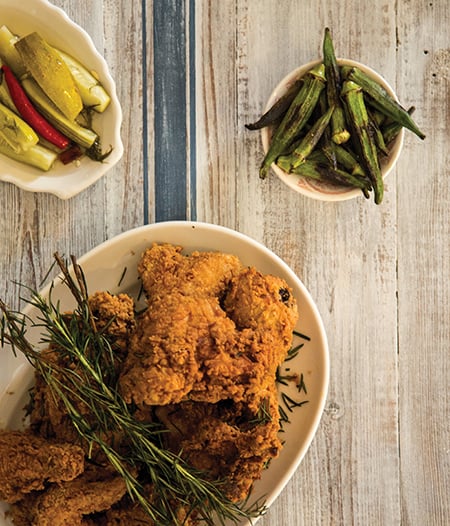 IN THE EARLY 1900S, the dirt roads that ran through what we call NoDa today were lined with simple, small homes. Each one was close enough to walk to Highland Park Mill No. 3, the large, brick textile mill where most of those in the village worked, back when being a mill town meant growth instead of decline.
Today, Highland Mill No. 3 is a hip apartment building, on trend with an industrial vibe and glossy, concrete floors. Many of the nearby mill houses have been torn down or multiplied in size, and the paved streets bear no resemblance to the land's past life.
The old mill stands as a reminder, though, of a history kept alive by aligning with modern tastes. In another, smaller brick building farther north on North Davidson Street, Jamie Brown and Jeff Tonidandel hope to borrow that idea.
With their newest restaurant, Haberdish, the restaurateurs behind Growlers Pourhouse and Crepe Cellar want to link NoDa back to its mill village heritage. The couple has spent three years researching turn-of-the-century life in the neighborhood through cookbooks, history texts, and conversations.
The restaurant will serve a simple menu inspired by dishes these mill workers would have eaten: fried chicken, ribs, livermush, vegetables, and pickles.
"Everybody knows what California—Baha sea grill, that kind of stuff—is, and we have a lot more history here (in Charlotte)," Jamie says. "None of that is really documented. Nobody really cares about Charlotte food. … This is a growing city; it's becoming more of a destination for visitors and people to live here, and not losing those roots that we have is critical for going forward."
A Cleveland, Ohio, native, Jeff knew he didn't have the personal history to open a restaurant claiming to bring NoDa back to its roots. Instead, he read and listened, and in doing so, he hopes to help create a culinary identity for Charlotte based in history.
"It helps to have the foundation and the building blocks," he says. "If we're trying to move Charlotte cuisine forward, it's kind of hard to do, not having a good understanding of where we come from."
One Saturday afternoon this summer, Jeff and Jamie readied their three kids for a day of learning. Jeff's mom came along, too, to help with the kids. They piled into the car and made their way to York County, South Carolina. There, they met Dan Huntley, a former Charlotte Observer writer and food historian, and ate at a fish camp. Fish camps used to exist along many of the rivers in North Carolina, where fish were kept alive in the live boxes in the water and pulled out one by one as needed. There's no riverbank in the heart of NoDa, so Jeff and Jamie used this short trip to taste the simplicity and efficiency of old Southern cooking.
"Our menu is getting crafted a little more modernly by what's more readily available—what's available to us, and what we're getting from more regional farms," Jeff says.
Though most fish camps served catfish a century ago, Jamie and Jeff will go with trout at Haberdish. It was more of a celebratory meal back then.
They feel extra pressure with the fried chicken—everyone has an opinion on what it should taste like—but are confident in their brine, which pulls inspiration from the books they've read. Chicken will be cooked in a pressure fryer that, though not historically accurate, will keep the meat from becoming too greasy. Simplicity is the biggest theme they've found in mill-era cooking, but they also want to convey the sense of family that came along with eating. The restaurant will serve dishes family-style on a mishmash of retro, patterned plates.
"I want every meal over there to be like we're having a Sunday dinner with the family," Jeff says. "Even if you're having lunch, it needs to be special and sharable, a great moment, and have that in every meal."
The restaurant's design includes many nods to the early 20th century, with massive Edison bulb fixtures, exposed brick, and booths covered in denim from Greensboro's Cone Mills plant, which has been in operation since 1905. The stools were handmade in Virginia, where the soapstone on the bar was sourced, and the tables and chairs were made locally from ceiling rafters taken down during renovations.
Even the cocktail list will be a throwback. All drinks will be plays on old apothecary cocktails, created by bartender Colleen Hughes and inspired by an era we rarely remember anymore. By packaging history in something that tastes good, Haberdish can reunite NoDa residents with the neighborhood's fading, vivid history.
"These people who came here were from the hills, they were from the mountains, and they came here because they needed jobs. They weren't able to make it there," Jamie says. "They came here to these mills, to this whole new life. They uprooted themselves, transplanted themselves here. So they created family and community right here, on these streets."
KRISTEN WILE is senior editor of this magazine. Reach her at kristen.wile@charlottemagazine.com or on Twitter: @kristenwile.
---
This article appears in the November 2016 issue of Charlotte Magazine
Did you like what you read here? Subscribe to Charlotte Magazine »
---