Hangers to make your photographer happy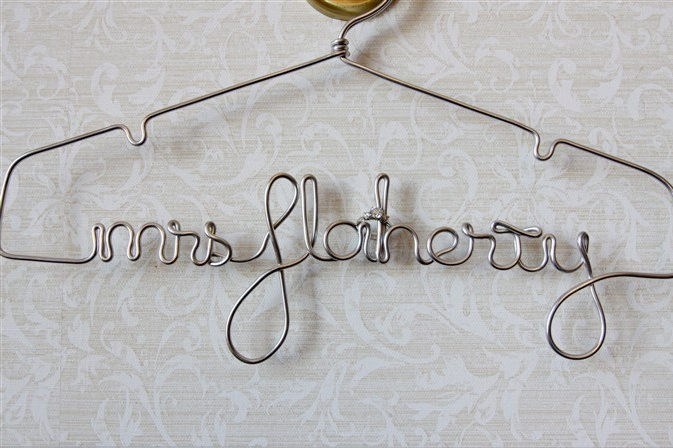 Tsk. Tsk. Tsk. You spent a pretty penny (or quite a few) on your wedding day gown. And then your photographer had to photograph it on the wire hanger from the dry cleaners, that strangely shaped contraption from the hotel suite, or those plain plastic ones that are strewn throughout your closet.
Brides, nothing will make your photographer happier, or your photos look better than a pretty hanger holding your wedding day gown. Wood, sculpted wire, and those decorated with satin, flowers, and more—I found a few that will make it everything pretty on one of my fave Web sites, Etsy.com. (I should be on the payroll there, no? Check out more custom bridal goods that we love from Etsy.com here, here, and here!)
Lila Frances sculpted wire hangers (pictured left) are the most customizable. Have one for each of your 'maids to hold their dresses, one for you with your new married name, and even on for the groom's coat.
Another Paloma's Nest favorite, wooden stamped hangers with your names and wedding date, or special phrase.
Padded with silk, flowers and feathers from Janny Fay. Add your own details to personalize it for you or your girls.
A hand-carved wooden option from Pretty Things 4 U, is sturdy and decorative but sophisticated enough for hanging guests coats in the closet once you're hitched and home.
Hand-woven, simple, clean but still so feminine and pretty for portraits by Nutfield Weaver.
Which one will you hang your gown on?