Happy Hour at Morton's Bar also Good for 'After' After-Work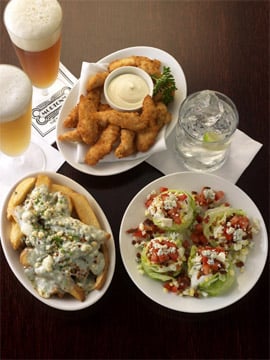 Several bars and restaurants throughout Charlotte, especially in uptown, feature great happy hour or after-work specials. This is important for the venues as a way to drive business during what are typically slow hours. And it's great for us because sometimes five o'clock (or six) can't come soon enough, and we need something cold in a glass paired with something hot on a plate to help put the workday behind us. The majority of the places offer these food and drink specials from 5 p.m. to 7 p.m., but sometimes you need it a little later. This is where the bar at Morton's The Steakhouse comes in.
Tuesday night, my brother and I were leaving a networking/social event in uptown. Some tasty appetizers were served there, but it wasn't intended to fill you so when we left the event a little before 8:30 p.m., we were ready to get our grub on. As we walked up Tryon Street, I started combing through my mental rolodex and then I was like, "let's go to Morton's because they have some good specials." No need spending a lot of money on a Tuesday night.
So we walked over to Morton's and grabbed a couple of seats at the bar. The bar area is cozy, with the same sophisticated charm you find throughout the restaurant—dimly lit, dark woods, music playing softly (there were also a couple of TVs at the bar tuned to ESPN…Man Law). There are about ten or so stools at the bar itself and about a half-dozen pub tables with four chairs each surrounding it. Once I saw the menu, I knew I'd made the right call. The bar features a Power Hour, which goes from open to close, Sunday through Friday, with an array of drink specials from $5 to $7.50 and food specials for $6 and $7.
I ordered the Three Mini Prime Cheeseburgers ($7), my brother ordered the Four Petite Filet Mignon Sandwiches ($7), and we split a plate of the Blue Cheese Steak Fries ($6). The burgers were good—tender cuts of beef—but it's the fries that I was ready to write home about. They're large fries draped in melted blue cheese, red pepper flakes, and chives, and the serving size is large enough that it should definitely be shared. Actually, all of the bar bites require that you bring your appetite.
I didn't partake in any libations since I'd had a couple of glasses of wine at my previous stop (and reminded myself that I had an early morning the next day). But there are several appetizing drinks I'll be sure to try next time. Specials include five different wines—a cabernet, chardonnay, pinot grigio, merlot, and white zinfandel—for $6.50 each, and a selection of five cocktails and "Mortinis" for $7.50 each.
Two more pluses: the food came out quickly, seems like within about ten minutes, and the bartender was very attentive.
There are options in uptown where the happy hour specials are a buck or two less, but in most cases they aren't prime cuts of meat nor top-shelf spirits being served; or the specials are only offered for a couple of hours each evening. You can enjoy these specials at Morton's bar Sunday through Thursday, 5-10 p.m., and Friday, 5-11 p.m.
Morton's The Steakhouse, 227 W. Trade St., 704-333-2602, mortons.com/charlotte/bar.
Be sure to bookmark www.charlottemagazine.com/Blogs/Dusk-Till-Dawn to stay plugged into Charlotte nightlife.