Happy Olympics! 3 Rio-Themed Cocktail Recipes
Mixologists Bob Peters, Cynthia Gregg, and Henry Schmulling share Brazilian booze drinks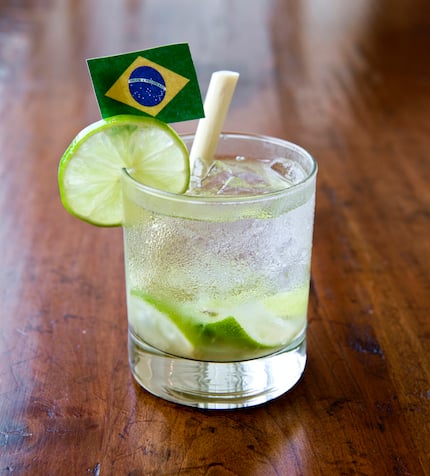 Planning on settling in Friday to cheer on Team U.S.A. during the Olympic opening ceremony? This may be one of the most poorly-planned games in recent history, but we can still toast our host country with these Rio-themed cocktails from local mixologists, including a classic Brazilian caipirinha. Find Leblon, a Brazilian spirit made from sugar cane, at these ABC stores.
Caipirinha
By Cynthia Gregg, Gallery Bar at Gallery Restaurant, The Ballantyne Hotel
Ingredients:
Half a lime, cut into wedges
2 teaspoons brown sugar
1 2/3 oz. Leblon Cachaça
​Place lime and sugar into old fashioned glass and muddle. Fill the glass with crushed ice, then add the Cachaça. Garnish with sugar cain and heart of palm.
Brazilian Rhubarb Royale
by Bob Peters, The Punch Room at the Ritz-Carlton
Ingredients:
1 lemon wedge
2 oz. Leblon Cachaça
1 oz. rhubarb simple syrup
Prosecco
Muddle lemon wedge in shaker. Add ice, cachaça, and rhubarb simple syrup. Shake, then double strain into champagne flutes. Top with prosecco, then garnish with a lemon twist.
Hoochie Mama
by Henry Schmulling, Mac's Speed Shop
Ingredients:
Handful of mint leaves
8 white grapes
1 lemon slice
1 1/2 oz. Leblon Cachaça
1/4 oz. simple syrup (two parts water, one part sugar)
Gently tamp mint leaves in the bottom of a mixing tin or glass. Add grapes and lemon to mint, then muddle. Add cachaça and simple syrup, then ice. Shake vigorously and double strain into a coupe glass. Garnish with a sprig of grapes and a lemon twist.