Heidi Elnora launches 2016 Spring Collection
"Hello Darling" features 1960s-inspired gowns perfect for the free-spirited bride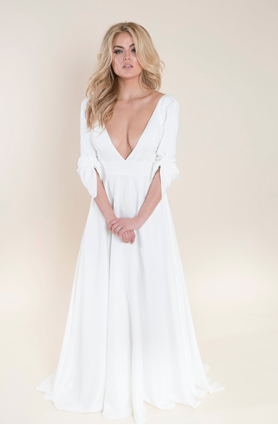 International wedding gown designer Heidi Elnora launched her 2016 collection and we're loving the ethereal, free-flowing designs perfect for brides looking to complete their bohemian chic wedding day look.
Hello Darling is a collection of relaxed silhouettes and features delicate details such as Venetian lace, striking backs and ribbon details.
"My inspiration behind this collection stems from the wheat field that my family lives on; it was an old Indian mound and my grandparents used to collect arrowheads off the land," said Heidi Elnora in a press release. "This collection is intriguing, majestic and very much reminds me of something that Stevie Nicks would wear."

The line joins other collections by Elnora, including heidi elnora and Build-a-Bride.
Love what you see below? Check out more at www.heidielnora.com.