Heist: The Rise of the Brewpub
NoDa's Heist Brewery adds a twist to the city's craft brew craze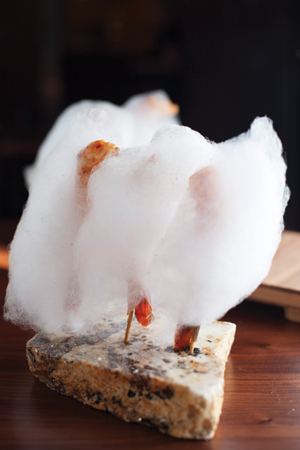 Charlotte has gone crazy for craft brews and gastropubs over the past few years, but there's been one thing missing: a true, local brewpub. Heist Brewery aims to fill the void.
Located in the historic Highland Park Mill No. 3 building, once home to the largest textile mill in Charlotte, Heist warms up the building's stark industrial roots with soft lighting and wood accents on the walls. The restaurant encompasses four dining spaces that feel separate but offer a nice flow: an entryway and bar area, a dining area with high-top tables and views of the brewery, a mezzanine level, and an outdoor patio.
A large copper chandelier is the first hint of the brewpub's concept and name, which was inspired by notorious 1930s gangster Baby Face Nelson—a distant relative of Heist founder Kurt Hogan. The chandelier was made from giant copper pipes left over from the installation of the brewing equipment, but what you can't help but notice are the bullet holes that riddle it. The Heist team hauled the pipes to a local firing range and used an arsenal of guns—including an M-16—to create the striking design element.
Brewmaster Zach Hart has created a twelve-beer roster for the brewpub's debut, ranging in weight from a smooth, light lager to a creamy oatmeal stout, plus four flavors of handcrafted sodas (cream soda, root beer, orange cream soda, and black cherry soda). Hart's beers and sodas played a large role in the creation of Executive Chef Rob Masone's inventive, playful menu, which he describes as "twisted American cuisine." Beer and the by-products of the brewing process are incorporated into almost every dish on the menu, from the explicit (oven-roasted beer cheese) to the less obvious (using mash as an ingredient in the restaurant's made-from-scratch breads).
Masone's strict attention to detail is apparent throughout a meal, from unexpected flavor combinations to the plates and serving vessels themselves, which he designed out of natural materials such as wood and granite. An example: the Himalayan Shrimp Stix ($16) are spicy, shrimp skewers served cold, wrapped in clouds of lemon-wasabi cotton candy, and then brought to the table spiked into a block of solid granite. As a dish, it feels a little gimmicky, but the sweetness of the cotton candy contrasts well with the chili-rubbed shrimp.
Other standouts: savory Kurobuta pork belly corn dogs, a pile of mini corn dogs stuffed with milk-and-honey-braised pork belly and served with a root beer barbecue dipping sauce ($11); Little People Tacos, savory mini tacos stuffed with beer-braised veal cheek, blue cheese polenta, raspberry chipotle crème, and microgreens ($14); and the burgers, with patties that blend smoked brisket, porterhouse tail, and chuck. (Tip: order the oversized rosemary tater tots alongside.)
Reservations are recommended, especially on weekend nights. Even with its more than 200 seats, Heist is almost always busy—a sign that Charlotte just might be hungry for more innovators in the kitchen.