Heritage Food + Drink Is Moving to Charlotte
James Beard Award-nominated chef will reopen an ingredient-driven concept in Elizabeth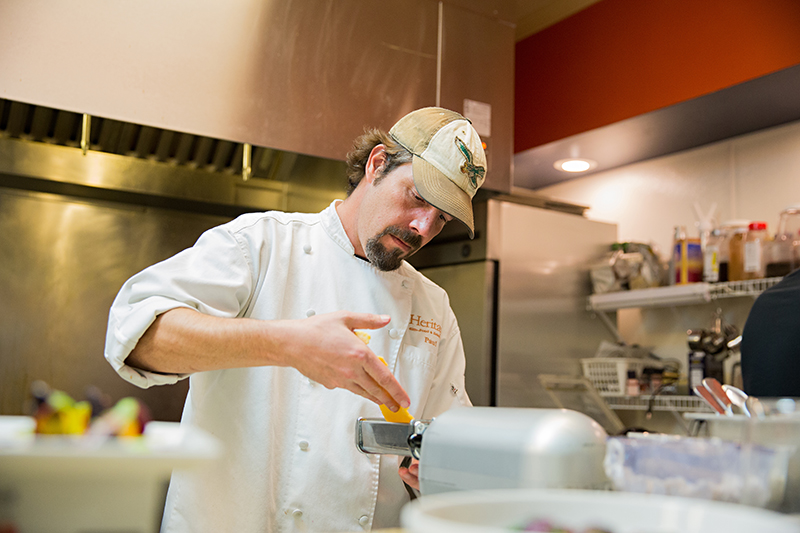 Paul Verica, owner of Heritage Food + Drink, is in the process of securing a lease in the Elizabeth neighborhood. He hopes to have the lease finalized in the next few days and begin construction on the former Crisp space at Seventh Street and Pecan Avenue soon. Verica plans to close his current location in Waxhaw before opening the new space.
Heritage, which opened in 2013, was named our top pick in Charlotte magazine's 2016 50 Best Restaurants list. Verica was recently named a James Beard Award semifinalist for Best Chef: Southeast. With the growing reputation of his restaurant, diners without reservations a week or two in advance can't get a seat on weekends. In the new restaurant, Verica will be able to seat more guests—just under 60. His old space could seat 36.
"Going into town, I think I'll be able to be a little more edgy, and especially from a presentation perspective," Verica says. "That's so important to me. I don't want to compromise that. I'd rather have ten less seats and know that we're going to be able to execute."
Verica's menu at Heritage takes an ingredient-focused approach, with dishes that sometimes display a single ingredient (often a vegetable) in a variety of forms and presentations. The restaurant's name, which pays homage to the restaurant's suppliers and the care they take growing food, may change. Still, Verica hopes to build on what he's done in Waxhaw—he refers to his new space as 2.0—with the broader customer base he'll have in the city. Though Verica's food philosophy won't change, there will be a larger focus on shared plates. He also hopes to have five-, seven-, and nine-course tasting menus.
Heritage will remain dinner only. There will also be a large bar running along the Pecan Avenue side of the restaurant, which Verica says will remain open late, serving a snack menu to pair with an improved beverage program. Bob Peters, of The Punch Room, will consult on the cocktail list. Verica says he was drawn in by the building's original pressed tin ceiling tiles and historic touches.
"This could be Heritage," he thought to himself when he saw the character of the 1947 building. The design, overseen by D3 Studio, will be a little more modern, and the drywall will be removed for an exposed brick space. The restaurant will have a much larger kitchen, too, to the excitement of Verica and his cooks, which include his son and sous chef, Alex. Verica says he couldn't have made the move without 21-year-old Alex in the kitchen with him.
Verica is likely closing the Waxhaw location before the Elizabeth space opens, giving Alex the chance to stage, or intern, in other restaurants across the U.S. It would also give Verica a chance to relax a bit, something he's done little of since opening Heritage. Both will be refreshed and inspired for the opening of the new iteration of the restaurant.
"It's going to be a good push for me, it's going to be a good push for (Alex)," Verica says.
He hopes the new space will open this year, in time to see whether the restaurant can hold onto its No. 1 restaurant rating in its new home.
> Listen to Chef Paul Verica's appearance on the #discussCLT Podcast.