Herrin Brothers Ice: A Family Legacy
The new light rail won't destroy a company that has been heating and cooling NoDa for 85 years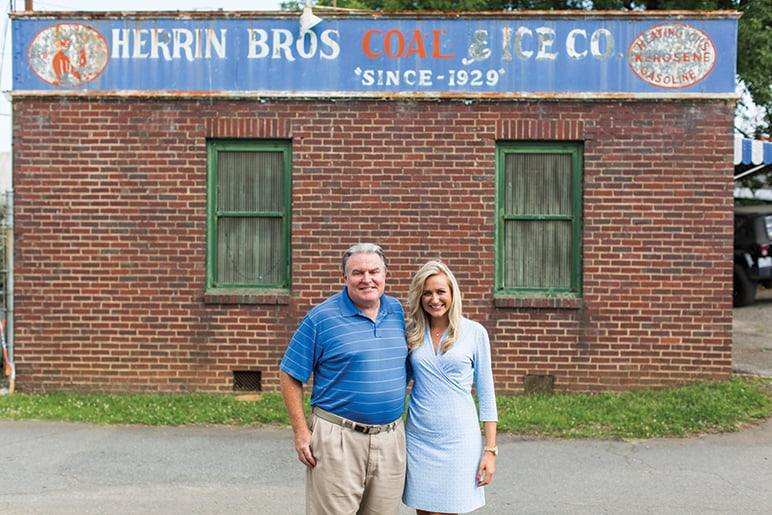 A bulldozer lowers its giant shovel into the dirt on 36th Street, kicking up dust around a faded red, white, and blue sign. Grace Herrin and her parents stand nearby, squinting through the sunlight at the image that has advertised their family business for four generations: "Herrin Bros. Coal & Ice."
Grace's great-grandfather, Luther Lee Herrin, lived on a farm with his father on nearby Herrin Avenue, and together they ran the North Charlotte Lumber Company. In 1929, Luther Lee branched out on his own and launched a delivery service for the North Charlotte textile mills, trucking over blocks of ice in the summer and lumps of coal in the winter.
When customers stopped relying on coal for heating, the Herrins sold kerosene and fuel oil. In the 1950s, refrigeration made iceboxes obsolete. Then the mills shut down. These days, the Herrins mostly supply bags of ice for special events, convenience stores, and supermarkets, although they also still sell to individual customers.
Grace's dad, Lee, began working here when he was very young, reporting to the 36th Street office after class in high school. He's spent his adult life skipping summer vacations to run the company during its busiest season. Grace, 25, studied journalism and entrepreneurship at UNC Chapel Hill and returned home to join the family business. She eventually hopes to run the company. "I just couldn't turn it away," she says.
In three years, when the bulldozers finish their work and a new light rail stop for the Lynx Blue Line Extension rises across the street, Herrin Brothers Ice Company will still be here. Grace hopes passengers will step off the train and pick up a bag of ice.
LOGAN CYRUS
* Although they have a new office space and ice plant on-site, the Herrins left intact the old plant and the brick building that once served as the office. They plan to keep the company sign out front, and might even restore its neon lights. "It's meaningful to our family," Grace Herrin says.
* The original Herrin ice plant cut 300-pound blocks of ice. Now, modern machinery creates ice cubes that are fragmented and sized. Cubes pour out of a chute into the freezer room, where they collect in a giant pile before being discharged into a bagging machine.
* When Grace's father, Lee, was growing up, the North Charlotte textile mills still burned coal for heat. He keeps some old fuel trucks, used to haul coal, behind the modern ice-making plant. Today, the Herrins mostly supply ice to customers.