Hobo's in Fort Mill: Buttermilk-Fried Bacon With That?
Restaurant goes big with burgers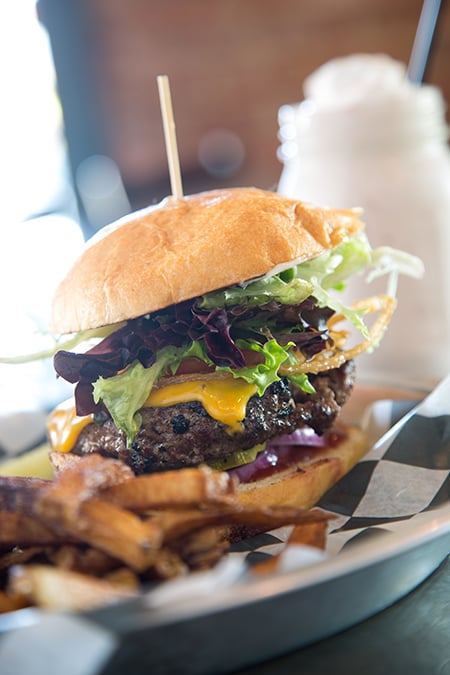 SIGNS IN THE windows and a hive of construction activity let Fort Mill know that something was going on in the long-empty space on Main Street. A Facebook page followed renovation progress with regular photos and posts, creating a buzz among more than 1,800 people who "liked" the page.
So it's no wonder that when Hobo's opened in mid-April, diners lined up, some waiting an hour or more for a table, even on a weeknight.
Curiosity brought a lot of people in for a first visit, says Jason Cloud, who owns the restaurant with his wife, Jill. But they're coming back for the food and atmosphere. "We had a lot more people for those first weeks than we expected. We weren't planning to be so busy."
Cloud, a native of a Chester, South Carolina, owned Cloud Nine Martini & Tapas Bar in Baxter Village on the west side of Fort Mill before selling it last year. Cloud's desire to create a Main Street destination drove the concept of Hobo's. A railroad track that runs about 50 yards away inspired the name; back in the 1930s, men who hopped trains and traveled from town to town looking for work were called hobos.
Open until midnight, the restaurant's 16-seat bar is the centerpiece of the space, with 30 beers on tap, more than half of them regional craft beers. Tables and tall, wooden booths provide about 50 additional seats. The menu is simple: appetizers, sandwiches, and salads. About 70 percent of sales come from food, Cloud says, and everything on the menu is made to order.
From the appetizer menu, pimento cheese fritters ($7.95) are a winner. Hobo's house-made pimento cheese is rolled into a ball, lightly coated with flour and panko, then deep-fried and served with a spicy green tomato jam flecked with crushed red pepper. The result is a golden-brown ball that resembles a hushpuppy—until the first bite, when the crunchy coating mixes with melted pimento cheese. Fried green tomatoes ($7.95) are coated in cornmeal and served atop creamy grits with a "Southern caviar," made with blackeyed peas, black beans, corn, and jalapeño.
Hobo's menu lists 10 burgers, including two meatless options: black bean and veggie. The meat is ground fresh daily; burgers are made to order and prepared medium (pink and juicy center) unless you request otherwise. A flavorful brioche bun served with most burgers stands up nicely to the piled-on toppings.
We tried The Mack and Mack ($9.25), which our server said is a customer favorite. It's a Carolina-style burger with mustard, house-made chili, slaw, and jalapeño slices. It arrived on a paperlined metal tray, chili oozing from the sides, with a generous portion of hand-cut fries and a dill pickle spear.
Other tempting options are The Wanderer, with bacon, cheese, barbecue sauce, and fried onion strings; The Vagabond, with pimento cheese and bacon; and The Sunrise, with bacon, fried egg, and cheddar cheese.
Perhaps the most talked-about burger on the menu, Cloud says, is the T Money, which comes served between two grilled cheese sandwiches and named for a friend who died a few years ago. "This wasn't his favorite or anything," Cloud says with a laugh. "I just wanted to name a burger after him." It's a hefty sandwich— four slices of cheese-stuffed sourdough, plus a fully dressed burger inside—but 16-year-old Tate Bryson of Fort Mill was up to the task. He polished it off with no problem. "It's perfect," his mother, Regina Bryson, says. "Two things teenage boys love—hamburgers and grilled cheese. What could be better?"
Burger fiends find a lot to love at Hobo's, with build-your-own options including buttermilk-fried bacon, applewood-smoked bacon, fried onion strings, avocado, and pineapple. If you're not into red meat, there are also chicken and fish options along with the vegetarian burgers. Don't miss Hobo's chicken and waffle sandwich ($9.50), a savory-sweet standout. The sandwich starts with a fried chicken breast—juicy and lightly battered— drizzled with a maple syrup aioli and served between two waffles dotted with bacon bits.
There are no desserts on the menu, but there are milkshakes. For adults, a few of the milkshakes come spiked with alcohol. One of those is called the Bushwacker, in which rum, Kahlua, amaretto, cream of coconut, and whipping cream are added to a vanilla shake and topped with chocolate syrup, resulting in a drink that's ice-cream smooth with a kick. That is, if you can find any room in your stomach for it.
Hobo's
213 Main St.,Fort Mill, SC
803-548-4626
Entrées $5.50-$10.75
L, D, FSB, P