Home Makers
A young couple renovates an historic Elizabeth bungalow—just in time to start a family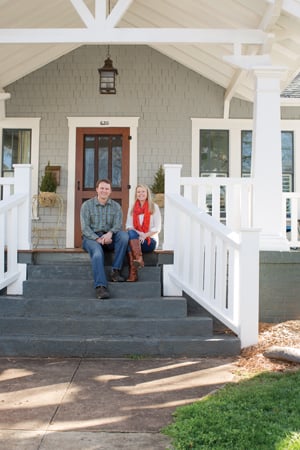 Cameron and Mollie Cooke weren't greeted with a pretty sight when they first stepped inside the house that would become their new home. Built in 1918 by Charlotte printer and publisher G. L. Dooley, the bungalow—on a quiet street in the historic Elizabeth neighborhood—hadn't aged well. Termites had damaged the front porch, some of the floors and molding had rotted, a falling tree had torn a hole in the roof, and the walls and floors were bare and dingy.
But where others may have been intimidated by an extensive renovation, Cameron, owner of design, build, and remodel firm Ethic LLC, saw beauty—and potential. "I thought the house had really good bones," he says. And Mollie, who loves antiques, appreciated the home's character and historic quality.
The Cookes had spent months searching for a fixer-upper to turn into their dream home. This house fulfilled every item on their wish list: it was on a large lot, allowing them to expand the home's footprint and still have space for a backyard patio and garden; it was full of original details like picture molding, pine and oak floors, and transom windows; and the roof was steep enough that they could add a second story without having to change the original roofline, making plenty of space for a growing family.
But what most attracted them was exactly what could scare off many buyers: the house hadn't been updated, renovated, or even received a fresh coat of paint in a really long time. "It had been kind of left in its original state, which was perfect for us," Cameron says.
During the renovation process, the pair saved and salvaged as much as they could. When walls and a doorway were knocked down to open up space for a new kitchen, original trim and a transom window were rehabbed and moved to a new room. The guest bathroom's original medicine cabinet stayed in place and received a fresh coat of paint. Wood from the back of the house—which had been removed during the renovation—was made into a new dining room table by Phillip Price of Antique Reclaimed Lumber in Nebo.
"We reused everything we could," Mollie says, adding that they scoured antiques shops, flea markets, and architectural salvage yards for furniture and furnishings that matched the home's original features. "We went to every architectural salvage yard in the Southeast," she laughs.
Wormy chestnut beams in the kitchen came from an old barn in North Carolina. The antique bathroom vanities came from Concord and Burlington. A lightning rod was repurposed as a curtain rod in the living room. And the six-panel doors—the most challenging items to locate—came from Greensboro, Atlanta, and the last one, from the basement of a home in Charlotte's Wilmore neighborhood.
For the décor and finishes, including the herringbone tiled backsplash in the kitchen, curtains, and paint colors, Mollie worked with designer Katie Hoffman. Inspiration for everything from the farm sink to the faucets and hardware came from what Mollie describes as the couple's love of "old things."
"We're not real modern people, obviously," she laughs, pointing out the only new furniture in the house: the chairs and barstools in the kitchen and the bed in the master bedroom. "I had a vision for what I wanted, but [Katie] helped me make decisions."
The renovation was completed in just nine months, but a few months after they moved in, the couple discovered they'd be welcoming a baby later this year. Now, the Cookes have a new project to complete: creating a nursery for their newest addition.