HomeArama
The two-week tour of luxury homes in Cheval starts this weekend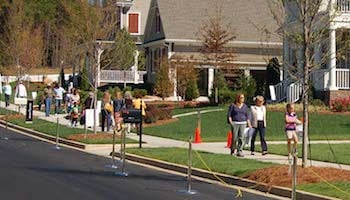 HomeArama is a tour of four luxury homes in the Cheval community. Each property is valued at more than $1 million. The Home Builders Association of Charlotte organizes the tour.
The tour is spread out over two weeks, beginning Saturday, July 18, and continuing until Sunday, August 2. The homes are open Tuesday through Sunday from 10 a.m. to 7 p.m. The lengthy format allows plenty of time to visit. One ticket ($12 in advance or $15 at the gate) is required per person per visit. Advance tickets can be purchased here. Special events take place throughout the two weeks, such as discount days for Realtors and designers, test-drive days with Lincoln Motor Company, and a chef's day with area chefs preparing samples.
The Cheval community is located in Mint Hill. Developer Keith Paris created it to feel like an upscale country estate, focused on woodlands, parks, trails, and horse pastures.
Home builders for this year's tour include Arcadia Homes, The Ullman Group, and New Old Luxury Custom Homes. You'll find a home built for entertaining with more than 700 square feet of recreational space, one that looks as if it was plucked from the English countryside, another with an expansive outside terrace with a fireplace and grill, and a country estate built out of Pinehurst stone. Interior designers include Mary Ludemann, Frances Leonhardt, Traci Zeller, Tammy Coulter, and Kendra Tardif White.
For more information, click here to download the tour brochure.