Honeymoon hotspot: St. John
It's Part II of our series on honeymoons! Searching for the perfect destination? Look no further.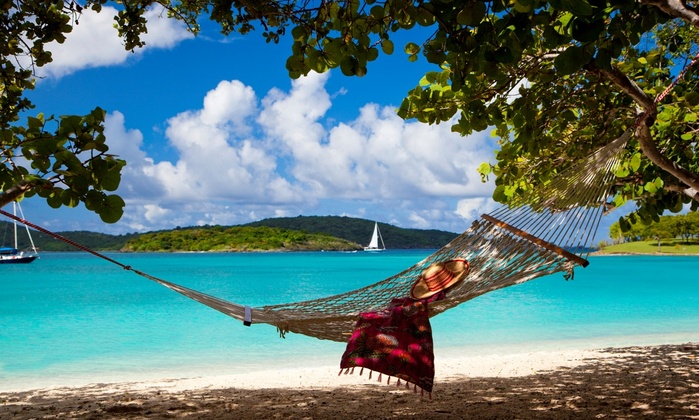 So maybe the idea of an adventurous Alaskan honeymoon doesn't appeal to you. If you'd rather soak up the sand and sun instead of putting on your winter boots and going for a hike, we've got you covered.
Close your eyes. Imagine sitting in the warm sun on a sandy white beach. The sound of seagulls fills the air while you sink your toes a little deeper into the sand. As beads of sweat start to form on your forehead, you stroll out to the edge of the Caribbean Sea where you dive headfirst into a clear abyss of waters.
Does this sound like your version of paradise? Open your eyes and you're in St. John – an oasis within the U.S. Virgin Islands. If you and your man are looking for a low-key honeymoon where you can relax poolside, sip cocktails and cool off in clear waters then St. John is perfect for you.
Where to stay: Caneel Bay
Disconnect from your hectic schedule and the stress of wedding planning and embrace the natural, pristine surroundings of Caneel Bay. This exclusive resort includes seven secluded white sand beaches on 170 acres where the accommodations blend perfectly with the natural landscape. Whether you want to enjoy the resort's nightly sunset cruise, go scuba diving or snorkeling, or just relax by the pool, Caneel has something for everyone.
Where to eat: ZoZo's at the Sugar Mill
You don't have to travel far to find some of the best cuisine on the island. ZoZo's is located within Caneel Bay resort and is renowned for its famous blend of Italian and Caribbean foods. The restaurant is located within the ruins of an 1800s sugar mill, giving diners a historical ambience. Don't miss the Oven Roasted Mahi Mahi, served over local arugula goat cheese salad with grilled polenta and a sweet bell pepper chutney.
What to do: Water Sports
Whether you snorkel, scuba dive, sail, jet ski, kayak or fish, we highly recommend getting out on the water and enjoying the pristine beaches and abundant wildlife present on the island. From corals to eels, sharks to sea turtles, St. John's ecosystem is a treasure chest full of once-in-a-lifetime experiences.
When to go: Anytime!
April, May and June offer mild temperatures and little rainfall. But even in the "off-season" (Dec. – March) temperatures ranch from mid 70s to 80s. If traveling in July through Oct., it's the region's hurricane season so proceed with caution.