Hoppin' Hotspot: The Peculiar Rabbit
Plaza Midwood's new gastropub lives up to its name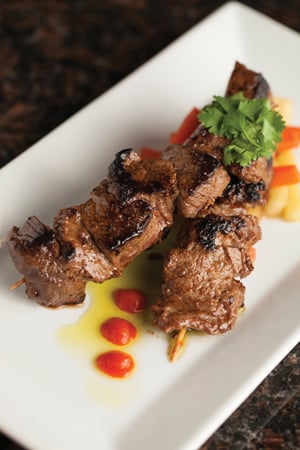 The FIRST THING you notice about The Peculiar Rabbit is its building. The sister restaurant of Jackalope Jack's is located in a renovated three-story structure on a triangular lot in Plaza Midwood that comes to a point at the corner of Central and Pecan streets. In the past, the space has been both a church and a nightclub. That's pretty peculiar.
On the first floor, a blonde wood bar, elevated wooden booths, and granite high-top tables gleam. Copper sliding doors partition off a separate dining area for private parties or overflow. The next floor offers more of the same—a second long bar with light-colored wood paired with granite-topped tables. This isn't the look of a typical pub, where dark wood and masculine accents are the norm. And then there's the third floor, where an open rooftop with tables and lounge furniture overlooks the city's skyline. A pub with a view? Peculiar, indeed.
But most of the peculiarities at the Rabbit are on the menu. Primarily pub food with a twist, such as oxtail poutine ($11)—fries topped with decadent oxtail gravy, farmstead cheese, and cilantro—there are also a few surprises. The lineup features several Asian-inspired dishes, including a spicy Vietnamese-style banh mi sandwich ($10), and Southern dishes like Vidalia onion bisque ($6) and baby back ribs ($12) braised in beer from Olde Mecklenburg Brewery and topped with a spicy bourbon barbecue sauce.
The cider-braised pork belly ($18) is a standout, offering a large portion of crispy-tender pork belly on a bed of mashed celeriac alongside sweet-and-salty maple-brûléed Brussels sprouts. The Peculiar Rabbit ($24), the pub's namesake dish, offers flavorful cabernet-and-spice-braised rabbit—a rarity on Charlotte restaurant menus—atop a mound of colcannon (mashed potatoes mixed with cabbage). Both dishes are comfort food at its best, although the presentation can be a tad messy.
No gastropub is complete without an interesting beer selection, and the Rabbit is no exception. The list includes twenty-four craft beers on tap, including several local brews, and a larger selection by the bottle.
While The Peculiar Rabbit is open for lunch and Sunday brunch, it's best at dinner, when the lights are dimmed and views of the city at night peek through the windows.