Hornet Bismack Biyombo Talks Career, Congo
Player aims to revive his African homeland with an assist from basketball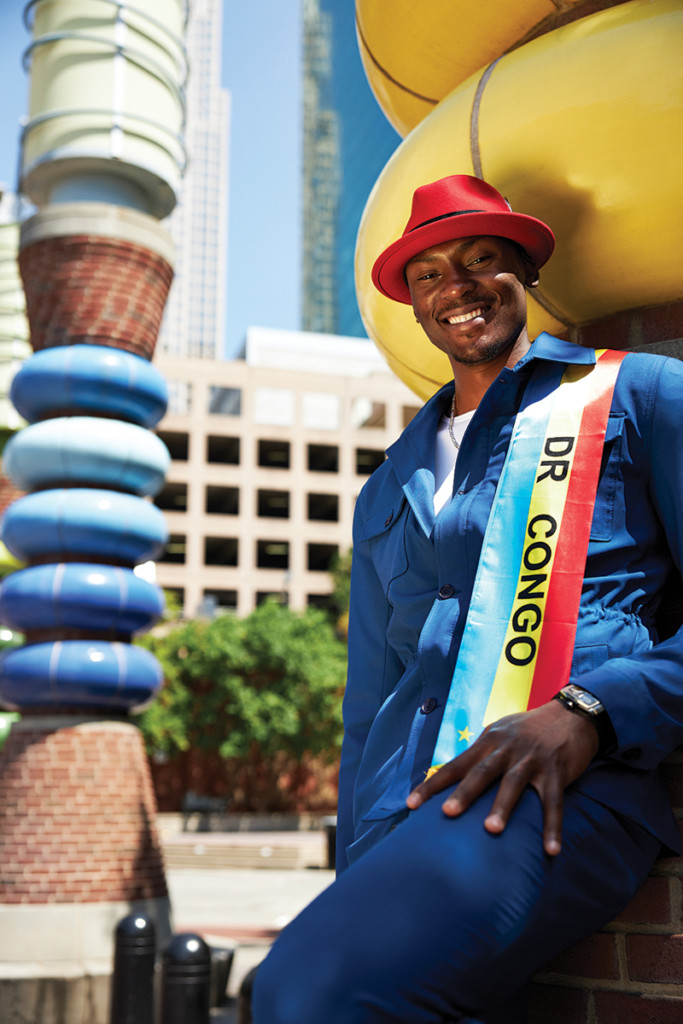 THE PROFESSIONAL basketball player returns home, and he sees himself in the children. They run, laugh, and play in a country with the world's eighth-highest infant mortality rate; a country with one of the world's most impoverished populations and untapped minerals worth an estimated $24 trillion under their feet; a country that this year experienced its first peaceful transition to a new president in 59 years of independence; a country that this summer suffered through an outbreak of Ebola virus, its tenth and largest on record. The children play games with what they have.
"They're playing with no shoes," says Bismack Biyombo. "That was me."
He began playing basketball at 14 in his hometown of Lubumbashi, a copper mining city at the southeastern tip of the Democratic Republic of Congo, in central Africa. When he had shoes, they were usually mismatched—one shoe would be fine, the other in tatters. A year later, growing out of his clothes, he told his family he wanted to play professionally someday. Biyombo relocated to Tanzania, Yemen, and Spain, all before his 18th birthday, and naively signed a contract. He didn't realize until later that it funneled much of his salary to an unscrupulous agent.
He played well enough in Spain to capture the attention of NBA scouts. In 2011, the Sacramento Kings drafted the 18-year-old in the first round, seventh overall, then promptly traded him to the then-Charlotte Bobcats.
His NBA career has been undistinguished if you judge it solely by his performance on the court. At six-foot-nine, he's an undersized reserve center, and over eight seasons—with the Bobcats/Hornets, Toronto Raptors, and Orlando Magic before he re-signed with the Hornets last year—he's averaged five points and six rebounds per game.
At 27, Biyombo has learned the relative value of the stat sheet. "I don't look at basketball just as basketball any more," he says. "I have to achieve big things, because by me achieving big things, that's how I can lift other people up."
When Biyombo first started playing in the NBA, he explains in a room deep within the Spectrum Center, he was a teenager obsessed with winning. Losing tore him up emotionally. He slept fitfully if at all. Then he woke up one day and decided he needed to visit home. He brought basketball shoes with him, and he organized a basketball camp with about 25 local kids and handed them out.
"The first day, they were very appreciative, they were super-excited, and I had a great time," Biyombo says. "After that, I went back to my hotel and slept like a kid."
The next night, the same thing—10 hours uninterrupted, the best sleep he'd had in months. His parents told him it was a signal that he should organize more basketball camps. Recently, about 1,000 kids in three cities attended camps run by Biyombo's charitable foundation, even as he tended to something more fundamental to his country, and his purpose, than basketball: education.
Nearly half of Congo's children begin school after age six. Only two-thirds who enter first grade complete sixth grade. The quality of education is generally poor in a country where major cities are hundreds of miles from each other, and it's next to impossible to drive from one to the other on an underdeveloped road system.
The first school Biyombo co-founded and paid for through his foundation opened in 2017 in the city of Goma, on the Rwandan border. Kivu International School, named after the lake it sits beside, serves about 500 primary and secondary students, teaching them in French and English according to the DRC national and International Baccalaureate curricula. It has 21 modern classrooms, WiFi, a library with more than 8,000 books, a gym, and a first for the DRC—a covered basketball court. He plans to open a second school in Lubumbashi, which he hopes will open late this year.
When the Goma school opened, Biyombo tweeted a video of himself celebrating on site with a group of young people. "The goal isn't to live forever," he wrote, "the goal is to create something that will."
The schools are one of Biyombo's two chief missions. The second aims, in part, to help people at the opposite end of their lives. A couple of years ago, on his way out of Lubumbashi at the end of a visit, he stopped at the state hospital where his maternal great-grandmother, who had helped raise him, was ailing. "When I walked into the hospital, I looked around and said, 'There's no way she's going to survive,'" he says. "The condition of the hospital was way below average, let's just say that." She died a month later.
His foundation has begun to refurbish six hospitals, including projects in Lubumbashi, Goma, and the capital city of Kinshasa, upgrading their equipment and supplies. Biyombo and the foundation hope to finish the six by autumn, then work on more.
He understands that his and his foundation's work, however crucial, won't solve the problems that centuries of colonialism and exploitation of Congo have created; he knows his next dream, a jobs program, won't alone create a robust economy. But he's prepared to work, regardless of how much longer he plays in the NBA or how much his nation and its people need. "What really drives me is to see these kids succeeding, to create opportunities, to give people better conditions," he says. "How? We're gonna figure it out. Give me some time."