Hot Chocolate Sweet Spots
Cozy up with a frothy mug of hot chocolate at these three spots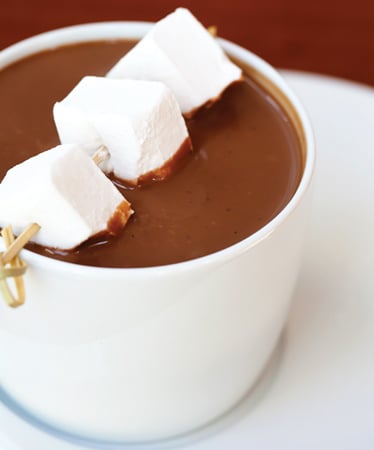 This month's chilly winter evenings call for getting cozy with a steaming cup of hot chocolate. These three Charlotte spots offer frothy house-made versions.
The casual Smelly Cat Coffeehouse (514 E. Thirty-sixth St., 704-374-9656) in NoDa satiates your cool-weather sweet-drink cravings with the quirky coffee shop's hot chocolate ($2), made with hot milk and whipped cream.
At the Ritz-Carlton's new Bar Cocoa (201 E. Trade St., 704-547-2244) chocolate lovers can sip the silky smooth drink ($6, pictured)—created with gourmet beans from Madagascar and topped with gooey house-made marshmallows—fireside in the hotel's sophisticated lounge.
For an extra kick of comfort, try Good Food on Montford's (1701 Montford Dr., 704-525-0881) cocktail version ($10). A spicy concoction of dark chocolate, chilies, and vanilla vodka, you'll warm up quickly to this spirited drink.