Hot Coffee, Pancakes, and Granddaddy
What would happen if we ranked restaurants on sentiment instead of hype?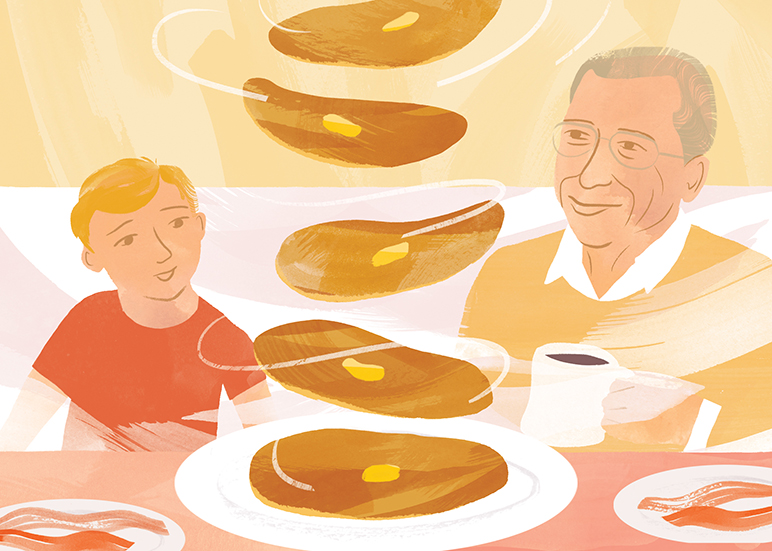 IT WAS ODD, I suppose, to think first about pancakes.
But in the hours after my grandfather died, a year ago this month, that's where my mind wandered. I thought of the no-frills flapjacks at the Original Pancake House, with hot sugar-free syrup and a side of extra crispy bacon, and decaf coffee, because that was Granddaddy's favorite breakfast in Charlotte. I watched him order that selection a hundred times.
I don't remember when, exactly, my family started going to breakfast at the Pancake House, in SouthPark's Sharon Corners shopping center, but my age was in the single digits. We'd go for birthdays and good report cards and just because, always early in the morning and usually in the same waitress's section.
We'd sit in a maroon booth against the wall of windows on the right side of the restaurant. The seating decision was very important, for some reason. We'd wait for a booth even if there were half a dozen square tables available in the center of the room. You see, my family likes tradition, even if we can't remember why the tradition exists. We like feeling connected to people and places and things that matter.
The restaurant smelled faintly sweet, a hint of maple syrup drifting from amber puddles on white plates. An occasional clatter or sizzle would jump out of the kitchen on the opposite side of the restaurant. Inevitably, some kid at another table would spill orange juice all over the tile floor.
Granddaddy—one of the most persnickety people I've ever met—would always admonish our server, repeatedly, to bring him hot coffee and hot syrup and, for God's sake, hot pancakes. I ordered the Junior Plate: one scrambled egg, sausage links, and pancakes.
My grandparents bragged about my sister and me, their only grandkids, to anyone who would listen. The predictability of the whole scene became a family joke. So when Granddaddy died, I thought of the pancakes, and of the Pancake House. I hadn't really considered it before then, but the place is important to our family. Yet not once have I recommended the Junior Plate to a friend.
The thing about restaurants is that we often focus on what's hot and trendy and new. By that measure, the Pancake House wouldn't be all that special. Everything is good, but not inventive or elegant or whatever I look for when writing about a new restaurant for this magazine. If you stopped me on the street and asked me to list my favorite restaurants in Charlotte, I doubt the Pancake House would come up. But what if we ranked our favorite spots on sentimental value? How would our lists change?
I started asking friends about that duality, the difference between places we go for show and the spots that mean something. One friend told me she feels a connection to Al Mike's, a Fourth Ward tavern, because it was one of the first places she felt welcome after moving to Charlotte seven years ago. Someone sent me a tweet about the King's Kitchen, where she and her new husband celebrated with stunned friends after eloping. Expats— from above the Mason-Dixon line or from another continent—said they feel connected to one place or another because it reminds them of home, whether the food is memorable or not. They just belong there.
There were first job spots and first date spots. Friends who attended high school at South Meck brought up a deli called Rusty's and the Highway 51 Bojangles' because that's where they used to hang out while skipping class. One person fondly recalled a romp in a restaurant bathroom. (I'm not naming names, for his sake, or details, for ours.)
And, of course, people yearned for the sentimental spots that are long gone. One friend, Will, who grew up in Myers Park, recalled going to The Press Box, a sports bar on Montford Drive where Brazwells is today. It was, according to an old story in The Charlotte Observer, the first bar in Charlotte to serve liquor by the drink and the first to have a bigscreen TV. Neither of those things mattered much to Will or his friends, who came for the cheeseburgers and fries. "You'd leave smelling like cigarettes," Will says. "Just the price you had to pay for tasty treats."
Longtime Charlotteans reminisced about the old 10 Park Lanes, which was also home to clouds of acrid cigarette smoke not that long ago—and a killer BLT and onion rings. The swanky new bowling alley, sans smoke, has played host to more than a few high school reunions, with groups of people picking up where they left off, telling stories about the last time they were right here in this room.
If my unofficial survey produced a definitive result, it was this: Charlotteans, all of us, have our own sentimental dining rooms, our own maroon booths against the wall. Whether we've been here since college or for a lifetime, we are nostalgic. Whenever friends and strangers recalled a sentimental restaurant, they always had a story to go with it. It wasn't just, "Oh, yeah, that place." It was, "Oh, let me tell you about this one time …"
As I got older, and as dementia began to steal Granddaddy from himself, the visits to the Pancake House became less frequent. But they were no less predictable. I still ordered the Junior Plate. Granddaddy had his list of demands, exacerbated by our favorite server's retirement. No one, in his estimation, could get his order quite right.
In his eulogy for Granddaddy, my dad talked about the Pancake House. He had to. During a five-minute speech, Dad choked up twice: once about my grandparents' nearly 50-year marriage, and again at the mention of coffee and pancakes. Imagine a restaurant important enough to wind up as a part of your funeral, meaningful enough to make your loved ones cry.
We didn't set out to make it special, of course. It doesn't work that way. You can't force sentiment. No, a place becomes a part of your story because of the smell of cigarette smoke, sandwiches flavored by the danger of skipping class, or the comfort of an ordinary stack of pancakes.
Just make sure they're hot, for God's sake.
Adam Rhew is a frequent contributor to this magazine. Reach him on Twitter, @AdamRhew, or via email: adam.rhew@gmail.com.