How Bright Blessings Pivoted Its Birthday Celebrations for Underprivileged Kids
Social service agencies are struggling to adapt to the disconnected world, and this group is one of many adjusting amid COVID-19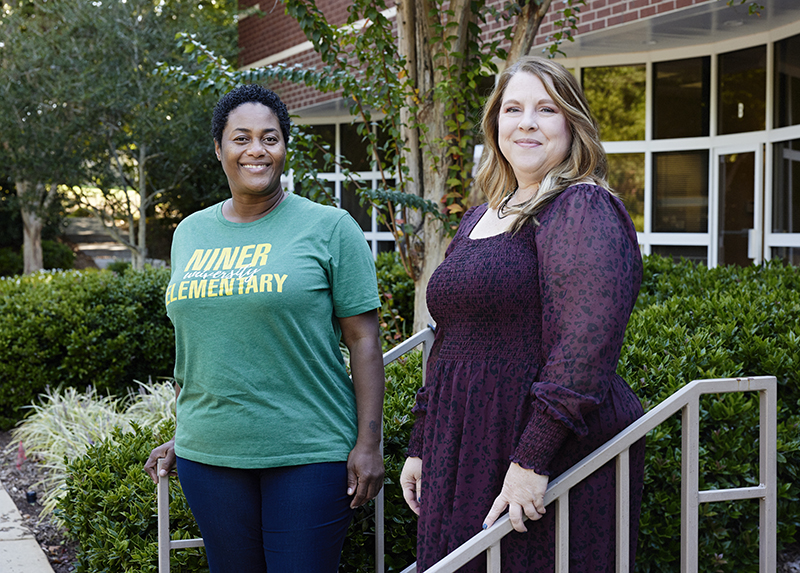 SHERRI MILLER is a social worker at Niner University Elementary at Amay James, a school program led by UNC Charlotte education experts to support students from high-need, low-performance schools. Since spring, Miller's had to make the drive from her home in Mount Holly to Matthews to pick up more than 120 snack bags and hygiene kits at a time from Bright Blessings, a nonprofit best known for its birthday celebrations for Charlotte-area students who are homeless or living in transient housing.
Miller delivers the bags and kits to the homes of about 20 students. She keeps a safe distance and wears her mask. "Hey, Ms. Miller!" kids yell when they see her at the door. They take their snacks and hygiene supplies and run off to compare, trade, and barter.
"They get excited about a new toothbrush of their own because they may not have one," Miller says. "It gives them a sense of belonging. It's as simple as that."
Normally, Bright Blessings would give them to students at school as part of its Bless-a-Birthday program, which also threw monthly parties for 40 or more kids living in local shelters. Volunteers would set up decorations, arrange crafts and games, and give out goodie bags. The closure of school campuses and restrictions of gatherings at shelters have derailed all that and forced Bright Blessings and their beneficiaries to adjust as well as they can.
"It's a hard position to be in. Some are just getting the birthday packages to the child, and some are still trying to host a little party for the birthday children with the staff," says Executive Director Tisha Henderson. "Each shelter is handling it a little differently."
Charlotte has an engaged, wide-ranging community of almost 500 social service nonprofits that do everything from meal preparation to tutoring. But most of those services hinge on person-to-person contact, which COVID restrictions have largely prohibited. In response, nonprofits throughout Charlotte have had to do essentially what Bright Blessings has—adjust on the fly.
Nonprofit leaders are doing what they can to provide agencies with guidelines. SHARE Charlotte, an umbrella organization for more than 450 area nonprofits, has created a program called "Share from Home," through which volunteers can help in specific ways without exposing themselves or others to COVID. Volunteers do things like write grant applications, thank-you notes for donors, and cards for veterans or women recently released from prison; create flash cards for students in need; or manage social media for organizations that need help, says Amy Jacobs, SHARE Charlotte's executive director.
Jacobs herself used to volunteer for Bright Blessings, so she understands what Henderson, Miller, and the Bless-a-Birthday kids have missed out on under COVID. "We would sing 'Happy Birthday' and would say each child's name. So even though it was all the kids whose birthdays were in that month, that all felt special," she says. "There was a lot of excitement and happiness. Parents were grateful that their kid got a break from whatever they were dealing with."
The delivery of snack bags and hygiene kits was Bright Blessings' way to adjust to the situation, although COVID has hurt the organization, too: Henderson has had to furlough two of her eight employees, and volunteers' availabilities have shrunk as the need for them has grown. The restrictions have caused logistical problems. Over the summer, parents had to travel to school systems' designated lunch pickup sites to receive the packages, and many didn't have cars.
Even so, by July, Henderson says, the snack-and-hygiene bags had helped Bright Blessings surpass the nearly 18,000 kids it served in all of 2019. "We're still here and still serving. It may look different, but we're still trying to serve in whatever way we can," she says. "We used to hug, but they know we can't hug now. But I still see the same smiles. … We will figure out a way to continue helping however we can."