How Cantina Became Babalu: See the Transformation
Before and after pictures of the restaurant's transformation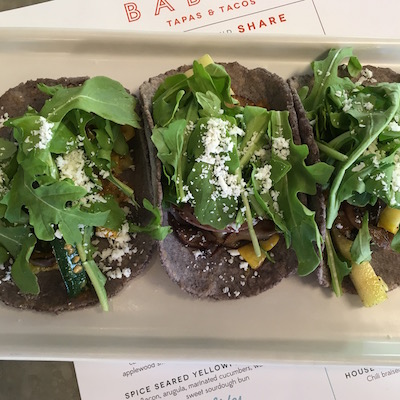 Babalu Tapas & Tacos opened Monday on East Boulevard, and it's been one of the most hyped-up restaurant openings we've seen in a while. Before Babalu, however, the space was home to Cantina 1511—and the transformation of the building has been stunning. We sat down with Mary Sanders, brand and design manager for Babalu, about her design and how the once-dark Cantina became bright and energetic Babalu. Scroll down for before and after photos of the renovation.
Charlotte magazine: What is your first step when expanding to a new city?
Mary Sanders: When we come in to any kind of location, we don't ever want it to feel like it doesn't fit in its environment. So if you look around and you look on the website at all of our different types of stores, every one we have, it feels different, it feels like it fits the city it's in.
CM: And how did you do that here?
MS: If you go into a space that's [been] another restaurant, we didn't want people to come in and be like, 'Oh, remember, this was so-and-so?' And so one of the first things we looked at was changing where we put the front door, changing colors, things like that.
It was a very dark space; the ceilings were very low for us. We're used to a little bit higher. One of the things that, from a design concept, that I always tell people: Everything that I design for the space, I want to a) feel authentic and b) really be just kind of a background for the environment of the brand. Because the brand itself really is not Babalu on the wall or black-and-white images playing, it's really more the personality and the liveliness of the staff and the food. When I work with new architectural teams, one of the first things I tell everyone is this is the most undesigned designed restaurant I've ever done, because we don't want it to feel overly [done]; we don't want there to be a massive feature wall that distracts you from what you're eating, what you're doing, the company you're around.
CM: What kind of research did you do on this city?
MS: We eat tacos everywhere. I tend to go to local restaurants and see what the feel is in the restaurant scene, also just what the feel is in the city. Charlotte's a newer city, so trying to make this building feel like it's been here since 1850 wouldn't make any sense. In those situations, I tend to look and see what is required to make it feel like it's been here and what isn't. And everything from layout to numbers of seating, things like that—a lot of it is based on our demographics that are in the neighborhood. So if it's a younger demographic, then we're probably going to have a heavier high-top bar area, things like that.
CM: You'll soon have 10 restaurants. How do you keep people from looking at Babalu as a chain?
MS: That's been a challenge that we're working through and trying to figure out. One of the things that we do is every single restaurant has its own website, every single restaurant has its own social media site. … One of the things that we try to do is really get active within the community—one of the reasons we do charities and things like that, and throughout the year you'll see we do philanthropic work in the community in general.
Normally, we do something called a Taco Shop, which is we usually take a child with some sort of an illness or need and they come in and create their own taco. We do this whole buzz around it and we do two days where we serve Charlie's Taco, and we raise money through that. … The other thing we do is we work with local farmers. So we're working with different food communities so we're not bringing food in—we, of course, bring in food, but we do a ton of stuff with proteins and vegetables and things that really work within the community that way, too, from a food perspective. We do daily features every day, but we're usually highlighting some kind of a farm or doing something like that. We're not specifically farm-to-table, but we do as much as we can to source locally.
CM: This dining room used to be pretty dark. How did you change that?
MS: This is the first time we've done these windows and I love them. They open all the way up and you really feel like – [the high-top area] is actually, in the original house, it was the old porch … and so I always used to call this a porch, and I really want it to feel like a porch. That is why we did the wood on the ceiling and keeping the windows really open and we're excited to see them. We've usually done garage door styles.
CM: What do you hope people think in their first impression of Babalu?
MS: I want them to think it's fun. I want people to feel like it's somewhere you're going to go for a Tuesday happy hour or a special occasion. I want that versatility of the space to be something people are excited to be in. Sometimes I think designers, you tend to have a look or a theme. For me, what I learned—and it really wasn't like this when I designed the first one—but what I've learned is again, the guest and the servers and the energy of the restaurant is so important, that I want people to feel like they want to come back, they want to have fun, and they want to bring people back.
BEFORE
AFTER