How W.H. Houser, Born an Enslaved Person, Constructed a New Charlotte
The latest in our 'Building History' series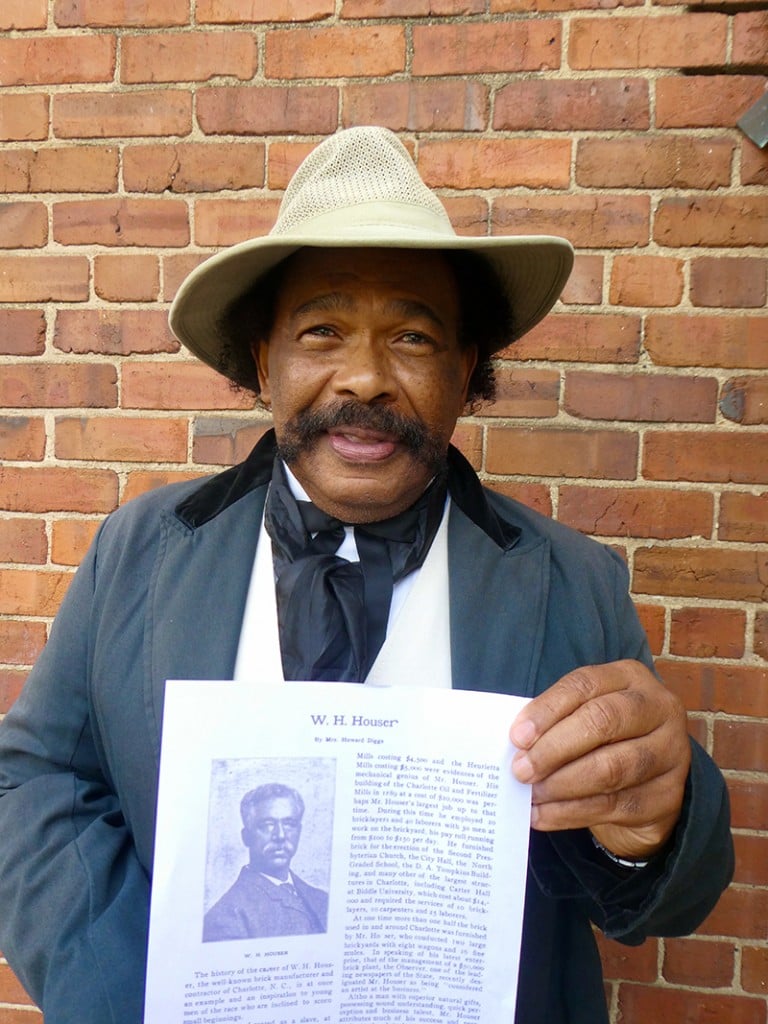 Charlotte was once a red-brick town. After the Civil War, the Queen City reinvented itself as a railroad hub that served a cotton mill region, and nearly all the town's new buildings were brick.
William Henry Houser had a hand in many of them. "Born in 1845 and reared as a slave, at age 12 he became an apprentice of the brick-mason and plasterer," noted The Voice of the Negro in Atlanta in 1906. "At the age of 16 he was put in charge of a brick yard in Chester, S.C."
Houser belonged to a tradition of skilled African American artisans—an important aspect of slavery that historians often miss. I'd always heard about two occupational groups: field hands and house servants. Beginning a decade or so ago, through reading and other research, I learned about a third: skilled artisans. Black midwives guided women through childbirth. Black cooks invented Southern cuisine. Black grooms cared for horses. Black barbers cut whites' hair. Black builders dominated brickmaking and contracting.
"Skilled Black artisans became civic leaders all over the South after Emancipation," Catherine Bishir tells me. Bishir wrote a profile of Houser on N.C. State University's website North Carolina Architects and Builders and Crafting Lives, a book about North Carolina artisans.
When the Civil War ended in 1865, Houser was free to move to Charlotte. He opened a factory to transform humble Carolina clay into sturdy red bricks. For centuries, artisans had made bricks a few at a time by hand, but Houser invested in steam-powered machines for mass production. "W.H. Houser has half a million good brick for sale for immediate delivery," trumpeted an 1896 Charlotte Observer ad.
He became the fast-growing town's busiest contractor. "At one time," said The Voice of the Negro, "more than one-half the brick used in and around Charlotte was furnished by Mr. Houser." Randy Thomason, Houser's great-great-nephew, has documented dozens of his projects from the 1880s and '90s. City Hall, the county jail, grade school, downtown stores, a railway depot, buildings for textile engineer D.A. Tompkins and suburban developer Edward Dilworth Latta—Houser built them all. "He overcame such insurmountable odds," Thomason says.
Houser was proudest of his work for rising African American institutions. He built Friendship Baptist on Brevard Street, his home church. His 1898 Coleman Manufacturing textile factory still stands in Concord. It was entirely Black-run, and its owner, Warren Coleman, won national acclaim for his perseverance at a time when most Southern cotton mills refused to hire African Americans.
Glass-and-steel progress has swept away much of Houser's handiwork, but two landmarks survive. He supplied brick for the construction of Carter Hall, completed with exuberant Victorian turrets in 1896 and now a local historic landmark, at Johnson C. Smith University. Houser probably taught the JCSU students who supplied much of the labor.
The same year, Houser laid the cornerstone for First United Presbyterian Church on Seventh Street uptown. The congregation's menfolk pitched in alongside his bricklayers, laboring at night after their regular jobs while women held lanterns.
Historian Janette Greenwood's book Bittersweet Legacy: The Black and White 'Better Classes' in Charlotte, 1850-1910 tells how Houser ran for alderman in the 1880s and '90s on a platform of limiting alcohol sales. He hoped social respectability and Black achievement in business would lead to equality.
But in the 1890s, during a national economic depression, white politicians kicked off what they termed the "White Supremacy Campaign" of 1898-1900. A new poll tax and literacy test disenfranchised Black citizens. A tide of hatred targeted successful African Americans. In 1902, suspected arsonists destroyed Houser's brick factory. His son, physician Dr. N.B. Houser, had already departed for Helena, Arkansas, to find better conditions. William Houser joined him there and died in 1912.
His body came home to Friendship Baptist for the funeral. The Observer took note: "William Houser was a brickmason and one of the city's leading colored contractors, held in high esteem by members of both races."
Building History is a monthly series that highlights Charlotte's historic buildings. Tom Hanchett, a local historian in Charlotte since 1981, is the author of Sorting Out the New South City: Race, Class, and Urban Development in Charlotte, 1875-1975 and former staff historian at the Levine Museum of the New South. Follow him on Twitter at @historysouth.