'I Don't Think This Has Been Done Before': Inside Charlotte FC's Photography Team
Meet the team of women who trained their lenses on the team's first season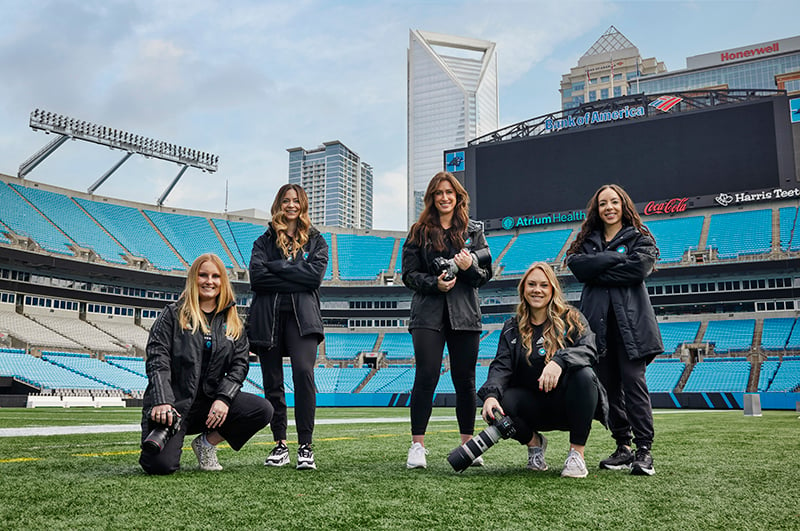 Krista Jasso lives in Charlotte but grew up in the El Paso, Texas, area, the product of a Mexican family that, she says, "hasn't had a lot of opportunities." Jasso didn't think she'd ever earn a living in a creative field like photography, especially if the subject was men's professional sports.
A year ago—on Saturday, March 5, before a Major League Soccer-record crowd of 74,479 at Bank of America Stadium—Jasso, 27, soaked in the moment, for herself and on behalf of her professional sisters. It was the first-ever home match for Charlotte FC, and the club had hired eight photographers for the occasion. All were young women. Five, including Jasso and Laura Wolff, shot home games throughout the team's inaugural season.
"I remember, there was a moment where we all looked at each other," Jasso says. "Laura is one of my best friends, and I looked at her and I thought, We made it."
The catalyst was Taylor Banner, 28, Charlotte FC's senior creative manager and team photographer. Banner wanted a team of eight, including herself, for the highly anticipated home opener. But the core group eventually numbered five: Banner and Alana McCallion, hired as a Charlotte FC employee at midseason; and freelancers Jasso, Wolff, and Lizzy Otten.
Banner says she didn't set out to make a political statement for the home opener. She just turned to photographers she knew and trusted. "I just wanted to bring on my little Avengers team," she says. "And then, at that point, I thought, I don't think this has been done before."
***
The three freelancers work full-time jobs in other areas: Jasso works in social media analytics for NASCAR, Otten in marketing for CMI Media Group, and Wolff as a specialist for Todd Payroll Services (she moonlights as a team photographer for the Charlotte Knights as well). They're also former athletes who understand sports from a player's perspective. Wolff played softball at Virginia Tech. Jasso was a competitive cheerleader at Belmont Abbey. Otten played basketball at Cornerstone University in Grand Rapids, Michigan. After their playing days, they gained experience shooting men's sports: Otten photographed Michigan State football, McCallion Clemson football, and Jasso the Carolina Panthers. Wolff has photographed the Panthers and other local sporting events, and Banner used to shoot for USA Baseball.
So Banner had no reservations about their experience. But as she interviewed candidates, male and female, she noticed something: The men quoted higher rates, even if they had less experience. Only Wolff quoted a rate that matched a male candidate who had shot photos for about a year, Banner says, and "Laura has been the team photographer for the Knights for five seasons now."
Banner set out to fix that. She paid the women she hired based on their experience levels, competitive with their male counterparts. She's heard rumblings around media rooms that she "only hires women." But of the 24 freelance photographers she hired throughout season, nine were men.
She's quick to defend her team, men included. After Charlotte FC's dramatic overtime victory against Chelsea FC in an exhibition match July 20—one of the campaign's high points—Banner took to Twitter to call out "(t)hings male photographers said to my female photography team last night:
'Baker is here. Baker Mayfield? Do you even know who that is?'
'I bet you fan-girled over (Chelsea star Christian) Pulisic didn't you? Had to wipe the sweat off your brow seeing him that close huh'
'Interns can't be on the field'"
A follow-up tweet demonstrated as much grace as the team's sexist antagonists had displayed ignorance. Banner listed, individually, the "kind, talented, genuinely good" male photographers who had shot games.
***
Over time, the core group got to know Charlotte FC's players well enough to anticipate their actions, a coveted skill for any sports photographer. During a 4-1 victory over Nashville SC on July 9, Banner captured the moment when star striker Karol Świderski, known for his spontaneity, leaped into the stands to celebrate the goal that broke his 11-game scoring drought.
Wolff's proudest moment came from her photo of another Świderski goal celebration, which someone enlarged into an enormous banner and draped down the side of an uptown parking deck.
"We're here to do our jobs and make great images and be the best photographers and people we can be," says Wolff, the group's veteran at age 30. "Is there stuff we have had to overcome that others might not necessarily have had to overcome? For sure. But being a man or woman doesn't define how well we do our jobs. Our jobs are defined by our talent, and I think that this group is full of some crazy talent."
After that first home game, Banner tweeted a photo of the eight photographers as they stood and knelt at midfield. Alex Morgan, the star and co-captain of the U.S. women's national soccer team, reposted the photo on Instagram. "I get chills" thinking about it, Otten says. Banner supplied her own message to accompany the image, which serves as her pinned tweet: "The attendance record isn't the only ceiling shattering over here," she wrote. "Thank you ladies, y'all killed it."
CARROLL WALTON, a longtime sports writer for the Atlanta Journal-Constitution and co-author of Ballplayer, the Chipper Jones biography, is a writer in Charlotte.