In Andy's Steady Hands
A son won't let his father's Parkinson's disease stand between them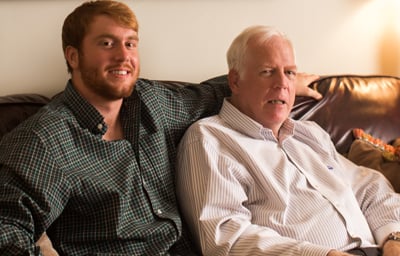 ON SENIOR NIGHT at Charlotte Country Day School, basketball player Andy Salisbury Jr. rises from the bench to walk with his mom and dad to center court. Camille is beaming like any senior's mom would on this night, though it seems she's also keeping an eye on her two guys, like maybe she knows something's coming.
Andy's father, Andy Sr., is in a wheelchair. Parkinson's disease has stolen from him the opportunity to walk beside his son. As 18-year-old Andy Jr. takes a bouquet of yellow chrysanthemums from a school official, the crowd stands, anticipating the tender moment when the son hands the flowers to his mom. But Andy Jr. has something else in mind. He takes the flowers, turns around, and hands them to his father. Frowning, but only for a second, Andy Sr. receives the gift, then quickly turns around in his wheelchair and hands them to Camille. Not sure what to make of this floral assembly line, she takes the chrysanthemums in one hand while continuing to push her husband with the other.
The look on his face makes it clear that Andy Sr., 62, knows this was not how Senior Night was supposed to go. The amused look on Camille's face indicates this isn't the first time her son has done something like this. The look on Andy Jr.'s face, a sly smile, indicates that he knows he succeeded again at finding levity in a Parkinson's moment.
This is how father and son choose to handle this disease, which has framed their relationship since Andy Jr. was a baby. Rather than lament, they choose to find the lightness when they can.
***
IN LATE 1996, Andy Sr. was 44 years old and was about to welcome his second child, Andy Jr., to the world when he started feeling stiffness in his shoulder. He went to see a neurologist in early 1997, and he'd soon learn that he had Parkinson's disease, the degenerative neurological disorder that causes worsening tremors, muscle stiffness, loss of balance, and often a shorter life. One million Americans suffer from Parkinson's. Some 60,000 new cases are diagnosed each year in this country. There is no cure. The life expectancy for those with Parkinson's varies greatly.
It's a cruel affliction, leaving a person's mind clear but his body weak, and growing weaker. As a teenager, Andy Sr. played center for the Myers Park High School basketball team. He graduated from the University of North Carolina's School of Law and moved to Washington D.C., for awhile, before coming home to settle in Charlotte. Here, he became a corporate lawyer and, more importantly, met and married Camille. Andy, six feet four and well over 200 pounds in his prime, was a tough guy who played rugby for fun. Then came the diagnosis.
In 2003, six years after doctors told him he had Parkinson's, he told a charity luncheon crowd in Charlotte that getting out of bed in the morning was about as much as he could handle. Today he's retired, in a motorized wheelchair, and his voice has weakened to a whisper. People with Parkinson's tend to show their emotions more than others. Andy Sr. cries easily now, including during the interviews for this story.
Whatever anger he felt gradually gave way to learning to cope. Andy Sr. loves solving problems, and Parkinson's offers a whole range of them. "Not a pleasant one," he says, "but interesting."
Camille put together a team of professional caregivers to help them "keep on chugging," as one friend describes the Salisbury mantra. They remodeled their Myers Park home, including putting in a lift to accommodate a wheelchair. Family, friends, neighbors, and their church, Christ Episcopal, provide emotional support and whatever practical help they might need, whether it's bringing meals or running errands.
The Salisburys turned this into a cause, setting up a nonprofit to raise money for medical research. Over the years, Andy Jr. and his older sister, Sara, have raised more than $380,000 for patient health and wellness programs through their Pounding the Pavement road races and campaign. The Salisburys have become known around town for their high-profile work to combat Parkinson's, and for how Andy Sr. has dealt with the disease. Andy Sr. still tries to stay active—woodworking, bowling, fishing, skeet shooting, and he went to all of Andy Jr.'s basketball games. "Watching him play basketball is one of the most enjoyable things I have," he told me during the recent season.
In 2003, they arranged a visit to Charlotte by another Parkinson's sufferer, Muhammad Ali. The boxing champ's appearance enthralled the crowd at a packed luncheon at the Duke Mansion. He kibitzed with well-dressed guests and performed magic tricks despite his shaky hands. He asked to go back to the kitchen, where he posed for pictures with the staff. A photo from that day remains a family keepsake: There's Andy Jr., six years old at the time, his mouth agape, a smile on his face, "punching" Ali in the nose.
***
ANDY JR. WAS born on November 11, 1996, his arrival a joyful ending to a pregnancy his parents thought would never come. After trying for three years to have a second child, Andy Sr. and Camille were researching adoption options when they learned she was expecting. "A gift," Camille called the boy—a very large gift, weighing 10 pounds, 11 ounces. The Parkinson's diagnosis came two months later.
"I got Andy Sr.'s diagnosis," she says now, "as I was trying to feed this big baby."
Andy Jr. remembers when he first understood that his father was different. He was four, and the family was in Huntsville, Alabama, visiting his grandparents. There was a touch football game in the yard. He vaguely remembers his father not being able to keep up. Fourteen years later, Andy Jr. shares the fuzzy memory almost matter-of-factly. This has been his life; he didn't have a choice. He's the man of the house who has to set up the Christmas tree, do the heavy lifting, push the wheelchair. Once, Camille thought a family cruise would be fun. "The trip from you know where," she says now, smiling (sort of) at the memory of Andy Jr. having to push his father's wheelchair from one end of the ocean liner to the other.
This way of living? "It's all I've known," Andy Jr. says.
Like his dad, Andy Jr. is six feet four. At Country Day, he was the center on the basketball team and played football, while maintaining good grades. He has a red beard, which makes him appear older than he actually is, and people close to him say he's more mature than most young men his age. "He's always been that kid who has a presence about him," says Mark Reed, head of school at Charlotte Country Day. "He's had to look at life through a different lens than most folks."
Woods Potts is Andy Jr.'s godmother, and she recalls him going off to McCallie School in Chattanooga, Tennessee, as a freshman. It was his idea to go. He had been at Country Day since elementary school, and he wanted to try something new. But after a year, he came back home. He liked the boarding school, but he knew where he needed to be, where he wanted to be—at home, with his dad. "He's very loyal," Potts says.
There have been tough times, of course. Andy Jr.'s sister, Sara, a 22-year-old who graduated in May from Vanderbilt University, has heard her brother complain occasionally. She's heard him wish, for example, that he and his dad could play oneon- one. Miles Mayberry, Andy Jr.'s best friend since childhood, remembers when they were 12 and Andy Jr. shared how hard it is to see his dad with Parkinson's. But those moments don't come around often. Mostly, the son and his father fend off tears with laughter. At one point during the interviews for this story, sitting in the Salisburys' comfortable living room, the conversation turned toward their relationship and how they express their love. "I'd let him hug me in a heartbeat if he'd let me," Andy Sr. says, looking at Andy Jr. "I can sit in his lap now if you want," Andy Jr. responds, effectively putting an end to that line of questioning.
"We're like brothers half the time and father and son half the time," Andy Jr. says. "We're sort of buddies. I play around with him. We'll fight over the TV remote. Would you agree?"
Andy Sr. considers the question, then answers with the look he gave when his son handed him the flowers on Senior Night, halfway between exasperation and love.
***
EIGHTEEN YEARS, and this bond between father and son, between buddies, is captured in moments and mishaps … There was the night right before Christmas in 2010 when Andy Sr. went to the kitchen to get something to eat and somehow pulled a large refrigerator on top of himself. Eggs, milk, and more, he was covered in groceries. For the next year, Andy Jr. took to calling his dad "Subzero."
There was the late afternoon in the summer of 2012 when Andy Sr. fell in the shower. They turned off the water and covered him in towels. He broke a rib and bled from his head. As they waited for the ambulance, Andy Jr. sat down in the shower beside his dad. He remembers asking his dad if he was in pain, then the two of them sitting quietly, waiting for the ambulance and firefighters to carry him out on a stretcher. The accident prompted Camille to hire a nursing assistant, and then she decided the family would remain in their home and make it handicapped accessible and more comfortable for her husband.
There were all of Andy Jr.'s basketball games, when he'd sneak a peek into the stands and see his dad, but not hear him because Parkinson's had stolen his ability to scream at the refs. Or that game at Country Day during Andy Jr.'s senior season when the team beat Metrolina Christian. The kids in the stands stormed the court, but Andy raced to the sideline to celebrate with his father because he knew he couldn't make it out there in his wheelchair.
There was the road trip to the ACC basketball tournament in 2013, where they cheered on Andy Sr.'s undergraduate alma mater, the University of Virginia, together. "We had handicapped seats," Andy Jr. says, that sly smile hinting at the kicker to come:
"Really good seats." It is all about to change.
Andy Jr. graduated from Country Day in May, and he's heading to Tulane University in August. He wants to go to a Southern school, but he doesn't want to follow the familiar path to a nearby college. He wants to be in a place where students come from all over the country, sharing different life experiences. It doesn't hurt that Tulane's in New Orleans, not a bad destination for a college kid.
The impending separation is not lost on anyone in the family, the father staying home, the son going off. "It makes me kind of sad for sure, but happy for Andy Jr.," his sister, Sara, says. "I know they'll both be fine." She pauses, then says, "This whole experience, Andy's not like most 18-year-olds. He's special."
During a conversation about the future, Andy Sr. makes sure his voice is heard above the Parkinson's whisper: "I want him to go off and live his life and not worry about me." Across the den, Andy Jr. hears him. He always does. There's no need for either one to articulate what comes next. When school breaks come, the father will be right here, at home, waiting for the son to walk through the door so they can pick up where they left off.
Ken Garfield is a frequent contributor to this magazine. He works as director of communications at Myers Park United Methodist Church, and is the author of Billy Graham – A Life in Pictures. He also writes obituaries for people.